Cork and Kerry meet in Sunday's Munster Football Final, their 29th meeting since the qualifiers were introduced in 2001. Kerry's 16 wins puts them in the ascendancy and they have never tasted defeat when the sides have clashed in Croke Park. Declan Whooley is looking back on their meetings on Jones' Road this week, speaking to some of the players involved in the seven capital clashes.Today it's Cork's tormentor-in-chief since the turn of the millennium, Colm Cooper.
"No one would have liked to take away the back-to-back All-Irelands more than Cork," Colm Cooper says when reflecting on Kerry's All-Ireland success of 2007, one of the hardest-earned medals in the forward's collection.
The prodigious teenage talent transitioned from a budding club player to a county minor when he was drafted onto the Kerry panel in 2000, with a first taste of the Cork/Kerry rivalry coming in that year's Munster final.
However, inspired by their own teenage sensation in Conrad Murphy, the Rebels took a major step towards their All-Ireland crown.
"He was a sensational player and powered Cork through to an All-Ireland final," Cooper says. "Injuries curtailed his career, but we found him very hard to stop."
He was joined in the full-forward line by Declan O'Sullivan, and with the pair eligible at the grade the following year, they would go on to avenge defeat on the banks of the Lee.
"Going to Páirc Ui Chaoimh and beating Cork was a big thing for any Kerry team, minor or senior.
"It was such a big deal for us because of the year before," against a Cork side that contained future All-Ireland hurling winners Séan Óg O hAilpín and John Gardiner."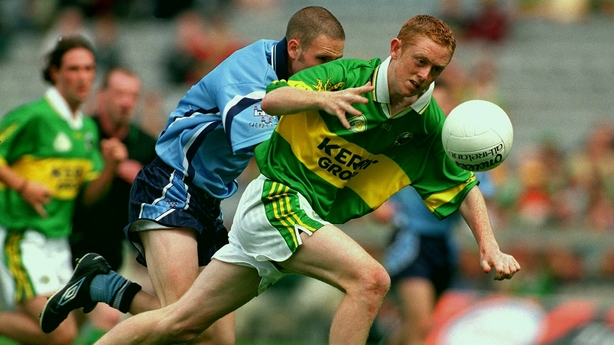 Despite the tender years, the Dr Crokes player says he was acutely aware of the level of responsibility on his shoulders at that level, especially as he began to establish himself at club level.
"Donnchadh [Walsh], Declan [O'Sullivan] and I were coming with big reputations from club and colleges and a lot of the pressure fell on us.
"I certainly felt it."
****
A year later and the player known throughout the country simply as 'Gooch' grasped his opportunity to impress in the National League. Before he knew it, Cooper was lining out at Fitzgerald Stadium for his first senior Munster final.
On a summer's day in June, the grass turned a few shades greener as the clouds emptied in the Kerry sky. The rivals slugged it out in an absorbing contest, sharing 16 points in sodden conditions.
"It was pouring rain, eight points all and a lot of people probably didn't even leave the bars because the weather was so bad."
The backdrop of the game was Ireland's agonising penalty shootout defeat to Spain in the World Cup quarter-final.
Some fans filtered in slowly, others didn't arrive at all, and Cooper admits even the players themselves were keen to keep abreast of events in Suwon.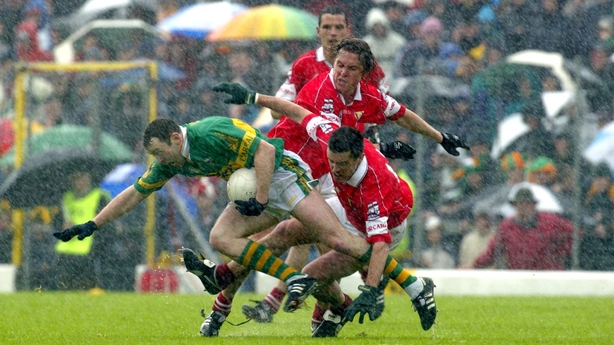 "There was a radio on somewhere and we were getting updates which is crazy and would never happen now. That was a different time, but everybody had an interest," he recalls.
"The game itself was strange. It was pouring rain, eight points all and a lot of people probably didn't even leave the bars because the weather was so bad.
"It was an unusual Munster final in many respects."
By time August rolled around, Cooper, like the team itself, had improved immeasurably as the Rebels were put to the sword by 15 points. Quickly earning his stripes in the attack, he sliced through Cork rearguard at ease, topping the scoring charts with 1-05.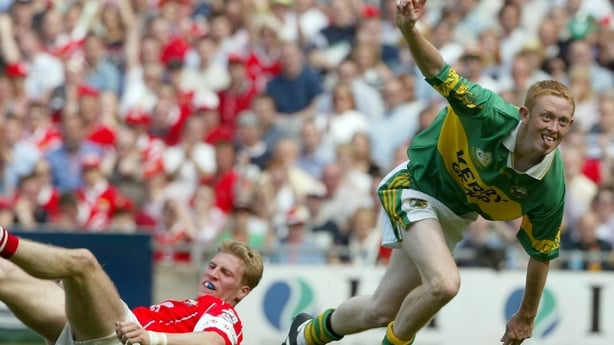 It was a sign of things to come against their neighbours in Croke Park, though Armagh spoiled the party that September to claim their maiden Sam Maguire.
****
In 2003 Cooper got his hands on the first of nine provincial titles, while his 1-05 in the 2004 All-Ireland decider helped the Kingdom ease past Mayo on his way to a second All Star and the Texaco Footballer of the Year award.
A third consecutive Munster title was small consolation as Tyrone struck the first of many blows in the rivalry that would unfold over the decade.
The following year he led the team on the occasions when Declan O'Sullivan found himself outside the starting XV as Kerry again easily brushed off the challenge of Mayo, with Cooper helping himself to 1-02.
****
2007 would prove to be one of his sweetest years in the green and gold jersey.
"I look back on All-Irelands that Kerry have won and that year was one of the best. There are some that are very, very hard to win.
"You get a little bit of extra satisfaction from winning them.
"Certainly 2007 was that for us."
The Munster duel that year looked set to be heading for yet another replay as the sides were level with the clock going into the red, before Kieran Donaghy and Séan O'Sullivan struck for late points to tilt the contest in the home side's favour in Killarney.
"It was very much and up and down game," Cooper says.
"While I felt we controlled a large portion of it, we were never really in the lead until late on. That was a game we could have easily lost," with Derek Kavanagh spurning a goal chance at the death.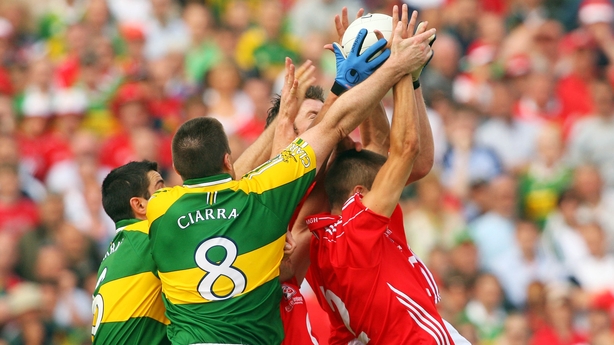 Cooper's goal was crucial in the tight contest.
Supply of quality ball into the full-forward line was sporadic and Kieran O'Connor had been keeping close company – "I clipped him for the goal, but I didn't get too much change out of him that day" – until his swivel and finish showcased again the vision, composure and natural instinct that marked him out from his peers.
The ace attacker had no shortage of man markers through the years, with certain defenders in red causing him more trouble than others.
"Traditionally guys I would have disliked marking would have been pacy corner backs. Even if you produce a bit of skill to lose them, they are back at you before you know it.
"With Cork down through the years I marked Anthony Lynch and he was a really sticky corner back.
"You might get a yard, but it was gone after a couple of steps. He was so quick to react."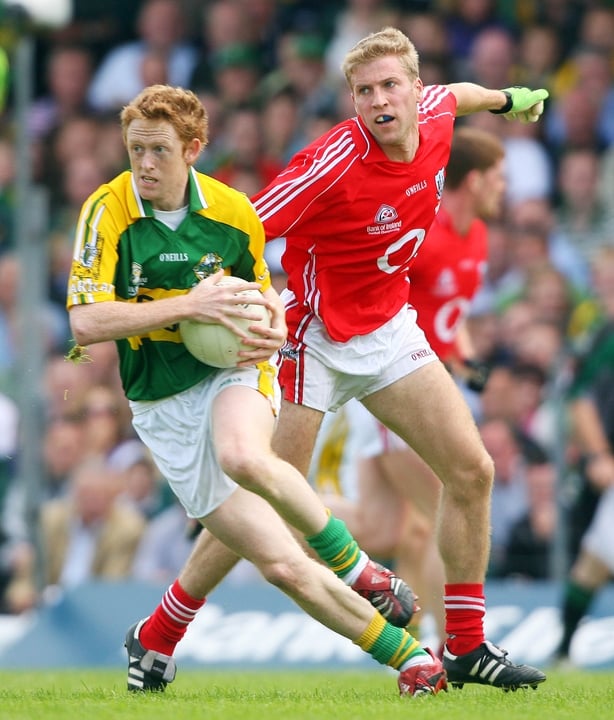 A stuttering one-point win over Monaghan in the last eight set-up a clash for the purists, with Dublin lying in wait for a place in the All-Ireland Final.
In another nip-and-tuck affair, the Dubs were twice within a point of Pat O'Shea's side in the final five minutes, but couldn't draw level. The Kingdom eventually prevailed by two points.
"I remember late on in that match, the game was level or we might have been up for a point and we worked the ball around.
"It must have been 20 or 30 passes and eventually we got it to Declan O'Sullivan and he curled it over into the Hill and it gave us a bit of breathing room."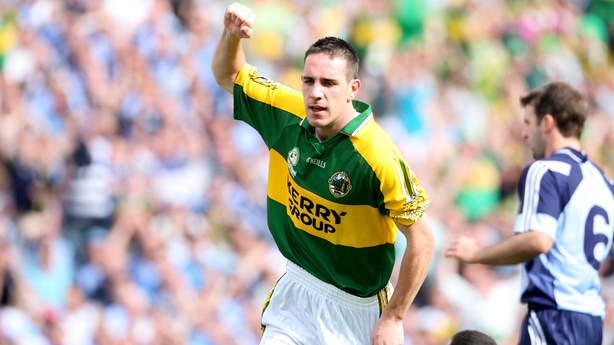 And so then to yet another meeting with Cork. If familiarity breathes contempt, then relations between the neighbours were surely at an all-time low.
It was their eighth Championship clash in two sides in three years, though there was still somewhat of a novelty to a first All-Ireland final match-up.
****
The 101st clash meeting between the sides was certainly high stakes, but for Cooper and his team-mates, it was more than just bragging rights; it was about becoming the first side since Cork in 1990 to back up an All-Ireland title. Motivation wasn't in short supply.
"No one would have liked to take away the back-to-back more than Cork. They're our neighbours and there is huge rivalry. It would have been sweet for them."
"For that Kerry team, although fellas might not admit it, it was a big thing to try and win back-to-back All Irelands.
"We felt we had the talent, but you had to do it to get that respect. That brought huge pressure on the squad.
"No one would have liked to take away the back-to-back titles more than Cork. They're our neighbours and there is huge rivalry. It would have been sweet for them.
"We were determined that was never going to happen."
Recalling the build-up, the Dr Crokes man says the squad were finely tuned for the challenge. Each game was a step in the right direction.
"In 2007, our graph was always rising, with the exception perhaps of Monaghan."
The peak performance lay in wait that September afternoon.
'Super Cooper and shining Star ensure Sam's return ' - Kerryman
Seventeen minutes into the game and the first nail in the Cork coffin came from Cooper opportunism.
Séamus Scanlon's long delivery landed into the danger area, and rising between O'Connor and goalkeeper Alan Quirke, he flicked the ball to the back of the net.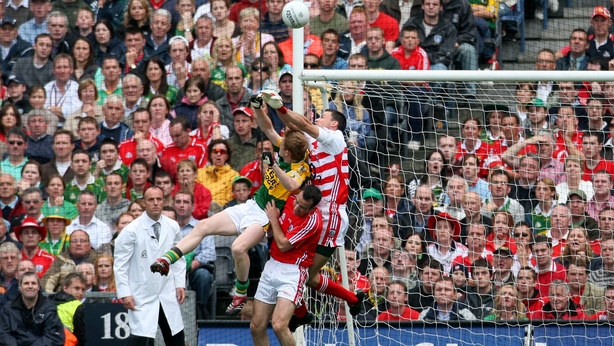 "We did have a bit of a plan to get the ball in as early as we could. It was an instinctive thing by me.
"I had a sense that Alan Quirke was coming so I knew if I just got a touch on it could hit the net and thankfully it did. It settled us and put us in the driving seat.
"We never looked back after that," and neither did Cooper. Cork's decision to shuffle things at the back was an indication of the damage he was causing on the way to another man-of-the-match award.
"From the moment Colm Cooper entered the fray, he had the look. In the zone, his eyes are distant, his eyes cold and his body language roars of confidence.  Cork started with Kieran O'Connor on him, but he once more proved too hot to handle. Cork felt they could trump the Gooch by putting Graham Canty, one of the game's best defenders on him. Gooch showed that when supplied with decent ball and given a degree of protection from the referee that he is essentially unmarkable" – Eamon Fitzmaurice, Irish Examiner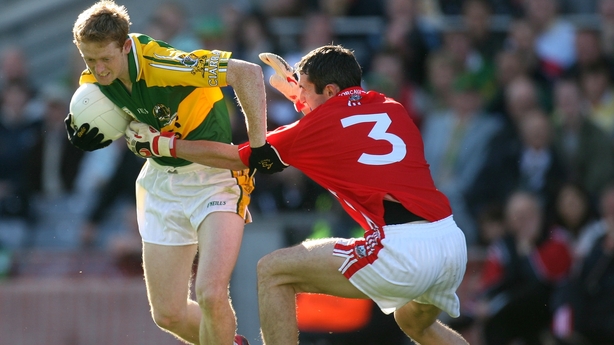 "It showed that we really had unsettled Cork. Graham is one of their best defenders in the last 20 years, he's coming back to try and do a job on you. There were a couple of fires that Cork were trying to put out and they probably didn't have enough guys to mark our danger forwards."
A 1-06 to 0-06 lead at the interval was hardly insurmountable, but the game was ended as a contest just 27 seconds after the resumption, when Kieran Donaghy goaled after dispossessing Ger Spillane. A defensive mix-up between Michael Shields and Alan Quirke allowed the towering full-forward plunder a second goal in the 48th minute and the rest of the game was a procession.
A 10-point win for Kerry, with Cooper's majestic 1-05 just four points shy of Cork's overall total.
"Cooper is essentially untouchable; like a bush fire, destroying all in his way. He's not especially fast, hardly powerful either; instead he relies on being a step, and a second, ahead of everyone else." – Irish Examiner
Cementing their place in football history was the goal set out, and it was earned the hard way.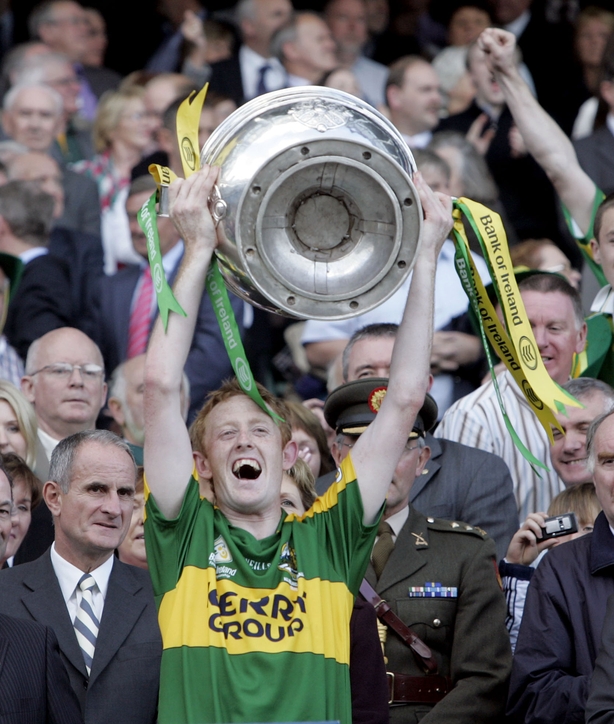 "Going into the 70th minute in the Munster final and it being a draw, edging past Monaghan and facing the Dubs in Croke Park, with Hill 16 baying for blood, that was an ultimate test for the team.
"The icing on the cake was the back-to-back. We're part of a prestigious group now and that's where the real satisfaction came from."
****
Tyrone foiled their three-in-a-row bid the following year, while Cork were once again downed in the 2009 decider.
It was to be his final Sam Maguire won on the field of play, with a cruciate knee injury sustained playing for Crokes ensured he was reduced to the role of spectator in the 2014 win over Donegal.
By time he hung up his boots earlier this year, the weight to his medal collection was considerable.
Five All-Ireland titles, 10 Munster Championships, four National League titles, eight All Stars to go along with six county titles with Crokes, five Munster's and the long awaited All-Ireland title last March.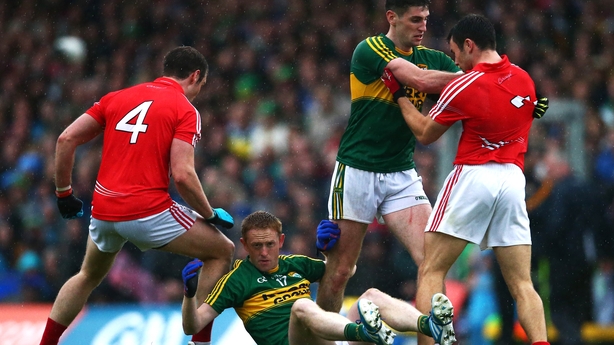 On top of that, he has earned his crust against some of the best man markers in the business. Anthony Lynch, Francie Bellew, Ryan McManamin, Graham Canty, Philly McMahon, Neil McGee and Keith Higgins to name but a few have all attempted to curb the attacking genuis of Cooper to varying degrees.
A grand total of 23-283 was his Championship haul over 15 seasons, with more than a quarter of that tally (5-77) coming against Cork. Little surprise that he is the highest ever scorer in the fixture between the two counties.
"I didn't know that, that's some stat. I'm sure Cork are glad to see the back of me."
A constant vanquisher of Cork, Cooper has left an indelible mark on one of the long-standing rivalries in Gaelic football.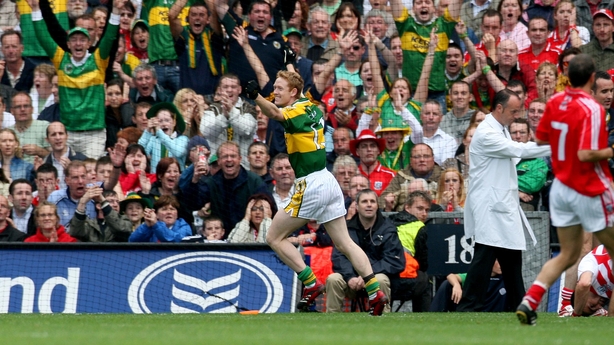 Kerry 3-13 Cork 1-09, 2007 All-Ireland Football Final, Croke Park
Kerry: Diarmuid Murphy; Marc Ó Sé, Tom O'Sullivan, Padráig Reidy; Aidan O'Mahony, Tomás Ó Sé, Killian Young; Darragh Ó Sé, Séamus Scanlon; Paul Galvin; Declan O'Sullivan, Eoin Brosnan; Colm Cooper, Kieran Donaghy, Bryan Sheehan
Subs: Seán O'Sullivan for Paul Galvin (57); Darran O'Sullivan for Eoin Brosnan (63); Tommy Griffin for Killian Young (65); Mike Frank Russell for Bryan Sheehan (66); Mossie Lyons for Padráig Reidy (70).

Scorers: Colm Cooper 1-05, Kieran Donaghy 2-00, Bryan Sheehan 0-02, Tomás Ó Sé, Aidan O'Mahony, Seamus Scanlon, Paul Galvin, Declan O'Sullivan, S O'Sullivan 0-01 each.
Cork: Alan Quirke; Michael Shields, Graham Canty, Kieran O'Connor; Noel O'Leary, Ger Spillane, John Miskella; Derek Kavanagh, Nicholas Murphy; Conor McCarthy, Pearse O'Neill, Kevin McMahon; James Masters, Michael Cussen, Donnacha O'Connor.
Subs: Daniel Goulding for James Masters (half-time); Anthony Lynch for John Miskella (41); Fintan Gould for Kevin McMahon (41); Kevin O'Sullivan for Conor McCarthy (46).
Scorers: Daniel Goulding 1-01; Donnacha O'Connor 0-04 (0-03 frees); James Masters 0-03 (0-03 frees); Michael Cussen 0-1.
Referee: David Coldrick (Meath)
Attendance: 82,196
Recap
Cork v Kerry - the Croke Park rivalry: 2009 - Tommy Walsh
Cork v Kerry - the Croke Park rivalry: 2008 - Diarmuid Duggan
Cork v Kerry - the Croke Park rivalry: 2006 - James Masters
Cork v Kerry - the Croke Park rivalry: 2005 - Tomás Ó Sé