Cork and Kerry meet in Sunday's Munster Football Final, their 29th meeting since the qualifiers were introduced in 2001. Kerry's 16 wins puts them in the ascendancy and they have never tasted defeat when the sides have clashed in Croke Park. Declan Whooley is looking back on their meetings on Jones' Road this week, speaking to some of the players involved in the seven capital clashes.Today, it is former Cork defender Diarmuid Duggan and his memories of the 2008 All-Ireland semi-final, a game that proved to be his last one in a red jersey.
That Diarmuid Duggan's final act in a red jersey should happen against Kerry should come as little surprise.
It began from his minor days and followed right through to Croke Park in August 2008, and generally the pattern was such that while the corner-back more often than not held his own, Cork struggled to get the better of their neighbours.
The Ilen Rovers man got his first taste of inter-county action at U16 level, before two years with the minors showed he could more than compete with his peers at the top level.
In 1997, Tadhg Kennelly led Kerry to a 0-12 to 0-05 Munster minor semi-final success over their rivals and Duggan recollects marking a "jinking" type of forward who hugged the corner forward position. A teenage Paul Galvin was still finding his feet - "I think he got a point from play".
Silverware arrived with Cork U21s in 2001, but a star-studded Tyrone team put them to the sword in the All-Ireland semi-final.
"They hammered us all over the field," Duggan recalls of a side containing the likes of Owen Mulligan, Cormac McAnallan, Brian McGuigan, Philip Jordan and Kevin Hughes.
****
With his club Ilen Rovers dominating junior football in West Cork and Duggan a lynchpin in the defence, he was called into the Cork senior panel by Larry Tompkins after winning a junior All-Ireland medal in 2001.
He admits it was difficult to find his feet in the early days at inter-county level - "I definitely felt out of my depth at the time, the whole experience seemed a bit too much for me" and recalls, in particular, one long away trip after an underwhelming League performance.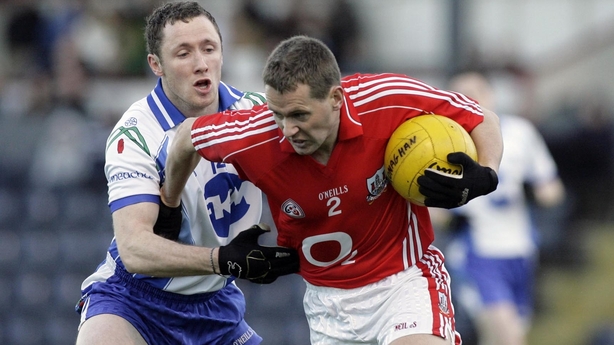 "I got off in Limerick as I was a student in Mary I at the time," he says.
"I said to Larry when I was hopping off: 'Is there training during the week?'. 'Yeah, sure we'll be on to you. Wait until you hear from us.'
"I didn't hear from him again," he laughs.
Struggling to get a look-in during the League, never mind the Championship, Duggan admits his application wasn't what it might have been in order to secure a place in the starting team.
"I probably didn't take it seriously enough at the time. Even though I trained hard enough with Ilen Rovers, it wasn't enough for inter-county level."
****
Keen to sample a different lifestyle and life experience, the decision was made to take six months out and travel to Australia. Manager Billy Morgan asked to be updated on his plans and upon returning in early 2007, he was soon brought back into the fold.
Duggan impressed in trial games and secured a place in the panel for the conclusion of the National League.
Though a dominant figure at club level, lessons were learnt throughout his Cork career, a case in point being a man-marking assignment of Donegal dangerman Brendan Devenney in a difficult away League assignment.
After putting the shackles on their main scoring threat in the first half, Donegal manager Brian McEniff had stern words with the match officials and Duggan was given a warning before the second half resumed for what they felt was over-zealous marking from the Corkman
With the ill-fated sin-bin in operation for the first time, he adopted a more cautious approach after the interval and Devenney and Donegal powered to a 10-point victory.
"I was warned when we came back out, but I should have just played the way I was playing."
"I was doing a bit of pulling and dragging, nothing more than normal, but they both [Devenney and McEniff] kept complaining to the referee.
"I was warned when we came back out, but I should have just played the way I was playing.
"I gave him far too much room.  He played well in the second half. People were just taking one for the team and getting sent off, but I didn't."
A few months later and Duggan finally had his first taste of Championship football when an All-Ireland final date was booked in a routine manner against Meath.
Called on with seven minutes to go, the Cork defence had a rather comfortable second half as the Royals only raised the white flag on three occasions, and the attack-minded defender regrets only that he didn't raise one of his own.
"Billy used to get really excited in the week leading up to Kerry...he just wanted to beat them so badly."
"I won the ball with my first touch of the ball in defence and the pitch just opened up in front of me. I took about four solos and went up to the forward line and had a chance of a shot."
"I probably should have taken it on, but I tried to pass it off and it was intercepted, but I got on a bit of ball in that short time and I was happy enough."
He played no part in the final defeat to Kerry, and what sticks in the memory as much as anything was Morgan's attitude to playing Kerry.
"Billy used to get really excited in the week leading up to Kerry," he recalls. "He just wanted to beat them so badly."
****
Duggan felt confident of further progress in 2008 when Conor Counihan took over from Morgan in the hotseat.
Counihan's defensive nous was a huge plus for a player looking to break into the team and after earning his stripes in the League, Duggan was entrusted from the off in the Championship.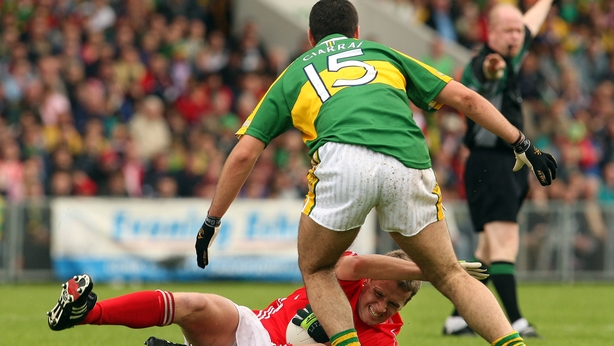 The manager's faith was handsomely rewarded in the Munster decider. Playing into the wind, Cork mustered just three points in the opening half and found themselves eight in arrears at the break.
'In response, Cork had little to offer by way of meaningful resistance, other than a few powerful surges upfield by impressive corner back Diarmuid Duggan'– Irish Examiner
Led by a man-of-the-match performance from the Ilen Rovers man, who broke forward at every opportunity, Cork clawed their way back and claimed an unlikely win in game that saw three players dismissed.
Duggan profited from Kerry's "obsession" with closing down Graham Canty, as Canty's marker Bryan Sheehan and his fellow forwards stuck rigidly to the tactical gameplan.
"I just found myself free. They clearly weren't interested in me, they wanted to stop the play-makers."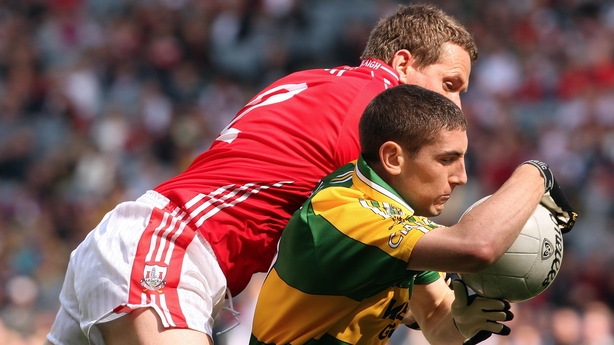 Just before the end of the contest, Duggan got a sneak preview of a duel that would have greater significance later that summer as Jack O'Connor introduced the six foot six inch Tommy Walsh into the full-forward line.
"I remember thinking, 'he's an absolute giant'.
"I'm 5'11" and he was towering over me. Lynchie [Anthony Lynch] was in one corner, Kieran O'Connor in the other. Out of the three of us, I was probably the tallest."
In a largely forgettable All-Ireland quarter-final, Cork laboured to victory against Kildare, before attentions quickly turned to their neighbours for the right to make an All-Ireland Final.
With Walsh playing his way onto the Kerry team, it was clear who Duggan would be picking up in Croke Park. He spent time poring over Walsh's impact on previous games.
"He loved the contact, getting in close and pushing a fella off. I decided I would stand off, not engage with him."
For the most part it worked.
By the 66th minute, Kerry had an eight-point lead. Cork had only managed 1-05 to that point, but rallied with 2-02 to escape with a draw. An indication of Kerry's dominance could be seen by the fact that only two Cork forwards scored from play.
'How are Cork still in the football championship? –Irish Independent
For Duggan it was job done as Walsh scored two points, content to drop deep and stay away from the danger zone.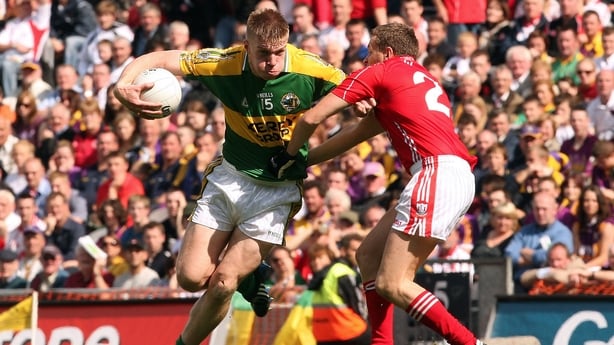 In the lead-up to the replay, everyone seemed to have their say on how to marshal the towering forward, some suggesting a more physical approach might serve better.
The second time around, Walsh was a different animal, Kerry using the glaring height advantage to devastating effect.
"I remember thinking I had the ball and these two big hands came up over me and caught that ball over my head."
Walsh's goal was exactly what Cork had prepared for, but still unable to prevent.
"He threw me to the ground like a rag doll and went straight through for goal," recalling the first of Kerry's three goals, which came in the 23rd minute.
Six minutes later and Duggan was called ashore, his final act in a red jersey.
Alongside Colm Cooper, Walsh was the top scorer from play with 1-02.
'Kerry's Tommy Walsh was causing holy hell in at left corner forward from the minute the first ball flashed his way. It is no personal or unfair criticism of Diarmuid Duggan, however he was just not able for the sheer power, size and pace of the young starlet' – Ray Silke, Irish Examiner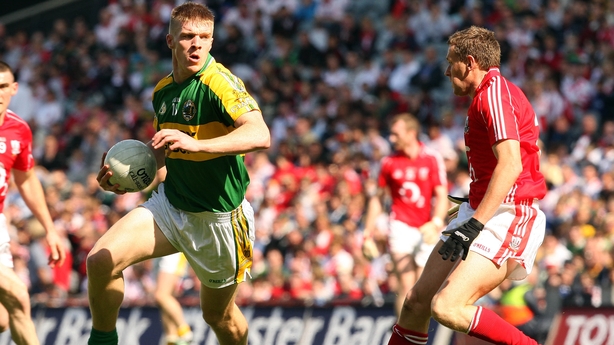 "I deserved to go. I had no complaints whatsoever. I think it was probably a mis-match from the word go, but I didn't handle it very well either.
"I learned the costly mistake you shouldn't always listen to others. The week leading up to the replay, well-intentioned friends and acquaintances outside the camp offered plenty of advice to me on how best to mark him and I probably took too much of it on board.
"I'd marked lots of physical players at club level and I should have just gone with my own gut instinct.
"At the end of the day though, that's my own fault but I think that if I'd experienced that at 20 or 21, you'd learn from it as you would at any stage but with the added comfort of knowing that you'd have plenty of years ahead to make amends in other games.
"I was nearly 28 then though and had only just begun holding down a regular starting position."
****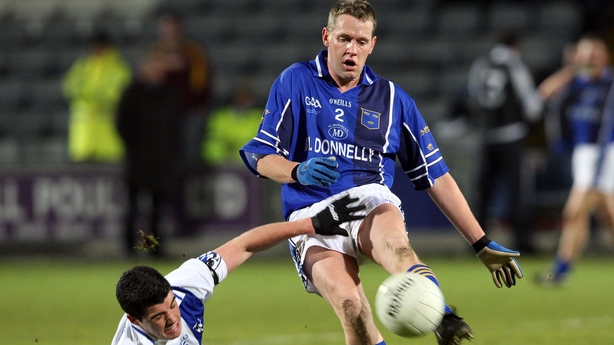 There was to be no redemption. He was part of the Munster team that won the interpros a couple of months later, but was playing through the pain barrier.
When January rolled around, his hip problem had worsened. Named among the substitutes for the first National League game of the year against Meath, he was forced to withdraw as he couldn't even bend down to  pick up the ball.
Frustration at having to give repeated excuses to Counihan as to why he couldn't train prompted him to drop off the panel voluntarily.
"It was kind of embarrassing going up to him every week because nobody could tell me what was wrong with the hip. He was very patient with me but I felt that it probably seemed like I was making up excuses and eventually I had had enough of that."
At the time, the worst-case scenario was to write off the season and come back in 2010, the year the Rebels lifted Sam Maguire.
As it transpired, even his club career was as good as over.
****
Duggan had developed a condition called 'Femoral Acetabular Impingement' whereby a lesion or bump on the ball part of the ball and socket joint in a hip jams on the rim of the socket as movement occurs.
Intensive training provokes this condition and, in his case, caused irreparable damage to his hip joint.
He ended up funding his own operation until the GPA stepped in to assist.
While 2008 proved to be a rollercoaster journey, Duggan appreciates there was plenty more to his Cork career than simply one difficult half of football in Croke Park
"It was probably my worst experience. Anytime a fella gets taken off in the first half, it's not pleasant.
"At the same time, I wouldn't just look at it as one game, I'd look at the whole involvement with Cork and it was very positive.
"I absolutely loved it, have great memories and wouldn't swap it for the world!"
Live updates on the Munster football final between Kerry and Cork from 1.30pm Sunday, live on RTÉ2 and RTÉ Radio 1's Sunday Sport.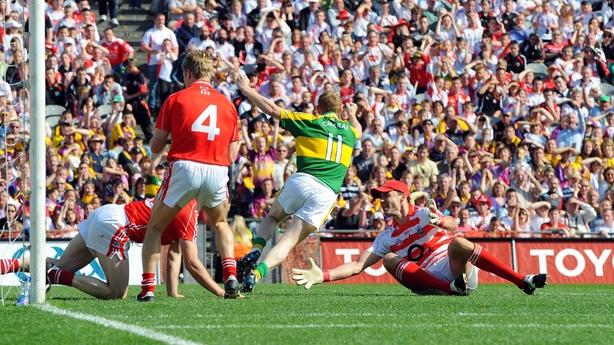 Kerry 1-13 Cork 3-07, 2008 All-Ireland football semi-final, Croke Park
Kerry: Diarmuid Murphy; Marc Ó Sé, Tommy Griffin, Tom O'Sullivan; Tomás Ó Sé (captain); Aidan O'Mahony, Killian Young; Darragh Ó Sé, Séamus Scanlon; Donnchadh Walsh; Declan O'Sullivan, Bryan Sheehan; Colm Cooper, Kieran Donaghy, Tommy Walsh.
Subs: Eoin Brosnan for Donnchadh Walsh; Darran O'Sullivan for Tommy Walsh (56); Seán O'Sullivan for Declan O'Sullivan (67).
Scorers: Kieran Donaghy 1-01; Bryan Sheehan 0-04 (0-03 frees, 0-1 '45); Colm Cooper 0-03 (0-02 frees); Tommy Walsh 0-02; Darran O'Sullivan, Eoin Brosnan and Tomás Ó Sé all 0-01.
Cork: Alan Quirke; Diarmuid Duggan, Derek Kavanagh, Anthony Lynch; Ger Spillane, John Miskella, Kieran O'Connor; Alan O'Connor, Graham Canty (captain); Donnacha O'Connor, Pearse O'Neill, Seán O'Brien; Daniel Goulding, Michael Cussen, John Hayes.
Subs: Nicholas Murphy for Alan O'Connor (27); James Masters for Daniel Goulding (44); Kevin McMahon for Seán O'Brien (47); Noel O'Leary for Kieran O'Connor (57); Michael Shields for Ger Spillane (59).
Scorers: John Hayes 1-01; Donnacha O'Connor 0-04 (0-2 frees); Daniel Goulding and James Masters 1-00 each; Nicholas Murphy and John Miskella 0-01 each
Referee: Joe McQuillan (Cavan)
Kerry 3-14 Cork 2-13, 2008 All-Ireland semi-final replay, Croke Park
Kerry: Diarmuid Murphy; Marc Ó Sé, Tommy Griffin, Tom O'Sullivan; Killian Young, Aidan O'Mahony, Tomás Ó Sé (captain); Séamus Scanlon, Mike Quirke; Eoin Brosnan, Declan O'Sullivan, Bryan Sheehan; Colm Cooper, Kieran Donaghy, Tommy Walsh.
Subs: Darran O'Sullivan for Mike Quirke (50); Seán O'Sullivan for Bryan Sheehan (63); David Moran for Eoin Brosnan (65); Daniel Bohane for Tommy Walsh (71); Mike Quirke for Kieran Donaghy (73).
Scorers: Colm Cooper 1-08 (0-06 frees); Tommy Walsh 1-02; Declan O'Sullivan 1-00, Séamus Scanlon 0-02; Eoin Brosnan and Tomás Ó Sé 0-01.
Cork: Alan Quirke; Diramuid Duggan, Derek Kavanagh, Anthony Lynch; Graham Canty, John Miskella, Noel O'Leary; Nicholas Murphy, Pearse O'Neill;  Seán O'Brien, Donnacha O'Connor, Kevin McMahon; Daniel Goulding, Michael Cussen, John Hayes.
Subs: Michael Shields for Diarmuid Duggan (29); Fintan Gould for Seán O'Brien (second half); James Masters for Kevin McMahon (42); Paul Kerrigan for John Hayes (49).
Scorers: Daniel Goulding 1-06 (0-04 frees); Donnacha O'Connor 0-04 (0-02 frees); Pearse O'Neill 1-00; John Hayes (free), John Miskella and James Masters 0-01 each.
Recap
Cork v Kerry - the Croke Park rivalry: 2009 - Tommy Walsh
Cork v Kerry - the Croke Park rivalry: 2007 – Colm Cooper
Cork v Kerry - the Croke Park rivalry: 2006 - James Masters
Cork v Kerry - the Croke Park rivalry: 2005 - Tomás Ó Sé