G7 leaders today opened their first in-person talks in nearly two years, touting an expected pledge to donate one billion Covid vaccine doses to poor countries in a show of revived Western democratic unity.
The club of leading economies - Britain, Canada, France, Germany, Italy, Japan and United States - say a joint approach is the world's best chance for recovering from the global health crisis, and tackling climate change.
Welcomed by British Prime Minister Boris Johnson to the beachside summit venue in Carbis Bay, southwest England, the leaders posed for a family photo before opening their first session of talks on "building back better" after the pandemic.
The three-day meeting presents a "huge opportunity" for global recovery after Covid-19, Johnson told his fellow leaders in opening remarks, as they sat socially distanced and without masks at a round table.
It would focus, he said, on "building back greener, building back fairer and building back more equal", with an emphasis on gender equality.
Yesterday, US President Joe Biden pledged 500m doses from the US and Britain is to donate 100 million vaccine doses.
Campaigners, however, said that the vaccine donation plan is far too slow and lacks ambition.
While the head of the United Nations welcomed the move, he also said more was needed. Antonio Guterres warned that if people in developing countries were not inoculated quickly, the virus could mutate further and become resistant to the new vaccines.
"We need more than that," he said of the G7 plan. "We need a global vaccination plan. We need to act with a logic, with a sense of urgency, and with the priorities of a war economy, and we are still far from getting that."
Former British prime minister Gordon Brown, who has been pushing for richer countries to share more of the cost of vaccinating developing countries, said the G7 pledges were more akin to "passing round the begging bowl" than a real solution.
"It's a catastrophic failure if we can't go away in the next week or two ... with a plan that actually rids the world of Covid now we've got a vaccine," he told Reuters.
Alex Harris at Wellcome, a London-based science and health charitable foundation, challenged the G7 to show the political leadership the crisis demanded.
"What the world needs is vaccines now, not later this year,"he said. "We urge G7 leaders to raise their ambition."
We need your consent to load this rte-player contentWe use rte-player to manage extra content that can set cookies on your device and collect data about your activity. Please review their details and accept them to load the content.Manage Preferences
All leaders at the summit have been at least partially vaccinated against Covid-19.
They were joined by their counterparts from the European Union, and invited guests from Australia, India, South Korea and South Africa. Queen Elizabeth II also attended earlier today and met the world leaders.
Most will attend in person, although India's Prime Minister Narendra Modi will take part virtually because of the rapid spread of a new variant of the virus there.
Normally, G7 summits are attended by thousands of journalists but the number of accreditations this year has been drastically reduced because of social distancing requirements.
And most of those who have managed to secure a pass will be kept at a distance, at a media centre in Falmouth, some 36km from Carbis Bay.
---
Read more:
The G7 summit: What you need to know
Biden's Brexit intervention shows Irish influence is alive and well
---
Johnson hails 'indestructible relationship' between UK and US
Meanwhile, Boris Johnson has said the alliance between the US and the UK should be known as the "indestructible relationship".
He let it be known that he would prefer to coin a new description for the so called 'special relationship' after decades of use, and in an exclusive interview with BBC News after his bilateral meeting with President Biden, he suggested that the friendship between the US and the UK should be known from now as the "indestructible relationship".
Speaking to BBC Political Editor Laura Kuenssberg, the Prime Minister said: "It's a relationship that has endured for a very long time, and has been an important part of peace and prosperity both in Europe and round the world".
He said the alliance could be descried as "deep and meaningful" or the "indestructible relationship."
Mr Johnson said he had had "terrific" talks with President Biden covering "about 25 subjects in some detail".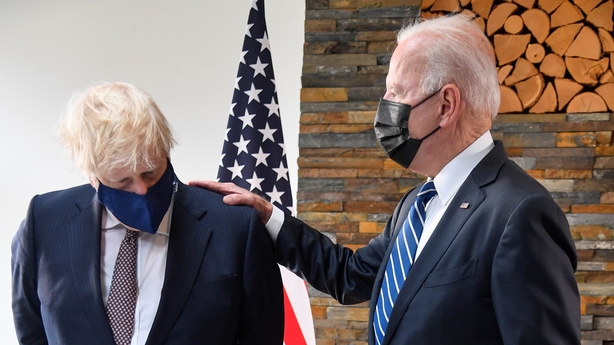 And despite suggestions that the US was set to rebuke the PM over tensions with the EU about the Northern Ireland Protocol, Mr Johnson said that "the President didn't say anything of the kind".
He also suggested the way the EU was implementing that arrangement was "excessively burdensome", and while the UK, the US and the EU wanted to preserve the balance in Northern Ireland, a resolution to the issue was unlikely to be found in the coming days.
Mr Johnson also said the UK's ambition to donate 100 million vaccines in the next 12 months was a "huge number of extra doses", predicting a "colossal sum of vaccines" would be distributed to developing countries.
He also defended the UK government's decision to cut the amount of aid money that it donates, saying that people should be "incredibly proud of what we are doing in spite of the difficulties that we are facing".
He also said that he had discussed the case of Harry Dunn with the US President, who he said was "extremely sympathetic" and "actively engaged" in the case.
Additional reporting AFP, Reuters