There cannot be a question mark left in the minds of British politicians - or any others for that matter - as to where the allegiances of the current US President lie when it comes to post-Brexit Irish-British affairs.
While Joe Biden's firm commitment to upholding the Good Friday Agreement and preserving peace on the island of Ireland may leave him open to charges that he can't act as an "honest broker", he has never indicated otherwise.
The power and influence of the Irish in US politics has waxed and waned over generations.
It reached a peak during the era of President John F. Kennedy, and came once again to prominence during the two terms of President Bill Clinton.
In recent years as peace reigned and prosperity ruled on this island, Irish-American influence took something of a back seat. It never went away. Conferences have been dedicated to it, books have been written about it (full disclosure: including by this author) and countless column inches filled.
Some have lamented the passage of the heyday of access to corridors of power and others have realised that while it may have gone off the boil a bit, it never stopped simmering.
Biden has not changed his tune. If anything he is singing it louder than ever. And his song is an Irish lilt.
Following the 2018 midterm elections when the Democrats took back control of the House of Representatives, and by extension control of the powerful congressional committees, articles started appearing in UK media about the rising power of the Irish in Washington, about Downing Street fears that the US would side with Ireland in any Brexit-related disputes.
The UK Embassy in Washington DC beefed up its diplomatic lobbying efforts on Capitol Hill to compete with the well-established and effective Irish operation there, honed under successive ambassadors.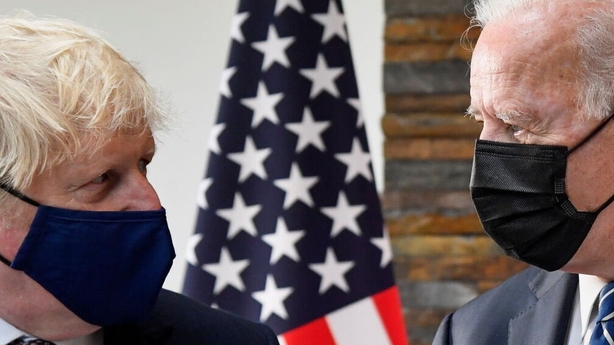 Those British establishment fears intensified last November with the election of the 46th President of the United States Joe Biden.
A public servant whose Irish heritage is in a league with that of JFK and Ronald Reagan, and who is only the second ever Catholic President.
In Irish-American circles, Bill Clinton is also counted as an Irish President, not so much because of his distant Irish ancestry but more so for the promises he made on the campaign trail about the Northern Ireland peace process, which he followed through on in office.
Joe Biden was a member of the US Senate during the Clinton Administration and is following that same line of pledges made on the doorsteps, carried on into the White House.
Time and again then presidential candidate Joe Biden, and his officials speaking on his behalf, issued warnings about Brexit-related negotiations and decisions, making reference to his commitment to the Northern Ireland peace process and to the United States' legal position as the guarantor of the Good Friday Agreement.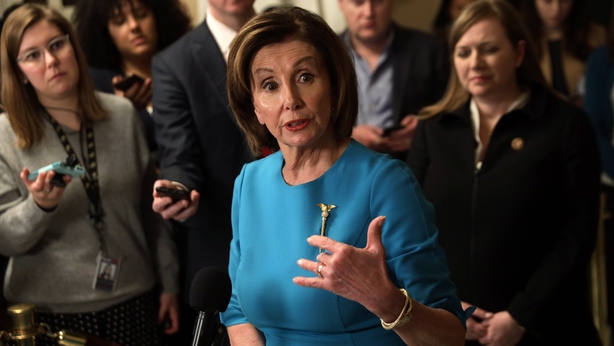 Time and again the Speaker of the House Nancy Pelosi, the Chairman of the Ways and Means Committee Richie Neal (which would have to approve any trade deal) and many other powerful voices pledged that a post-Brexit US-UK trade deal would not be agreed if peace on the island of Ireland was put at risk.
Time and again the statements were dismissed as rhetoric; as Joe Biden saying what he needed to say when the stakes were low, but that when it counted he would change that tune.
Biden has not changed his tune. If anything he is singing it louder than ever. And his song is an Irish lilt.
First came the advance message from US National Security Advisor Jake Sullivan. In an interview with Jon Sopel for the BBC ahead of the summit in Cornwall, he said that the Biden administration's "concern runs very deep on the Northern Ireland issue".
He said that the President viewed the Northern Ireland Protocol as part of the agreement between the UK and EU and it was critical to ensuring the spirit, promise and future of the Good Friday Agreement was protected".
He called on the UK and the EU to find some way to proceed that must fundamentally not imperil the gains of the Good Friday Agreement.
Then the report in The Times of London that the US had issued a démarche, a diplomatic rebuke, accusing the UK of "inflaming" the rhetoric around the Northern Ireland Protocol and urging them to resolve the matter even if it meant "unpopular compromises".
A senior US administration official disputed this account, saying the President had not instructed any such formal criticism, but rather there had been a diplomatic "conversation" about an area of concern and the President's position was as had been outlined earlier by Sullivan.
Démarche, conversation, formal, or casual, the signal was clear. The US President is not in favour of the British Prime Minister's post-Brexit approach to date.
Joe Biden has never made a secret of his love of all things Irish, or his heritage, speaking often of his mother and quoting Irish poets so frequently that there is a form of poetry bingo played in some quarters while watching his speeches.
But he is not operating alone when it comes to Irish and Northern Irish affairs. He is surrounded by top advisors who also have close ties to Ireland.
Jake Sullivan who sounded the first bell ahead of this visit, is a proud Irish American who worked with Hillary Clinton and travelled to Ireland with her, and was heavily involved in the Washington-Ireland exchange programme.
Dr Amanda Sloat, Special Assistant to the President and Senior Director for European Affairs on the National Security Council (NSC) was a post-doctoral research fellow at Queen's University Belfast.
Dublin-born Samantha Power is Director of the USAID and also sits on the NSC.
Labour Secretary Marty Walsh is the son of two Co Galway immigrants to the US.
Deputy Chief of Staff Jen O'Malley Dunlop is also of Irish heritage, and Vice President of the Irish American Democrats John McCarthy also has a senior role in the Chief of Staff's office.
Close Biden allies Congressman Richie Neal and Congressman Brendan Boyle are on the powerful Ways and Means Committee. The list goes on.
Just as Bill Clinton had a close cadre of Irish-Americans advising him and fostering an existing interest in Northern Ireland, so too does President Joe Biden.
With the border woven into his family history, and the peace process threaded through his professional life, this is not an issue he is going to walk away from.
Speaking on the Six One News just after the Biden-Johnson bilateral, Congressman Brendan Boyle said that the matter was "personal" for Joe Biden.
He also indicated that US patience on the matter could wear thin, saying that the US had so many issues to deal with globally that they didn't want to add one more "to the pile" and urged the UK to resolve the situation with the UK.
"Let's stick with it and keep the agreements already made," he said. "Alienating their EU and US allies over this issue, especially when they already agreed to it, just doesn't make any further sense."
We need your consent to load this rte-player contentWe use rte-player to manage extra content that can set cookies on your device and collect data about your activity. Please review their details and accept them to load the content.Manage Preferences
While there may be some ground to be made with conservative voters in battling with the EU, it would seem unlikely there is a benefit for Boris Johnson and his government in fighting with the US at the same time.
US Presidents ultimately put their own interests first, so Joe Biden is also keen this weekend to separate out non-Brexit issues that he needs to work closely with the UK on. Although Boris Johnson may not be a fan of the term "special relationship", speaking after their bilateral Joe Biden said they had "affirmed the special relationship", even repeating the phrase for good measure.
Equally while Biden states a strong pro-Irish position regarding the Northern Ireland Protocol and Good Friday Agreement, his desire for a global minimum corporate tax rate and changes agreed by G7 finance ministers regarding taxing multinationals are not in Ireland's favour.
Irish-American politicians with close access to the US President and the administration have particular value, but the direct line of influence that the Irish Government currently enjoys was highlighted by the Minister for Foreign Affairs Simon Coveney.
Speaking on RTÉ's Prime Time, Minister Coveney said that during his recent two-hour meeting with Biden's National Security Adviser at Shannon Airport, one hour had been spent discussing Northern Ireland.
Coveney said that "undoubtedly" his warnings about the severity of the situation relating to the Northern Ireland Protocol had got back to the President, adding that he had asked Sullivan to ask the President to raise the matter directly with Boris Johnson during this week's summit, and had followed that up with a diplomatic note to make sure the message got through.
"Hopefully, as a result of that, we will see some progress on issues, quite frankly, that could've and should've been resolved weeks ago." @simoncoveney talks to @franmcnulty about Joe Biden's Brexit intervention | #rtept | Read more: https://t.co/fVm5s3TlC8 pic.twitter.com/FoaWgAZkJM

— RTÉ Prime Time (@RTE_PrimeTime) June 10, 2021
As Congressman Boyle alluded to, the clearly fraught negotiations between the EU Vice President, Maroš Šefčovič, and the UK's Brexit-chief, Lord Frost, are an irritation to the US administration.
This has in part created the circumstances for the President and his fellow Irish-American politicians to do something positive for Ireland, something that fits with their international, and personal, agendas and does not spend any domestic political capital.
The miscalculation that has been made by some British commentators who can't quite believe the pro-Brexit, pro-EU, pro-Ireland statements from the US administration, is that Joe Biden's position may be a political one.
They are assuming he will ultimately park the Northern Ireland interest in favour of preserving ties with the UK. That is unlikely to be the case.
Biden's connection to Ireland, like many of his country men and women, is a cellular one. The so-called Irish vote may not be monolithic, the politicians may be bipartisan, but the ties are primordial.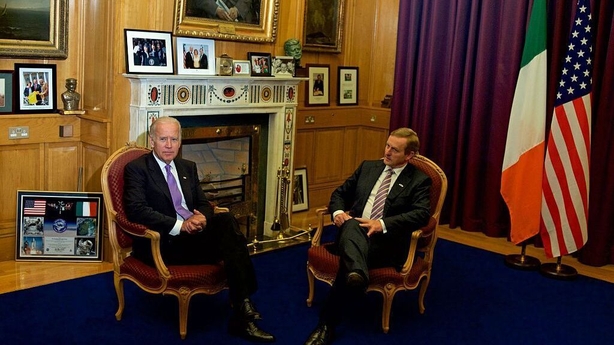 Ahead of the visit that then Vice President Joe Biden made to Ireland in June 2016, in a joint interview with RTÉ and The Irish Times, Biden spoke of how proud he was of the role his country had played in brokering peace in Northern Ireland.
"I'm proud of the small part that I played as a senator and Vice President to try to help facilitate the Northern Ireland peace process. And the United States will continue to do everything we can to encourage Northern Ireland's progress toward full reconciliation under the Stormont House Agreement."
He said it then and he says it now.
As a life-long public servant, who may be a one term President, at almost 79 years of age, Joe Biden is conscious of legacy.
With the border woven into his family history, and the peace process threaded through his professional life, this is not an issue he is going to walk away from.
While he may not be an independent, "honest broker" on this subject, he doesn't profess to be.