British Prime Minister Boris Johnson said it was "absolutely common ground" between the UK, US and European Union that the Good Friday Agreement should be protected following his talks with Joe Biden.
He welcomed the US President for their first face-to-face meeting today on the eve of tomorrow's G7 leaders' summit in Carbis Bay, Cornwall.
Mr Johnson said "everybody was absolutely thrilled" to see Mr Biden at the seaside resort in southwest England.
He hailed the US President as "a big breath of fresh air" because he wanted to work with Britain on a huge range of issues ranging from climate change and Covid to security.
"It's new, it's interesting and we're working very hard together," he told reporters.
"We went on for about an hour and 20 minutes or so. It was a long, long, good session. We covered a huge range of subjects."
For his part, Mr Biden described the encounter as a "very productive meeting".
Mr Johnson played down differences with Washington over the impact of Brexit on peace in Northern Ireland.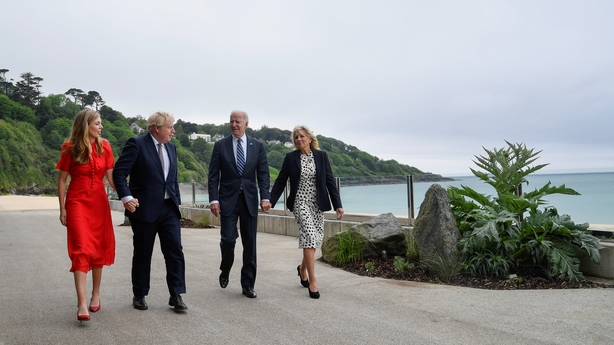 He said that the United States, United Kingdom and European Union had "complete harmony" on finding solutions to uphold the 1998 peace deal.
"There's complete harmony on the need to keep going, find solutions, and make sure we uphold the Belfast Good Friday Agreement," he said.
Asked if Mr Biden had made his alarm about the situation in Northern Ireland very clear, Mr Johnson said: "No he didn't", adding that the US, UK and EU "have one thing we absolutely all want to do".
"And that is to uphold the Belfast Good Friday Agreement, and make sure we keep the balance of the peace process going. That is absolutely common ground," he said. "You know, I'm optimistic."
Earlier, Mr Biden congratulated the prime minister on his recent marriage, quipping: "We both married above our station."
"I'm not going to disagree with the president on that or indeed on anything else," Mr Johnson replied.
We need your consent to load this rte-player contentWe use rte-player to manage extra content that can set cookies on your device and collect data about your activity. Please review their details and accept them to load the content.Manage Preferences
After the leaders' meeting, a Downing Street spokesman said they "agreed to work to reopen travel and to continue to share information that will help defeat the spread of coronavirus in our countries and internationally".
On the thorny issue of Northern Ireland's post-Brexit trading arrangements, the spokesman said: "The Prime Minister and President both reaffirmed their commitment to the Belfast (Good Friday) Agreement and to protecting the gains of the peace process.
"The leaders agreed that both the EU and the UK had a responsibility to work together and to find pragmatic solutions to allow unencumbered trade between Northern Ireland, Great Britain and the Republic of Ireland.
"The Prime Minister outlined his ambitions to further expand opportunities for all the people in Northern Ireland and hoped that the US would continue to work with the UK to boost prosperity there."
Meanwhile, Irish government sources have told RTÉ News they are "very pleased" Mr Biden told Mr Johnson today that signing a temporary veterinary agreement with the EU to reduce customs checks will not "imperil" prospects of UK-US trade deal, as the British government has claimed.
Following a meeting with new DUP leader Edwin Poots last week, the Taoiseach said such an agreement could reduce friction and remove up to 80% of checks on products entering Northern Ireland.
"That is hugely significant as it removes basis for UK argument against such an agreement" said a senior source.
The Chairman of the House Ways and Means Committee, which will oversee any future US-UK trade deal, has described today's meeting between Mr Biden and Mr Johnson as "timely and important".
Congressman Richard Neal said he strongly supported the Biden administration's efforts to encourage both the UK and the EU to continue their talks in an attempt to reach a negotiated settlement to post-Brexit trade rules that does not undermine the Good Friday Agreement.
"Nearly 25 years after the people of Ireland, north and south, voted overwhelmingly to support the peace deal in an unprecedented referendum, there can be no disruption to the Good Friday Agreement. It is a template for successful conflict resolution around the globe," Congressman Neal said.
He said that Mr Biden was correct to suggest that the UK and the EU need to continue their diplomatic discussions to find common ground on the issue of the Northern Ireland Protocol.
"Unilateral decisions and actions are not helpful to the process going forward," Congressman Neal said.
Chair of Ways & Means Committee @RepRichardNeal says he strongly supports US Administration's efforts to encourage both UK & EU to continue their talks in an attempt to reach a negotiated settlement to post-Brexit trade rules that do not undermine Good Friday Agreement @rtenews pic.twitter.com/WZJ9Luqmyi

— Brian O'Donovan (@BrianOD_News) June 10, 2021
US Congressman Brendan Boyle also welcomed the "positive words" of Mr Johnson but said there have been "similar positive words in the past followed by unilateral action which went back on agreements made".
He told RTÉ's Six One News that the US had made clear that any prospective UK free trade agreement would not be pursued if there was a lack of resolution involving Northern Ireland.
Congressman Boyle said Britain will continue to be one of most important allies of the US and that overall, relations between the the two nations are strong.
However, since the Brexit vote it had been made clear that the top priority for the US was that the gains of the Good Friday Agreement would be preserved both in the letter of the law and the spirit.
Sinn Féin's Michelle O'Neill said she very much welcomed the intervention of Mr Biden. She said the US has been a "very strong supporter" of the peace process and of the Good Friday Agreement.
Ms O'Neill welcomed its commitment to protect that and also to ensure the British government delivers on the commitments it has made.
Mr Biden - on his first overseas tour as US president - and Mr Johnson also today agreed a new Atlantic Charter - a document setting out the principles for transatlantic co-operation.
The original was agreed 80 years ago by Franklin D Roosevelt and Winston Churchill, setting the foundations for the post-World War II era of international relations.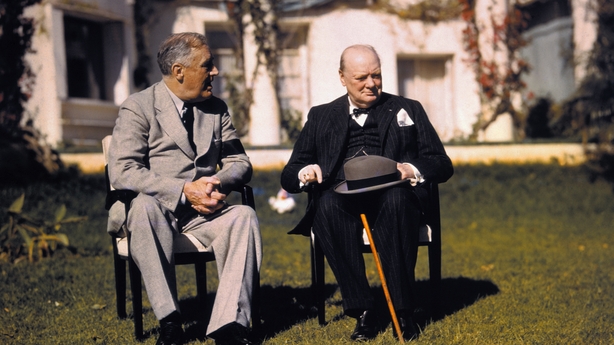 The charter reaffirms their commitment to "work together to realise our vision for a more peaceful and prosperous future".
Mr Biden told reporters in Cornwall the revitalised charter would address the "key challenges of this century - cyber security, emerging technologies, global health and climate change".
He said: "We affirmed the special relationship - that is not said lightly - the special relationship between our people and renewed our commitment to defending the enduring democratic values that both our nations share."
Mr Biden also confirmed that the US would be donating 500 million Covid vaccine doses to poorer countries.
---
Read more:
The G7 summit: What you need to know
Joe Biden to express concerns over Northern Ireland Protocol
Biden intervention in NI Protocol row 'significant' - Taoiseach
EU warns Britain against acting alone on Northern Ireland
---
Meanwhile, the White House has denied reports that President Biden ordered US diplomats to criticise Mr Johnson over his handling of Brexit and its effects on the Northern Ireland peace process.
"This is wrong. First, this discussion wasn't directed by the President. It was not heightened. As with any ally, we have diplomatic conversations about areas where we have concern at many levels," a senior Biden administration official said.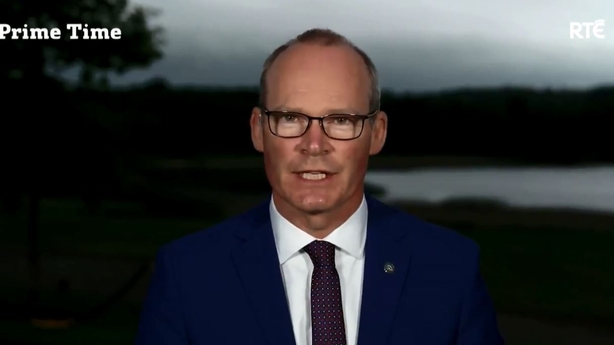 Coveney 'hopeful' Biden-Johnson talks will prompt progress
Minister for Foreign Affairs, Simon Coveney, has said today's meeting between President Biden and Prime Minister Johnson seemed to end in "good form with people on the same page".
He told RTÉ's Prime Time: "We do know the White House is very serious about its intent to protect the peace process. We can be confident that President Biden will have been quite firm in his views with the Prime Minister today."
He said "hopefully, as a result of that we will see some progress on issues that could and should have been resolved weeks ago".
Mr Coveney said many unionists are frustrated with the uncertainty around the Protocol and the inability of businesses to make plans.
"So there is a real onus on the EU and the UK to find a way forward on some of the sticking points."
Mr Coveney, when it was suggested to him that Boris Johnson might be playing to his supporters in his approach to the Protocol, replied: "It may well play well in Westminster for the Prime Minister to be seen to be standing up to the EU.
"But I think, If you are also standing up to the President of the United States, then that perhaps changes that political dynamic."
Asked if there is an intent on the British side to actually do business, he said: "I think there is but you can't be sure because this process has been frustrated or delayed.
"It may well play well in Westminster... but if you're also standing up to the President of the United States, then that perhaps changes that political dynamic."@simoncoveney talks to @franmcnulty about Joe Biden's Brexit stance | #rtept | Read more: https://t.co/fVm5s3TlC8 pic.twitter.com/QxCoIfFFl6

— RTÉ Prime Time (@RTE_PrimeTime) June 10, 2021
"Certainly on the EU side, there is a lot frustration and many people questioning as to whether the British government really want to get a deal done on the Protocol at all.
"My personal view is that they do - but they want to achieve the maximum flexibility possible in terms of its implementation."
Mr Coveney added that problems will not be solved by unilateral action, particularly on the British side.
This has happened "a number of times already, which has damaged trust with the EU and has undermined the relationship in a way which makes compromise more difficult".
Hotel hosting G7 media 'shut due to Covid outbreak'
A hotel in Cornwall reportedly hosting media and security staff for the G7 has closed following a coronavirus outbreak.
The website for the Pedn Olva hotel in St Ives said it has temporarily shut today and directed inquiries to its owners, St Austell Brewery.
St Austell Brewery confirmed the outbreak and said "all appropriate safety guidelines" were being followed.
In a statement, the firm said: "We can confirm that a number of our team at the Pedn Olva, St Ives, have tested positive for Covid-19.
"We immediately notified Public Health England of these cases and have been working closely with them to ensure we follow all appropriate safety guidelines.
"Following extensive discussions over the last few days with PHE and Cornwall Council, we have taken the decision to fully close the hotel.
"We fully appreciate the inconvenience given the limited accommodation options available in the area at the moment but the safety and security of our team and guests is our upmost priority.
"The hotel will reopen once a full Covid-19 deep clean has taken place and we have the available staff."
Additional reporting: Laura Hogan