World leaders and military veterans have attended ceremonies along the Normandy coast to commemorate the 75th anniversary of the D-Day landings.
The unprecedented air and sea invasion in 1944 saw the beginning of the liberation of Europe from Nazi Germany.
"This is where young men, many of whom had never set foot on French soil, landed at dawn under German fire, risking their lives while fighting their way up the beach, which was littered with obstacles and mines."
French President Emmanuel Macron was joined by US President Donald Trump and British Prime Minister Theresa May at a number of events mark the sacrifice of thousands of troops who gave their lives in the assault, and to honour the dwindling number of survivors of the Normandy landings.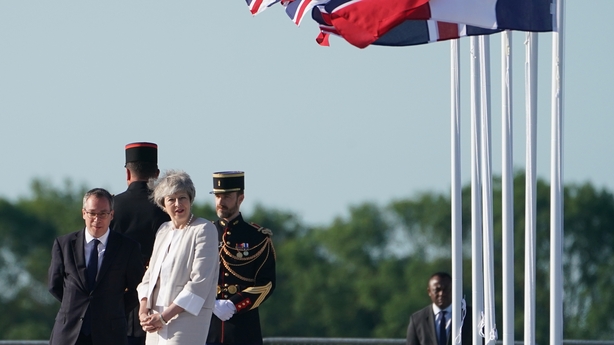 After a prayer service at Ver-Sur-Mer, veterans and their families attended a service of remembrance at Bayeux Cathedral.
At the start of the service, a message on behalf of Pope Francis was read by Cardinal Marc Ouellet.
He said D-Day was "decisive in the fight against Nazi barbarism" and paid tribute to those who "joined the army and gave their lives for freedom and peace".
At 5.58am on 6 June 1944, the operation to land 150,000 US, British and Canadian troops and 20,000 vehicles on five beaches got under way.
The Longest Day had begun.
Within 24 hours the Allied invasion had a toe-hold on the northwest corner of Occupied France.
---
Read More:
The D-Day landings - a crucial breakthrough that came at a terrible cost
How an Irish Weather forecast played a critical role on D-Day
Trump to join D-Day commemorations in Normandy
---
We need your consent to load this rte-player contentWe use rte-player to manage extra content that can set cookies on your device and collect data about your activity. Please review their details and accept them to load the content.Manage Preferences
The epic scale of the amphibious assault and the loss of life - some 11,000 Allied dead - have established D-Day as the high point endeavour and sacrifice. It was instrumental in turning the tide against Hitler.
President Macron and Mrs May unveiled a British memorial during the prayer service at Ver-sur-Mer.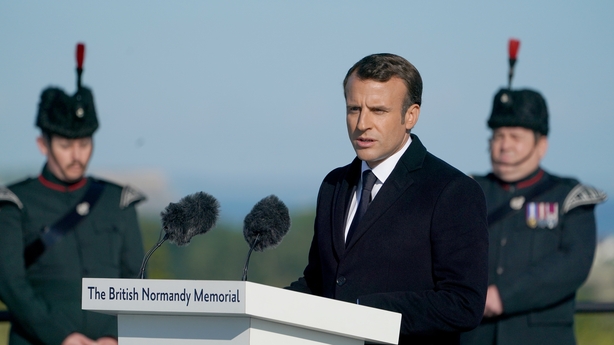 Addressing the audience, President Macron said: "I am honoured to stand alongside Theresa May today to launch construction work for the British memorial at Ver-sur-Mer.
"The British people have long dreamt of this memorial."
He added: "This is where, 75 years ago, on June 6 1944, almost 25,000 British soldiers landed in France to free the country from Nazi control.
"This is where young men, many of whom had never set foot on French soil, landed at dawn under German fire, risking their lives while fighting their way up the beach, which was littered with obstacles and mines."
He said the monument would also be a symbol of the ties binding France and the UK.
He said: "Nothing will break them. Nothing can ever break ties that have been bound in bloodshed and shared values.
"The debates taking place today cannot affect the strength of our joint history and our shared future."
President Macron assured Mrs May of his friendship, adding: "Leaders may come and go but their achievements remain. "The force of our friendship will outlast current events."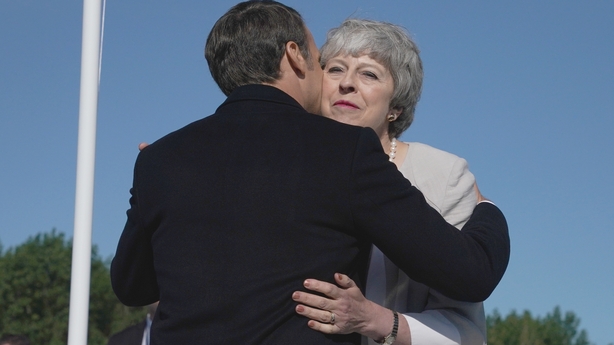 Mrs May said: "It's incredibly moving to be here today, looking out over the beaches where one of the greatest battles for freedom this world has ever known took place.
"And it is truly humbling to do so with the men who were there that day.
"It's an honour for all of us to share this moment with you."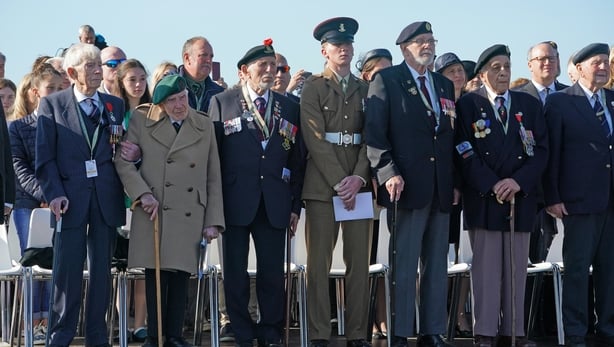 Mrs May also paid tribute to those who made the ultimate sacrifice, saying: "They laid down their lives so that we might have a better life and build a better world."
Later President Trump and First Lady Melania Trump joined Mr Macron and his wife Brigitte at the American Cemetery at Colleville-sur-Mer where the French president conferred the Legion of Honour on five US veterans.
The French and US presidents were then due to hold a private meeting and lunch in the Normandy city of Caen.
During a day rich in symbolism and reflection, the French president emphasised the need to protect the multilateral and rules-based liberal order which took root on the back of the Allied military success in World War II.
It is a message largely intended for President Trump, who remains accused to trying to undermine that order.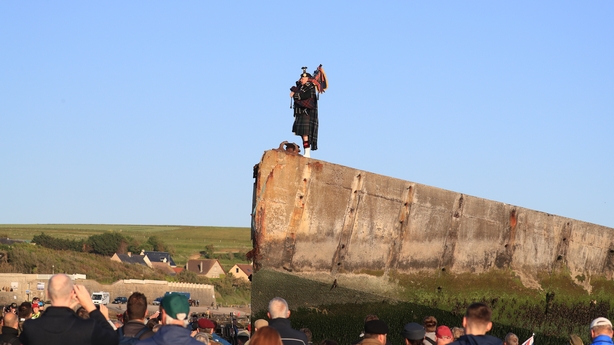 Nearby, in the town of Arromanches, around 300 veterans gathered to commemorate their fallen comrades.
Events began with the tradition of a lone piper playing a lament on the remaining Mulberry artificial harbour in the town, named Port Winston.
The lament signals the time at which the first British soldier stepped onto Gold Beach at the beginning of the D-Day landings.
It was played by Major Trevor Macey-Lillie, of 19th Regiment Royal Artillery (The Scottish Gunners).
He played Highland Laddie, a tune based on a poem by Robert Burns.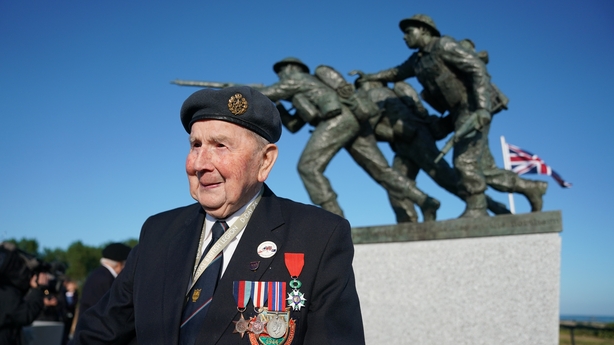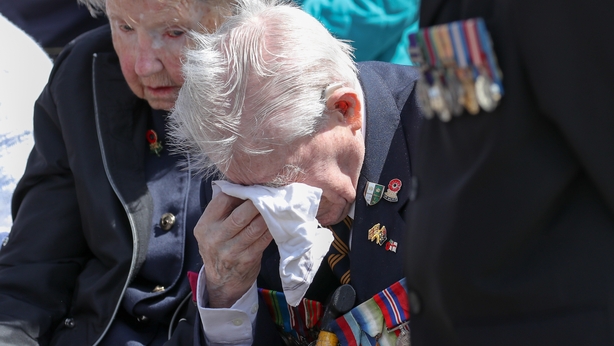 The largest amphibious assault in military history began with an aerial bombardment of the French coast shortly after midnight, while thousands of troops were spirited in behind German coastal lines by glider and parachute.
Just before 6am US troops began landing on Utah and Omaha beaches, while British and Canadian landed at Sword, Juno and Gold beaches.
At Omaha US troops met a hail of machine gun and artillery fire from the German 352nd Infantry Division.
By the end of the day, of the 34,000 American soldiers who landed at Omaha, 2,500 were dead or wounded.
At Gold and Sword beaches around 53,000 British troops landed, with 1,000 killed or wounded, while at Juno more than 21,000 Canadian and British troops landed, with nearly 900 Canadians killed.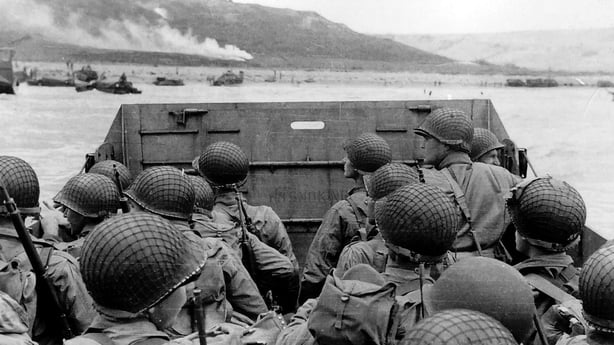 Despite heavily fortified defensive installations along the coast, the German army was largely taken unawares by the invasion, with their main units being 180km away.
Adolf Hitler's close aides were unconvinced by reports of invasion and declined to wake him.
He eventually woke at 10am and learned of the invasion.
At midday Winston Churchill announced Operation Overlord to the House of Commons.
By midnight 156,000 Allied troops had landed in Normandy.
Despite 11,000 casualties, the invasion was a success, but the most difficult fighting was actually to come as the Allies fought their way through the well fortified farmland of Normandy.
Some 170 World War II veterans are attending today's ceremonies, including up to 40 who crossed the beaches or who parachuted in.
Additional Reporting PA