French President Emmanuel Macron thanked US veterans for France's "freedom" as he spoke at a ceremony marking the 75th anniversary of the D-Day landings attended by US President Donald Trump.
"We know what we owe to you, veterans: our freedom," Mr Macron said in English before turning to face several rows of veterans, many of them in wheelchairs.
"And on behalf of my nation I just want to say thank you".
President Trump called veterans of D-Day "among the greatest Americans who will ever live".
"You are among the very greatest Americans who will ever live. You are the pride of our nation. You are the glory of our republic and we thank you from the bottom of our hearts," he said.
Mr Trump and First Lady Melania Trump gathered with the French President for the US commemorations at Omaha Beach in Colleville-sur-Mer.
Mr Trump told veterans: "Our debt to you is everlasting".
"Today we express our undying gratitude. When you were young - these men enlisted their lives in a great crusade - one of the greatest of all times," he said.
"Their mission is the story of an epic battle and the ferocious eternal struggle between good and evil."
.?@realDonaldTrump? and #FLOTUS arrive at Colleville-sur-Mer and the American Cemetery for the next stage of today's #DDay75 commemorations in Normandy pic.twitter.com/WLQvvp7rHK

— Tony Connelly (@tconnellyRTE) June 6, 2019
Mr Trump and his wife left Shannon Airport this morning for the commemorations.
"Heading over to Normandy to celebrate some of the bravest that ever lived. We are eternally grateful!" he tweeted before his flight to Caen in the Normandy region.
They spent last night at the Trump golf resort in Doonbeg and returned there this evening.
Mr Macron and President Trump held private talks and a working lunch after a ceremony at the US military cemetery at Colleville-sur-Mer today, with Mr Trump describing relations between the two leaders as "outstanding".
The site overlooking Omaha Beach holds 9,400 graves - just 40% of the American forces killed during the weeks of fighting that followed the D-Day landings.
Both leaders gave speeches, while the French President also bestowed the Legion d'Honneur, France's highest honour, on five US veterans.
D-Day is seen by many as one of the great symbols of transatlantic cooperation, as young American servicemen sacrificed their lives in the struggle to end the Third Reich's grip on Europe.
Tens of thousands of French and foreign visitors converged on the Normandy coast for this year's commemorations to honour the dwindling number of first-hand witnesses to the fighting.
But the Atlantic alliance has been tested by Mr Trump's prickly relations with Europe, as the two sides feud on issues ranging from Iran and Russia to global trade and climate change.
Canadian Prime Minister Justin Trudeau attended a ceremony at Juno Beach, where Canadian forces were in charge of the assault.
A dinner will be hosted in Doonbeg this evening by White House Chief of Staff Mick Mulvaney at the hotel.
Ireland's Ambassador to the United States, Dan Mulhall, and the Government's special US envoy, Fine Gael TD John Deasy, will be among the guests.
Meanwhile, Donald Trump Junior and his brother Eric joined locals in a number of bars in Doonbeg, shortly after 10pm last night.
Eric Trump praised the village of Doonbeg and its locals as 'the best neighbours in the world'.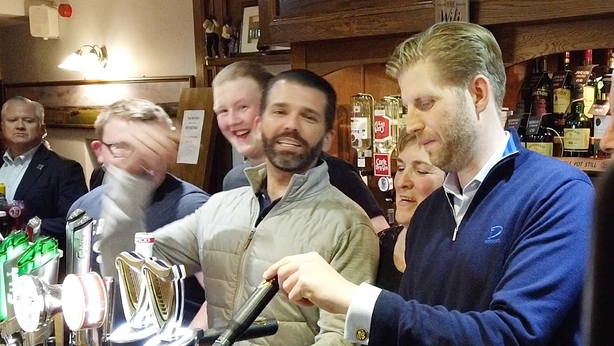 Additional reporting Reuters, PA