A 50m-long beach mat has been rolled out at one of Co Wexford's most popular beaches to improve access for wheelchair users and people with other mobility issues.
The specially designed durable mat at Rosslare Strand is part of an initiative to make beaches more accessible across the county.
Cathaoirleach of Rosslare Municipal District Councillor Lisa McDonald said: "In Wexford, we have got a few beach wheelchairs, whereby people can book and put their own wheelchair to one side, get into these wheelchairs and come on to the beach. That has been somewhat successful, but there are issues.
"I was contacted by Dr Vivian Rath, who is a doctor in disability studies at Trinity College, who asked about the possibility of having mobility mats on the beach.
"So, we felt that a mat like this would be accessible for everybody to get onto the beach with their own wheelchair or their own mobility device."
Annette Healy, from Wexford, has been enjoying access to the beach for the first time in almost two decades.
She said: "For 18 years, I have been in my wheelchair. I couldn't come down to the beach with my grandchildren. I would have to sit on the concrete and watch my husband playing with the kids in the sand and water. The new mat is a great achievement. I'm delighted to see it done."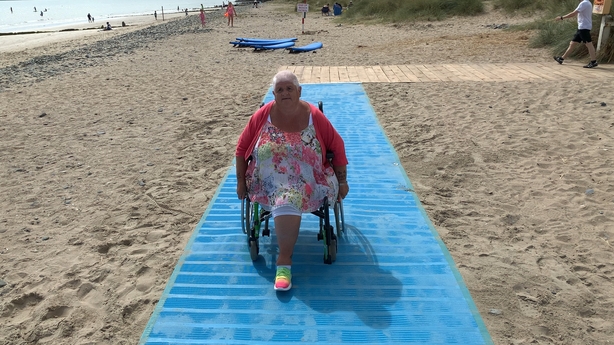 The Irish Wheelchair Association (IWA) has welcomed the introduction of the mat. However, it called for more facilities at beaches to support wheelchair users.
Rosaleen Lally of the IWA said: "Beach mats are great. They can also accommodate parents with buggies and the elderly. We want all Blue Flag beaches to be fully wheelchair accessible with not only beach mats but boardwalk, beach wheelchairs and a changing place facility.
"Providing beach wheelchairs with no changing place with a hoist, is of little or no use. Most disabled adults require a hoist to transfer into and out of a beach wheelchair.''
Annette Healy agreed: ''To see this being done in beaches, would be fantastic. And I'm sure it would be good for the different councils as well to see it that they are catering for all aspects of people in life.''
We need your consent to load this rte-player contentWe use rte-player to manage extra content that can set cookies on your device and collect data about your activity. Please review their details and accept them to load the content.Manage Preferences