Excitement is building within the Moroccan community in Ireland ahead of tonight's World Cup semi-final clash with France.
Morocco etched their names in the history books when they defeated Portugal last weekend to become the first African team and first Arabic-speaking nation to reach a World Cup semi-final.
The victory sparked wild celebrations among fans of the Atlas Lions worldwide.
Aziz Nouhi, originally from Casablanca, who runs the Dada restaurant in Dublin city centre described the team's success as ''historic and euphoric".
"Our team is flying and they are making us fly too. It's amazing to see them making history. We are so happy and proud," he said.
''The team is showing a lot of heart in these games. They are making us believe again and we are going to enjoy this for a whole year.''
Mr Nouhi has put up a large screen in his restaurant for the live screening of Morocco games.
''We've set up a screen and most times we are always fully booked on match days,'' Mr Nouhi said.
''Sometimes we stop serving for a while and stay glued but customers don't really care, they understand.
''There has also been a lot of Irish people coming in to watch the games and support the team which is great.''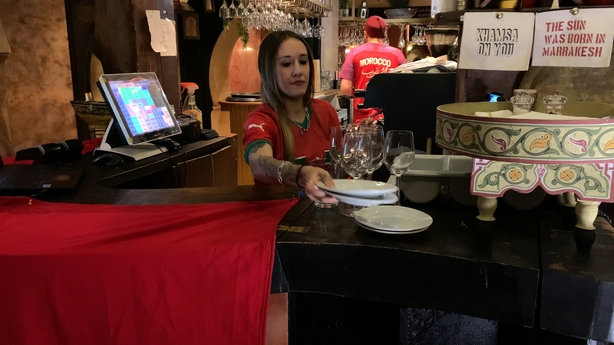 Morocco have already beaten three European powers - Belgium, Spain and Portugal - en route to the semi-finals and are aiming to cause another upset when they play defending champions France later this evening.
The team will have not just an entire nation behind them, but a legion of fans throughout Africa and the Arab world.
Sana Kdouch, a Risk Management Specialist living in Dublin but originally from Agadir, said: ''We are representing all the African countries and the Arab nations. It's just amazing to see these nations celebrating with us.
''We have an important game against France and we are going to win. We have that confidence now. It will mean everything if we can do that.''
Aziz added: ''If we make it to the final, it will bring peace to Africa and the Arab world. I think that may be the solution to some of our problems.''
"Our team is flying!"
Excitement is building within the Moroccan community in Ireland ahead of tonight's #FIFAWorldCup2022 semi-final clash with France. The underdogs have already created history by becoming the first African and Arab nation to reach the last four. pic.twitter.com/BOpZ3vXwTu

— RTÉ News (@rtenews) December 14, 2022