Thousands of people took part in this year's Dublin Pride parade this afternoon.
The parade started at the Garden of Remembrance and headed down O'Connell Street, Eden Quay and past Liberty Hall before crossing the Liffey at Talbot Bridge and finishing at a free, outdoor event at Merrion Square.
Organisers of this year's Dublin Pride say it was the largest in the event's history.
We need your consent to load this rte-player contentWe use rte-player to manage extra content that can set cookies on your device and collect data about your activity. Please review their details and accept them to load the content.Manage Preferences
The parade took over three hours to pass down O'Connell Street.
Around 100 uniformed members of An Garda Síochána marched in the parade along with Commissioner Drew Harris.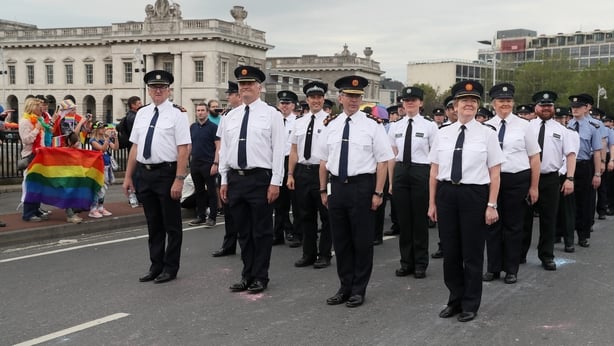 Policing representatives from both Northern Ireland and Britain joined their garda counterparts at the event.
Taoiseach Leo Varadkar also walked in the Pride parade.
"It's a real honour to be here at Pride. It's only the third time I've been, my second time as Taoiseach and the first time joined here with the gardaí and the PSNI, also Defence Forces and the public service too. So a really great turnout and a beautiful day in Dublin city, so happy Pride everyone," he said.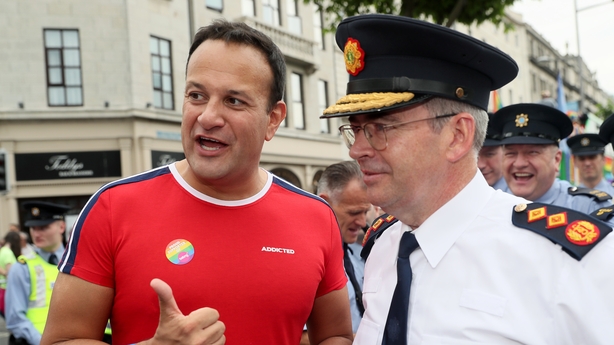 "It's really important that we say to anyone who is anybody who is thinking of joining our public service, whether it's the civil service, the Defence Forces or the gardaí that we're an inclusive employer and if you're gay or lesbian, or bisexual, transgender we understand that and you'll be welcome.
"It's also a really important message to young people, to kids: you only live once - be the person you are."
The first Dublin Pride parade took place in 1983 with 200 participants. This year's event included more than 150 groups.
A number of 'firsts' took place during the day including the flying of rainbow flags above both the GPO and Leinster House.
Minister for Finance Paschal Donohoe marched with members of the Public Sector under the banner, Proud to Work for Ireland.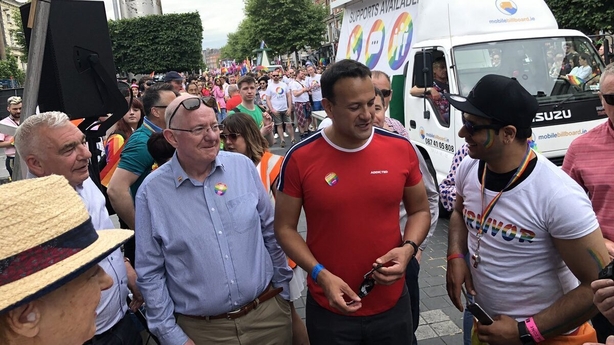 Eddie McGuinness, Pride Manager, said 50 years on from Stonewall it was important to remember Pride was originally a riot.
"But, 50 years on we are saying Ireland is on its way to being equal, no matter who you are."
Dublin is bidding to host Euro Pride in 2022, "when potentially a quarter of a million people could come to Ireland from all over Europe," he added. 
"We are protecting what Pride is. We can be a beacon".
Garda Commissioner Drew Harris said it was very important that members of the gardaí were participating in the parade in uniform.
"We are here for a number of very good reasons, one to show that we're a diverse organisation, we want to be an inclusive organisation and being here in uniform is a physical manifestation of that," he said.
"Secondly we're here to protect people from hate crime and we ask people who are subject to, or victims of, hate crime and hate incidents that they report those incidents. And lastly this is about us demonstrating to all of our staff that we're an inclusive organisation and we want diversity within An Garda Síochána."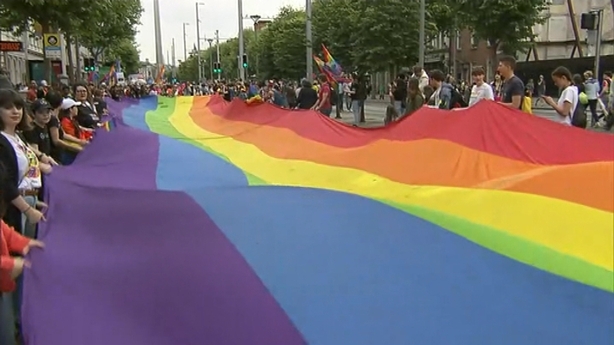 One of the officers taking part, garda Niall O'Connor, said it was an emotional day.
"I marched in Belfast two years ago, so to march in Dublin with my uniform today is wonderful.
"There are two parts to me - one is being a garda and the other is my sexuality. I don't want either to define me. It is a proud day to be able to do this."
Commissioner Harris said he could understand why some members of the LGBT community were not happy with the garda involvement.
"I can understand, they have a right to protest and that's their entitlement, but we are here for the right reasons and we're here with good intent and we want to illustrate that we in 2019 are here to protect all the people of Ireland, including the gay community," he added.
The Garda Representative Association (GRA) said it was delighted to be taking part.
"A country's police force must be socially representative, so it is right and proper that we in the GRA play our part on Saturday by displaying our own diversity; and standing should-to-shoulder with others doing the same," GRA President Jim Mulligan said.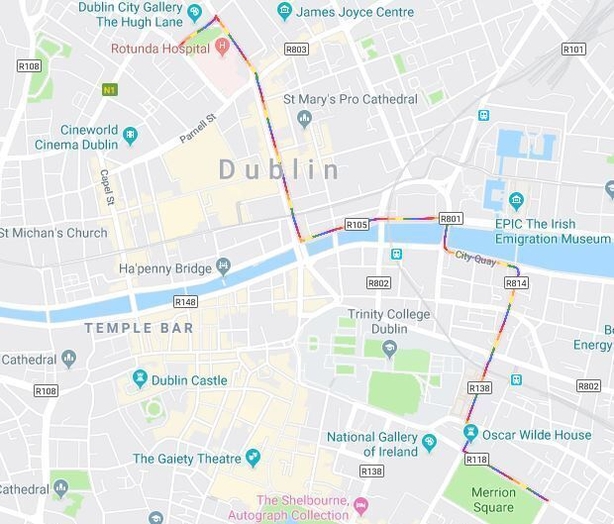 ---
Read more:
GAA and Pride: Next step on sport's march to acceptance of LGBTQ
Rural youth group in Pride march first - with rainbow tractor
Dublin Pride parade 2018 
---
Volunteers for @DublinPride getting a final debrief ahead of the parade. @rtenews pic.twitter.com/3w7EsqI2ll

— Louise Byrne News (@LouiseByrneNews) June 29, 2019
Specially-trained volunteers from the Samaritans were available at key locations to provide emotional support.
"When you go to an event like Pride, with tens of thousands of other people attending, you expect that everyone is having a good time, but that's not always the case," Theresa Potter, a Samaritans volunteer said.
"Events like Pride can be an emotional time for some people and others can feel very alone in the crowd."
An alternative Pride parade began at midday at the Rosie Hackett Bridge, organised by Queer Action Ireland.
An alternative Pride is under way  at Rosie Hackett Bridge. pic.twitter.com/fhZTxbq7LO

— Louise Byrne News (@LouiseByrneNews) June 29, 2019