The Dublin Pride parade takes place this weekend. It is held in June, not only to capitalise on the sunny spirit of summer, but primarily to commemorate a group of LGBTQ+ people in New York City, who - 50 years ago today - pushed back against police intimidation.
The 60s saw the rise of the civil rights movement in the US, with black Americans rising up against systematic discrimination and routine violence. The following decade, the push for women's rights began to gain momentum. Between those two historic moments, the Stonewall Riots kick-started the push for gay rights.
The Space Age was taking off, and in the summer of '69, humankind was just weeks away from walking on the moon. Back on Earth being gay, lesbian, transgender was met with hostility, charges of being "deviant" and mentally ill, and possibly jail time.
While discrimination still exists in some quarters today, half a century ago, in the US and elsewhere, it was the overwhelmingly dominant view. It was institutionalised, carrying the weight of law, and - often violent - law enforcement.
Police raids on gay bars were routine. In New York, homosexuality was illegal, and would remain so until 1980. Every week in the city, an estimated 100 people - overwhelmingly men - were arrested and faced charges of "gross indecency" or "public lewdness".
We need your consent to load this rte-player contentWe use rte-player to manage extra content that can set cookies on your device and collect data about your activity. Please review their details and accept them to load the content.Manage Preferences
In the summer of 1969 gay icon Judy Garland had just died and was lying in state in a funeral home in the fashionable Upper West Side of Manhattan. Downtown, the Stonewall Inn was described by one patron as "a terrible place where something great happened". It was a seedy joint run by mafia don, Fat Tony, of the Genovese family. Staff watered down drinks, overcharged clients, and sometimes extorted them. Yet this was one of the few "safe" spaces LGBTQ+ people had. "You could kiss," says regular Mark Segal. "More importantly for an 18-year-old kid from Philly, you could dance your ass off!
"The next day, protesters came back, and stood in the street, holding hands and kissing, something they had never done before"
Another regular Michael Levine recalls how, in the early morning hours of 28 June, in a now familiar routine, the vice squad barged in.
"There was a deafening silence", he says. "The lights went up, the music went off".
Having shaken down the customers, the police then dismissed them, and ordered them to go home. Patrons, frightened at being identified publicly, usually left quietly. But this time, things went differently.
People of colour had begun attending the Stonewall in greater numbers, and brought with them a mindset of resistance in the face of racial discrimination. Together, patrons now stood their ground, something the police did not expect.
"Puerto Rican drag queens faced off against Irish cops, shouting 'We're not leaving!!'" Michael Levine recalls, the drag queens forming a chorus girl kick-line and chanting in defiance.
More and more joined the crowd outside the Stonewall, applauding as they were joined by other patrons. Gradually the mood shifted, with the police getting heavy-handed, and the crowd taunting them.
When a woman was forcefully put into a police van, things went up a gear. A stone, shot glass, purse or high heel was thrown; there are conflicting accounts. What everyone agrees on is that everything erupted.
The police, lead by a WWII veteran, took shelter inside the Stonewall Inn, and were, thankfully, under orders not to shoot. One protester poured lighter fluid into the pub and set it alight. Then firefighters arrived, backed up by riot police.
The next day, protesters came back, and stood in the street, holding hands and kissing, something they had never done before.
The crowd swelled with thousands joining its ranks, and things kicked off again, with further clashes with police continuing late into the night. There were more confrontations in the following days.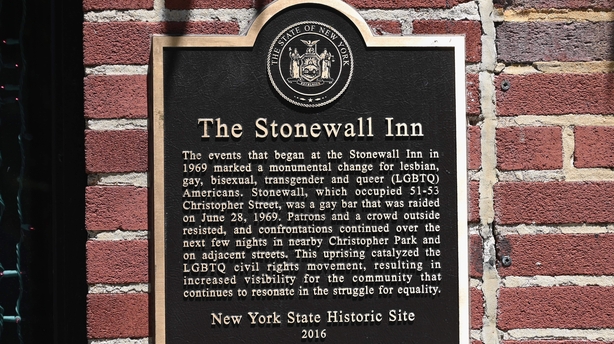 Out of the turmoil, the Gay Liberation Front emerged, with another march organised a month after the riots, and the first pride parade a year later. Three New York-based LGBTQ+ newspapers were also set up, and the campaign for equal rights was up and running.
But even in liberal quarters, LGBTQ+ people continued to face discrimination. Just weeks after Stonewall, The Village Voice, the progressive paper of the cultural underground, would not allow the Gay Liberation Front to advertise a public meeting.
Mark Segal recounts how no more than three gay people were allowed to meet in public. When they went ahead and gathered, in defiance of the law, how did he feel? "Excitement, exhilaration, empowerment," he said.
"At that moment we went from seeing ourselves as a mental illness, to thinking we were a minority", writes Edmund White.
Matthew Todd, documenting the evolution of the LGBTQ+ movement in his book "Pride", writes that the Stonewall Riots were "an explosion of optimism and energy that sent such a bright flare high above Greenwich Village, it became a beacon for people all over the world".
In recognition of the importance of the stand taken by those people 50 years ago, in 2016 the US president Barack Obama designated the Stonewall Inn, and the area outside where patrons clashed with cops, a national monument. It's the first monument in the US to celebrate gay history.