While Pride parades are most often seen as rainbow-hued celebrations of identities, freedoms and LGBT+ culture, its roots are firmly in protest and advocacy.
Macra na Feirme - an organisation providing supports to rural youths - will be marching in the Dublin Pride Parade for the first time in their 75-year career.
Here, Denis Duggan, the organisation's Chief Executive, explains why the time is right to take part in the parade, how their members will be taking part and what is left for us to improve on to make our society as inclusive and free as it should be.
What is the significance of Macra na Feirme taking part in the parade this year? How did it come about?
There is no doubt that Macra na Feirme participating in its first Pride Parade is significant, for the organisation and our 10,000 members. It is significant in that it sends a signal to young LGBT+ people in rural areas that you are welcome and included in our organisation.
We need your consent to load this Instagram contentWe use Instagram to manage extra content that can set cookies on your device and collect data about your activity. Please review their details and accept them to load the content.Manage Preferences
Many older lesbian and gay people from rural areas around Ireland have spoken about the difficulties and challenges they have faced due to stigma, isolation and fear. Macra na Feirme, in participating, is clearly saying to LGBT+ young people in rural communities that you are welcome and included in our 200 clubs around rural Ireland.
A few years ago, prior to the Equality Referendum, Macra na Feirme partnered with GLEN on a publication for LGBT+ rural young people. When a number of supporters, staff and members notice that other youth organisations were participating in last year's Pride Parade, some of those supporters had suggested to the senior management and leadership that Macra na Feirme should participate this year, and so - here we are!
The organisation has been doing good for rural youths since 1944, why is now the right time for taking part in Pride?
To be honest, it is probably long overdue. We are delighted that in our 75th year, we are marching for the first time along side other large community-based organisations like our own, who are also marching for the first time.
When it comes to LGBT+ youth in rural areas, what is the experience like for them? Is it getting easier to be out or explore your sexuality?
There are still many challenges facing rural young people in expressing themselves. It is never easy to be different to the majority. However, over the past few years we have all witnessed a welcome and changing attitude in all of Ireland not just rural areas.
LGBT+ young people exploring their sexuality have a lot more allies today in rural Ireland than their peers did a mere 10-12 years ago.
The changing attitudes, more allies, and the focus on being more inclusive in all organisations from Macra na Feirme to the GAA is all helping to make the exploration journey a little easier for the next generation.
What are the hurdles for expressing your sexuality in rural parts of the country?
The same problems that limit all opportunities for rural young people also become hurdles for those trying to express themselves. Public transport, lack of connectivity, reduced dedicated LQBT+ youth services in rural areas all serve as barriers and hurdles for rurally disadvantaged youth.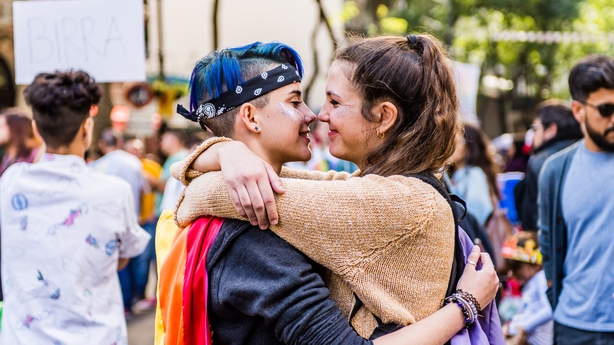 What are the plans for the parade? Will there be a float, banners, etc?
Macra na Feirme are partnering with Axa Insurance for this year's Parade. We are delighted that WBD in Rush and Massey Ferguson have provided us with a massive Massey Ferguson 7718 tractor, and Lynch Trailers in Macroom, Co. Cork have provided us with a 24ft trailer on which we have our float for the day.
The tractor and trailer will be the first rainbow-wrapped tractor and trailer in a Pride Parade in the UK or Ireland.
Out in front of the tractor, many of our members will be carrying a large Macra na Feirme Rainbow banner. We are looking forward to bringing a very rural spectacle to this year's Pride Parade!
This is a wonderful step in the right direction for representation, but more is to be done. How can we make the country more inclusive for rural youths, LGBT+ or not?
It is critical that we have increases in funding for the valuable work done by youth organisations working with all our young people. During the recession, funding to youth services and youth work was cut by 35% in 2008. This has barely been increased since then, and in fact any increases were so small that they would not keep up with cost inflation or the increased costs of compliance, regulation and bureaucracy.
For example, the youth services grant which provides significant funding to our organisation and to many others such as Foroige, Youth Work Ireland, Crosscare, Scouts, Guides, etc. has increased by barely 0.3% in the past two-three years.
As a society, we need to invest in many things, including our young people. John F. Kennedy once said that "the future promise of any nation can be directly measured by the present prospects of its youth".
As a nation, and as a government, ensuring equality of access to services for rural young people, be it rural broadband or rural LGBT+ youth services, all contributes to a more inclusive nation.