At 4.20pm on Thursday a gunman opened fire on a busy street.
He stood on the centre line of the road and fired eight shots indiscriminately.
As passersby watched on in complete disbelief, a 35-year-old man fell to the ground. 
It's unclear if he was the intended target, but he was an associate of a gang member and that was good enough for the attacker.
He was shot twice, in the shoulder and leg, but survived.
Other innocent passersby, including young children and motorists, narrowly escaped injury.
This wasn't downtown Detroit, it was Drogheda.
The shooting at Hardman's Gardens this week was just the latest attack in a worsening feud. 
Gun attacks in busy residential and retail areas in broad daylight have become a feature of the bitter dispute which centres on two gangs vying for the lucrative drugs trade in the town.
Last July, one gang member was shot at least four times at his home in Drogheda - sustaining wounds to his stomach and shoulder as well as injuries to both legs and wrists.
He was paralysed in the attack and discharged from hospital just last week.
---
Two homes targeted in petrol bomb attacks in Drogheda
---
Since that shooting nine months ago, the dispute has escalated as the two gangs engage in tit-for-tat attacks.
Shootings, pipe bomb and petrol bomb attacks have now, unfortunately, become common place in certain parts of Drogheda.
Last November it reached boiling point with a spate of incidents in one week, including the kidnapping of a man with links to one of the gangs. 
He was stripped and stabbed over half a dozen times in the face, neck and chest. Gardaí saved his life when they raided the house and discovered him naked in the bath.
In February, a 39-year-old man was targeted in a shooting at the M1 Retail Park. He was shot several times as he sat in his car, but survived.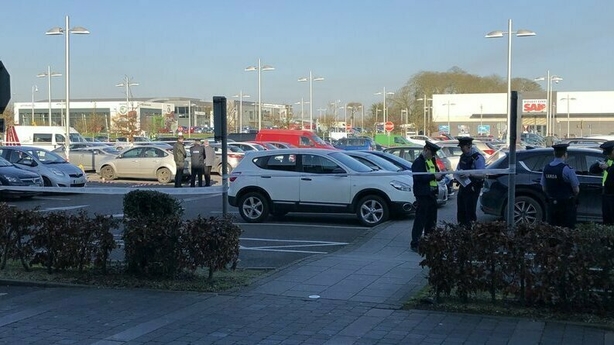 Again the attack in broad daylight was witnessed by families with young children.
Earlier this month, four men were arrested in relation to that attack.
It's believed they were on their way to carry out another shooting.
This week alone there have been two petrol bomb attacks on houses in St Laurence's Park and Moneymore, one of the main hot spots of the feud.
No one was injured but through relentless intimidation, gangs are making it clear they are intent on causing damage and serious harm.
There's no shortage of people in the town who will talk about their concerns but there's few who want to be identified, worried about the implications of speaking out. 
As I stood at Hardman's Gardens on Thursday evening people there told me they are living in fear.
"It's just crazy, it's lawless, anyone could be shot, when it's done so openly, you have to wonder. You hope the guards get more control of things", one man said.
Another man, who has been living in the area for over 30 years, said he couldn't believe the brazen nature of Thursday's attack.
"It's worrying that they don't see anything wrong with letting off five or six rounds when there's a lot of people around, it doesn't seem to bother them. They don't seem to have any worries about being caught", he said.
For the last number of months the airwaves of local radio station LMFM have been dominated by the situation in Drogheda. 
News bulletins and the Michael Reade Current Affairs show have been filled with the latest development in this deadly dispute.
News Editor Michael Carolan says the impact the feud is having on the town in unprecedented.
"Over the last six months there have been multiple petrol bomb attacks, shootings and a kidnapping.
"Communities in certain areas of the town have been effectively under siege. In one particular incident, a car was driven through the front of a shop and set on fire", he said.
"The Army Bomb Disposal Team have been called to examine several suspicious devices - many, if not all, were viable. Roads and estates have had to be sealed off for long periods of time as these security alerts were dealt with. The impact that this ongoing feud has had on the town is unprecedented", he added.
Politicians on all sides have condemned the attacks and appealed for more garda resources.
Fianna Fáil TD for Louth Declan Breathnach said the shooting this week demonstrated the "level of depravity the thugs who carry out these acts will sink to".
Labour Party Senator Ged Nash, who grew up not far from Hardman's Gardens, said people are scared.
"I've never experienced the level of fear that is currently being felt by the people on the streets of Drogheda, I've lived my whole life [here] and it's terrible to see my hometown impacted like this," he said.
In November, when the feud boiled over all garda leave was cancelled in the Louth division and stringent controls on overtime were eased. Operation Stratus saw high visibility patrols around Moneymore and Cement road.
The Emergency Response Unit and other undercover armed gardaí were stationed around the town.
Again this week there have been calls for more resources to tackle the escalating violence.
Senator Nash believes gardaí need to take the same approach they took in Limerick, a city once gripped by a similar feud.
"What we need is permanent policing resources in this town. What we need is a very serious and heavy handed crackdown on this activity that's going on at the moment", Senator Nash said.
In the next few weeks one of the leading criminal figures in one of the feuding gangs is due for release from prison and gardaí are bracing themselves for a surge in violence.
The people of Drogheda are preparing to host Fleadh Cheoilna hÉireann for the second time later this summer and are understandably worried.
Gardaí continue to put a policing plan in place to contain the violence but outside a shop on West Street yesterday, one man who did not want to be identified summed up the feelings of a community.
"I think they're going to ruin our town", he said.