The three polls taken this month, the last two since the election was called, provides the basis for this update. All three agreed in suggesting a decline in Fine Gael support, leaving it clearly behind Fianna Fáil, and an upsurge in support for Sinn Féin. 
Fianna Fáil's lead over Fine Gael is something we have seen on numerous occasions since the 2016 election, but most instances were before the change of leadership in 2017. However, in 2019 the lead switched from poll to poll and the last four have shown a lead for Fianna Fáil.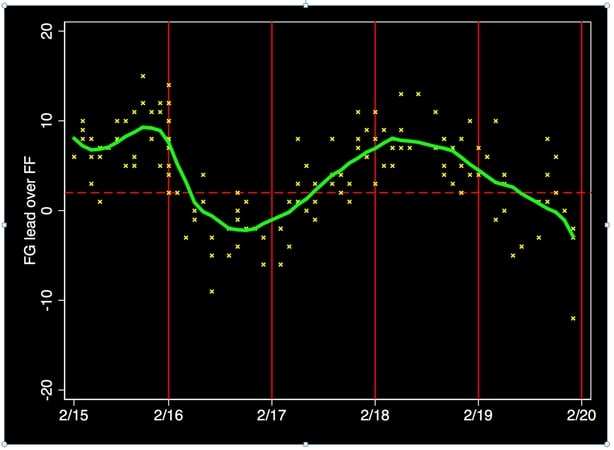 While Fianna Fáil may now be winning the battle to be the biggest party, the combined figure for Fianna Fáil and Fine Gael is now barely above 50%, lower even than we saw in the 2016 election.
It exceeded 60% on occasion in late 2017, prompting some to suggest the party system was returning to what was once normal but those days are long past.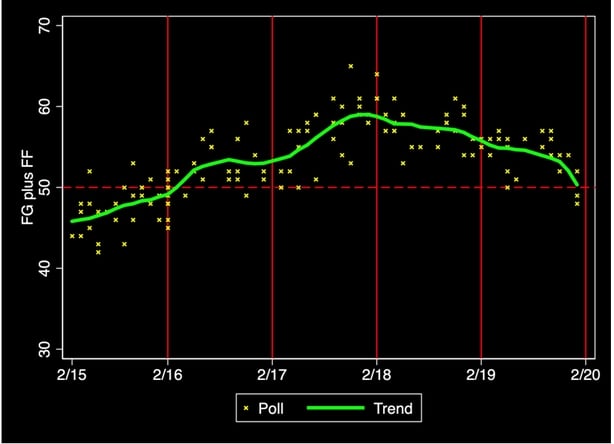 I provide a Poll of Polls figure in the table below along with seat projections based on these numbers.
As it stands, Fianna Fáil looks as if it will be the largest party, but that it would be hard pressed to construct a government with Greens and centre-left parties. 
The table also shows the polling averages for January, which suggest that the longer-term basis of the poll of polls estimate is a little low for Fianna Fáil and Sinn Féin and a little high for Fine Gael.
However, neither set of estimates suggest an easy path to government formation in the days after the result is known.