What a lot of difference a year can make to our politics.
Last December, facing into a General Election, Fine Gael and Fianna Fáil were neck-and-neck as Fine Gael seemed to be losing the momentum given to the party by the new Taoiseach Leo Varadkar.
Sinn Féin was stuck in the high teens, and the Green Party was on an upward curve, building on a good European Parliament election.
The 2020 election provided many shocks.
If Sinn Féin's vote share win was the most remarkable feature of the result, Fine Gael's failure to come anywhere near its polling in 2018 or 2019 was also remarkable.
The most recent poll by B&A for the Sunday Times suggests not only that Sinn Féin remains the most popular party, but that Fine Gael is more popular than its government partner Fianna Fáil, while the Greens are struggling to maintain their support while governing.
In the last year, B&A have tended to show less support for Fine Gael and more for Fianna Fáil and Sinn Féin than polls as a whole. This is not to say which company is right or wrong but that it is worth looking at the polls more generally, taking all published polls over the last few years to see each party's ups and downs, and get a wider view of where they all stand at the end the year.
Pollsters do vary in the methods they adopt. Some polls are online, others face to face; some correct for likely vote, others do not (or do not outside election times); and some prompt respondents more extensively with names of minor parties than do others.
These variations almost certainly go part way to account for some systematic differences between pollsters but is worth noting that pollsters themselves do change their methods from time to time.
I have taken all polls by B&A, Red C, MRBI, Millward Brown and Ireland Thinks in the five years since December 2015. A trend has been calculated by averaging polls over each month and then smoothing over a longer period.
The graphs below show all polls and the trend. A dashed red line shows each party's 2020 election vote share. The graphs do show polls scattered around the trend line, sometimes quite widely.
For Fine Gael, 2020 has seen it winning the sort of support in the polls promised by Mr Varadkar's initial impact and suggesting that the 2020 election was apparently out of line with what came before, or after. Were it not for the fact that the election result was consistent with them, we might see these campaign polls as a succession of 'rogue' polls. They fell well below the general trend of Fine Gael support.
Of course, the onset of Covid-19 saw voters rallying to the support of governments in most countries, even if that government was a caretaker administration in this instance. But Fine Gael has been able to maintain much of this increased support through the year, despite giving up the Taoiseach's position and sharing government with Fianna Fáil (and the Greens).
In only one poll did the party come close to its 2020 vote. Support has been waning somewhat in the latter half of the year, and Sunday's poll showed the lowest level of support for the party since the Government was formed.
In contrast, Fianna Fáil has consistently failed to reproduce the poll ratings seen at the start of the year. After some anxious years wondering if it would ever again get into government, the achievement of office seems to have lost the party more support than it has won. Sunday's 22% was its best since the election, and though this is a very long way from the low teens recorded in several polls, it is far from satisfactory for a party with Fianna Fáil's tradition.
It remains to be seen whether this one poll indicates that the party has put its worst days behind it.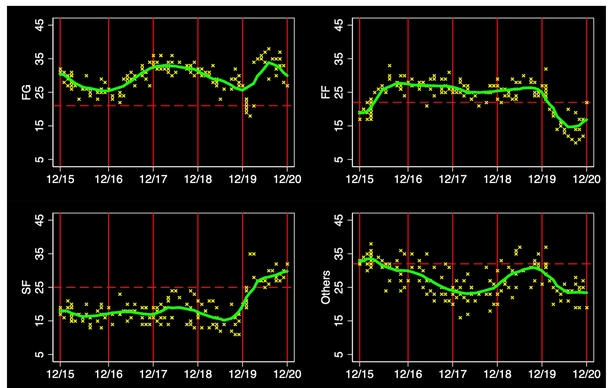 In contrast, Sinn Féin has polled on or above its election vote, itself a high point, and shows a clear upward trend over the year. The party now leads the opposition and has made the most of it. While no poll put the party above 25% in the previous four years, those since the election have consistently placed the party above that line.
In general, support for "others" (including Greens, Labour, Social Democrats, Aontú, elements known as Solidarity and Independents) has dropped since the election. In part, this reflects a decline in the support for the Green Party. However, we saw the same trend during the last inter-election period, and we might expect an election campaign to raise the profile of such parties and independents to their advantage.
The second graph below shows Solidarity, Labour, Social Democrats and Greens separately.
Most striking is the way that the support for the Greens rose though 2019 and has declined in 2020. The party probably has some time to prepare for the next election but currently it looks to be heading for the disappointment that has come for most small parties sharing power with Fine Gael or Fianna Fáil in the past.
Labour, despite a new leader, is showing little sign of recovery from its last period in office with Fine Gael. Meanwhile, the Social Democrats are showing signs of polling ahead of their 2020 election performance.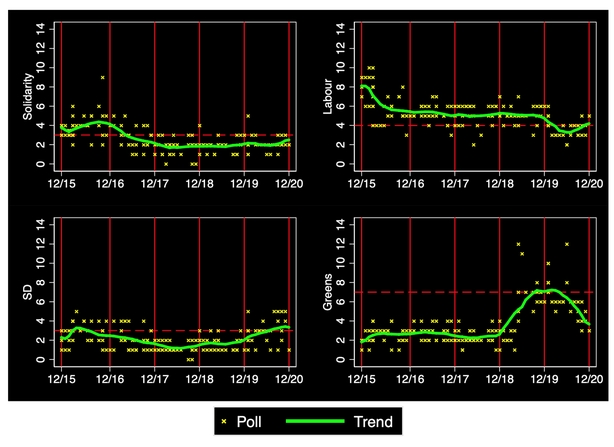 Overall in 2020, Fine Gael has maintained the level of poll support enjoyed since 2015, averaging close to 30 points. In that sense 2020 was not remarkable in terms of its standing among voters.
The pattern is very different for the other two larger parties. Sinn Féin, averaging 27 is well above the high teens of previous years, while Fianna Fáil averaged just 18 points, its worst figure since 2012, and following consistent ratings in the mid 20s almost each year since then.
In 2020 Fianna Fáil was the third party in the system, a position it had occupied before but never so dramatically, 11 points behind Fine Gael and nine points behind Sinn Féin. A remarkable year indeed, for a party in power for almost two thirds of its existence, and with its centenary not far off.  
---
Michael Marsh is an emeritus professor of political science in TCD and co-editor with Michael Gallagher and Theresa Reidy of forthcoming book How Ireland Voted 2020.