Now this Dáil comes to an end, the story suggested by the polls is that not much has changed in the last four years.
Party support is broadly where it was in the February 2016 election, but this is not to say there have not been shifts.
Fine Gael support rose when that party swapped Enda Kenny for Leo Varadkar, but that boost has lost momentum. Sinn Féin's own leader exchange did not even much of a short-term impact, while Fianna Fáil seems to have held a steady course while keeping the same leader.
The biggest changes have been outside these three parties, where support first fell and has now recovered, but perhaps with a different political composition as the Green Party enjoys a second coming.
The analysis below is based on 132 published polls over that period, by Red C, Behaviour and Attitudes, IPSOS-MRBI, Millward Brown and Ireland Thinks.
These are the published figures, they are not adjusted in any way.
The graphs show each poll as a yellow cross, along with a green line showing the moving average, month by month. (This average is always taken over a longish period, more than one year, which makes it resistant to very short term fluctuation.)
There is also a dashed red line showing support in the 2016 election.
There are consistent inter–company differences with Red C in particular recording lower support for Sinn Féin and more for independents and smaller parties, a point expanded on later.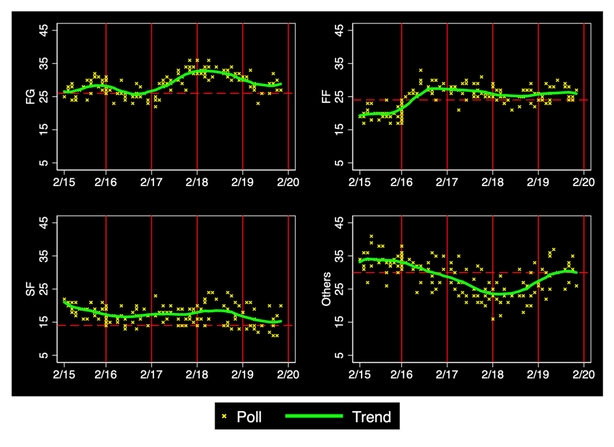 Fine Gael support initially languished after the last election. Polls may have overestimated its support early in 2016 and until the change in leadership was under way, there was little sign of it winning that level of support again by pushing up to around 30%.
However, for much of 2017 and 2018 support was well up on 2016 but 2019 saw the party struggling to maintain that new level.
Its polling is generally still just above its 2016 result, but not by much and some will be concerned that its poll support did not translate effectively into votes last time.
In contrast Fianna Fáil support was underestimated at the last election, something we rarely saw in its days of dominance.
After the election support was typically above its 2016 result, and well up on its 2015 polling, but the polls have shown no sign of any further increase. It was ahead of Fine Gael generally until Leo Varadkar took over, then well behind, but is now neck-and-neck, a consequence of change in Fine Gael support more than in that of Fianna Fáil.
Sinn Féin's support, like that of Fine Gael, looks to have been overestimated in the polls last time. Turnout pattern is the usual explanation and controlling for likely turnout among respondents does decrease the Sinn Féin estimate.
This is something not all companies do, hence is a wider fluctuation around the average here, with the party around 25% in some 2018 polls and no more than 14 in others.
The moving average has remained around 17%, at least until the last year, when it has headed back down towards the 14% won in 2016.
The biggest change is in the bloc of other parties and independents. Again, these seem to have been overestimated in pre-election polls, but support fell significantly after the election and over the next two years, only to move up again, particularly in 2019.
There is even more dispersion in these figures, as can be seen in the spread of the yellow Xs around the green line. This probably reflects the fact that some companies initially prompt respondents with the names of more minor parties than others do.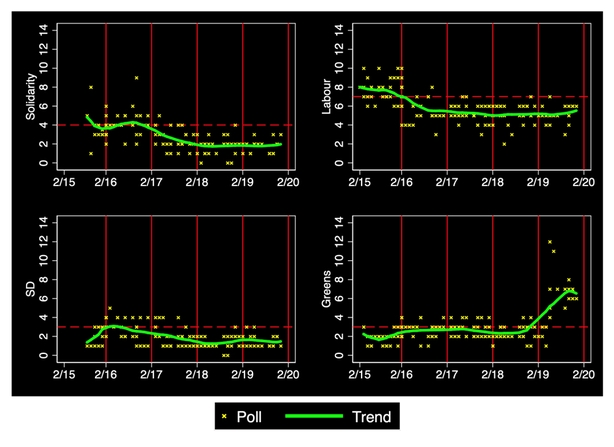 Looking at four of these parties, Labour (which is invariably given in a list of possible voting options) Solidarity, Social Democrats and Greens, we can see that support for each of them tended to run below their 2016 result until 2019, when Green Party support soared.
This increase in Green Party support is responsible for most, but not all, of the growth in support for the Others group in 2019.
We have seen no polls since December, but more are sure to be published shortly. Meanwhile, taking the latest points on each green line to denote where parties are now gives us the following percentages, along with a best guess, based on the record since the 1970s, of the seats that might be won with that level of support.
This is pretty much as we were, apart from a more significant Green Party representation.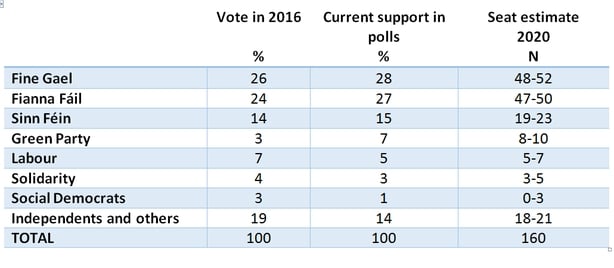 Of course, we may see significant changes in the polls through the forthcoming campaign, as opposition parties get more airtime and people give more thought to their vote.
But this election has been a long time coming and this might mean we see less fluctuation.
The polls too may be under/over estimating support for some parties. This has happened before, but it would be wrong to assume the pattern of error in 2016 would be repeated.
The best recent check we have are the 2019 local elections, typically a better pointer to general election performance that are European elections, or by-elections.
These results were broadly consistent with these poll figures, although Fianna Fáil pipped Fine Gael, Sinn Féin won only 9% and Independents and others won rather more support than is indicated here.
What does look certain is that we can expect the formation of the next government to take at least at long as the official election campaign itself.