The principal of Blakestown Community School is confident students will return at the end of August but cannot guarantee the school will remain open for the year.
Frank Milling, who has been principal of the north Dublin secondary school for a year, says it is going to take a lot of effort to implement the Government's roadmap within four weeks.
Mr Milling has hired a health and safety consultant to formulate a bespoke plan for the school.
Lockers have already been removed from the corridors over concerns it would be impossible to maintain physical distancing.
Some classrooms have been reconfigured in line with illustrations published on the Government's website.
In order to maintain one-metre distancing between students and the teacher, six tables had to be removed from a classroom with 24 remaining.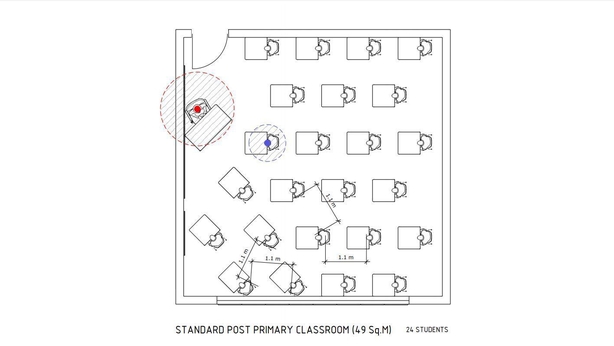 Mr Milling says there will have to be live-streaming for the overflow students in another classroom, which creates an issue surrounding supervision of the students.
The school's canteen normally seats 168 students but the new rules mean this will have to change too.
The library, assembly hall and gym will be turned into bespoke classrooms to accommodate students and work is under way to ensure the staffroom will adhere to the guidelines also.
Mr Milling said he is confident he will reopen the school on 26 August but he cannot guarantee it will remain open.
"With the advent of the flu season ... it will be touch and go. I can't promise that, and I don't think any principal would be in a position where they could promise to remain open all year".
Primary schools have also been preparing their classrooms for a return to school next month.
Both the Teachers' Union of Ireland and the Association of Secondary Teachers in Ireland have cast doubt on the ability to fully reopen schools at the end of the summer due to the tight time frame after the Government's plan was announced yesterday.
TUI General Secretary John MacGabhann said it will probably be the case that not all schools will be ready to reopen fully on 31 August and a staggered intake of students may be required.
ASTI President Deirdre Mac Donald said the time frame for changes to secondary schools to allow them to reopen in September is too tight and she was not confident that reopening plans could be implemented in a month's time.
Minister for Education Norma Foley earlier reiterated that schools will fully reopen in a safe and sustainable manner at the end of August.
She said it will be back to school as normal for the entire school community at the end of the summer.
Yesterday, funding for more than 1,000 additional secondary school teachers, "enhanced cleaning and hand hygiene" supports and classroom "bubbles" for primary schools were detailed in the Government's €375m school reopening plan.
Minister Foley said funding for more than 1,000 additional teachers at post-primary will be made available, in addition to funding for 120 extra counselling posts.
She said there will be "enhanced cleaning and hand hygiene" supports for schools, and opportunities for schools to receive Personal Protective Equipment.
---
Read more: At a glance: What did we learn about schools reopening?
---