At Gaelscoil Chluainín in Manorhamilton, Co Leitrim it was all about space today.
Principal Sinéad Ní Thorsnaigh had her one-metre rulers out to measure the distances between desks and chairs to figure out how to accommodate 70 pupils in three classrooms with the correct social distancing.
Along with teacher Máiread Ní Ghonlaigh and SNA Róise Ní Dhomhnaill, she was moving everything that wasn't stuck to the wall to make more space, including bookshelves, desks and chairs.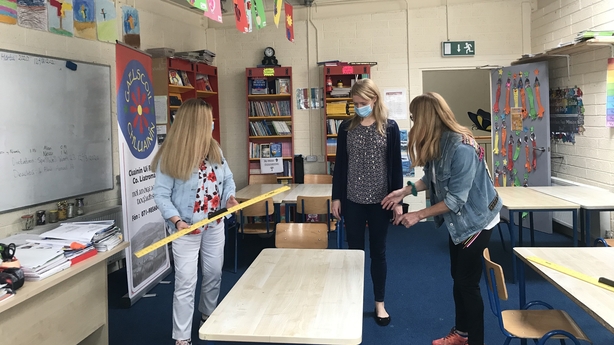 It saddened them to have to put away the library and look ahead to not being able to tell the children to pick out a book and read and not allowing them to share everything the way they normally would.
In the fifth and sixth classroom, they managed to get one-metre spacing between the children's seats but had to compromise on the recommended two-metre space between the teacher's desk and the children - there just was not enough room for that.
Children from infants to second class do not have to social distance but from third class upwards they do.
That creates a big problem in this school where there is no choice but to have second, third and fourth class children in the one room. The logistics of this have still to be worked out in terms of spacing and staggered break times.
Ms Ní Thorsnaigh also sees this difference in social distancing guidelines creating a big problem for school bus transport.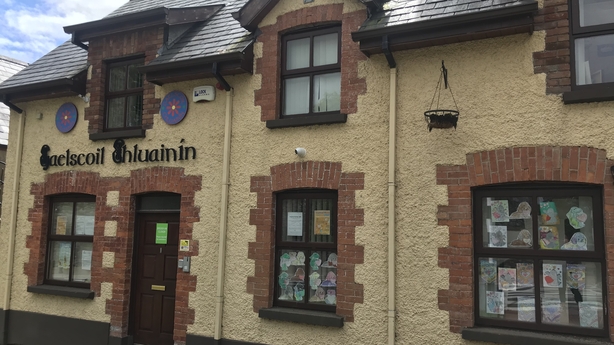 Almost half of children attending the Gaelscoil travel by bus with children from all classes travelling on the one bus and the principal says this will create a big challenge for bus companies with children travelling together and then being in different bubbles or pods in school.
Another issue which could also pose problems for the school is finding substitutes should a teacher or other staff member get sick.
While money has been promised to cover this eventuality, the difficulty for schools such as this one is finding substitutes proficient enough in Irish to cover absences.
Despite all the challenges, however, the staff at Gaelscoil Chluainín say they are all delighted to be getting back into the classroom and seeing the children again.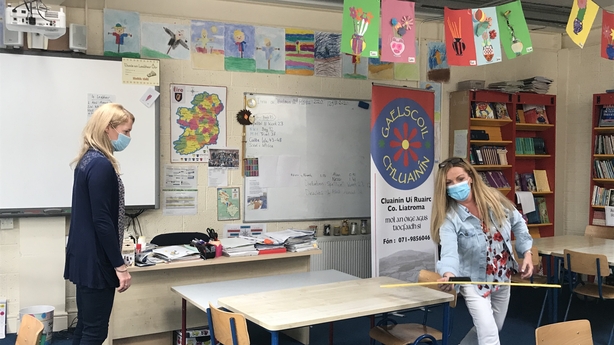 Máiréad Ní Ghonlaigh said there had been issues for some pupils living in rural Leitrim with broadband over the past few months, so she welcomes the fact that they can get back to school and all be on a level playing field again in the classroom.
However it works out, it will be a different style of teaching with social distancing meaning that SNA's like Róise Ní Dhomhnaill will not be able to help children as they normally would.
She is a bit apprehensive about this, worried that she will feel helpless at not being able to help children like she normally would.
But she is looking forward to getting back to work for a school year which will be like no other.
Secondary schools have also been preparing for a return to the classroom next month.
We need your consent to load this rte-player contentWe use rte-player to manage extra content that can set cookies on your device and collect data about your activity. Please review their details and accept them to load the content.Manage Preferences
Yesterday, funding for more than 1,000 additional secondary school teachers, "enhanced cleaning and hand hygiene" supports and classroom "bubbles" for primary schools were detailed in the Government's €375m school reopening plan.
Minister for Education Norma Foley said funding for more than 1,000 additional teachers at post-primary will be made available, in addition to funding for 120 extra counselling posts.
She said there will be "enhanced cleaning and hand hygiene" supports for schools, and opportunities for schools to receive Personal Protective Equipment.
---
Read more: What did we learn about schools reopening?