Minister for Education Norma Foley has revealed the full details of the Government's blueprint for reopening schools this autumn.
Almost one million children across Ireland have not been in a classroom since 13 March due to the global Covid-19 pandemic.
Included in the roadmap is funding to provide supports, including counsellors and psychologists, for the well-being of staff and students.
Here are the main points contained in the school reopening plan as well the comments from public health experts at today's Department of Health briefing.
Getting to school
Ms Foley said more than €11m will be ring-fenced for changes to school buses in an attempt to ensure the safety of school children during Covid-19.
She said this will involve some changes to the interior of these buses.
Minister Foley also said classes travelling on school buses will be treated as one unit, but that students will be asked to sit next to their siblings where appropriate.
Secondary school pupils will be expected to wear a face covering on school buses, apart from those with medical exemptions. They will use hand sanitisers upon boarding and are asked to sit next to the same sibling or pupil during each journey.
Physical distancing
There will be no social distancing for children from junior infants to second class inclusive, based on public health advice. All other pupils will be expected to adhere to a one-metre distancing rule.
In primary schools, each class will be considered a "bubble". Within that, there will be a series of smaller pods where children will work together continuously with a metre between each pod.
At second level, there will be one-metre distancing between pupils.
When a child might be tested
At this evening's Department of Health briefing, Dr Siobhán Ní Bhríain said the National Public Health Emergency Team was working on guidance for parents about when a child would need to be tested for Covid-19.
She said parents would need to contact their GP if they had any concerns about their child's health, even if they assumed it was just a head cold.
She said it may be that all children who get a temperature would have to be tested.
Dr Cillian de Gascun said the National Public Health Emergency Team was also examining different ways of testing children, saying the current swab test was "not very pleasant" .
If there is an outbreak
A designated individual - the school's lead worker for Covid-19 - will have a plan in place for this scenario.
Each school will have an isolation area where a child is taken if they feel unwell. If a child tests positive for Covid-19, the necessary public health steps will be taken.
The judgement as to whether a classroom or an entire school has to go into self-isolation following a positive case will depend on public health advice at the time, according to Minister Foley.
Cleaning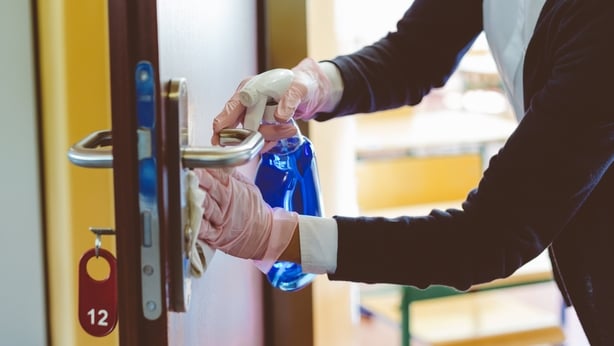 €52 million has been announced for enhanced cleaning and hygiene measures to reduce the risk of Covid-19 transmission in schools.
This is being provided on a per-pupil basis and is intended to allow an additional four to six hours of cleaning per day in schools.
The Education Minister also said there would be opportunities for schools to receive Personal Protective Equipment.
Teaching staff
An additional 1,080 teaching posts at secondary level at a cost of €53m with an initial allocation of 600 posts has been announced. This will include 120 guidance posts to support student well-being.
Additional funding, estimated at €84.7m, was announced so that schools can employ replacement teaching staff, SNA and administrative staff. This can occur where staff members who are identified in line with HSE guidance as at "very high risk" of Covid-19 are advised to cocoon.
€40m has been announced to provide secondary schools with additional supervision of students.
At primary level, funding of €41.2m for substitute staff was announced.
Special educational needs
There will be additional funds for special schools and mainstream schools with special classes to support them in reopening fully. This includes making sure that all SNA absences are fully covered so that children with complex needs receive the support that they require.
The plan notes that some children who have complex medical or special educational needs may not be able to return to school at the end of August because the relevant public health guidelines indicate they are at "very high risk".
Schools will have discretion to manage and redistribute their teaching support resources in order to best meet the learning needs of these students.
The plan "recognises that pupils with SEN (special educational needs) will require particular support" to transition back to school.
Infrastructure
A €75m capital allocation was announced to prepare buildings and classrooms for reopening, including an uplift for schools with SEN pupils.
Logistics
€4.2 million was announced to enable schools to employ an aide to implement the logistical changes needed in schools - moving furniture, changing classroom layouts, set up hand sanitising stations, signage etc.
€3.8m was announced to provide a release time for each school to have a lead worker representative, whose role is to support the school to manage the risk of infection.
Teaching principals at primary level in schools with special classes will have a minimum of one release day per week to relieve the administrative burden arising from the new Covid-19 measures.
Deputy principals will also be supported to take release days, ranging from five to 16 days depending on the school size.