Minister for Health Simon Harris said he expects to be advised tomorrow to keep the significant restrictions to slow the spread of the coronavirus in place for a period of weeks.
He said the current restrictions are not going to be lifted this weekend.
"Just to be blunt and honest with people, the restrictions that are in place are not going to be lifted tomorrow, we're going to have to keep at it," he said on Classic Hits FM.
"What's highly likely tomorrow is that the National Public Health Emergency Team will recommend that we continue with the very strict restrictions ... I expect that to be a period of weeks," Mr Harris said.
"But what we're hoping to do tomorrow is show people what the journey looks like. If we keep at this for another couple of weeks, where does it bring us, what does success look like?"
The virus is probably going to be here for a long time, Mr Harris said, and he added that he is not expecting to get to a "magic point" where the virus is 100% gone.
He said the aim is to get to a stage where people can see each other again because the situation has been brought under control.
"In relation to the roadmap, there is going to be a point in this country where we will have to live alongside the virus, for want of a better phrase, where sadly people will still get sick and sadly some people will still die but it is at a rate that is sustainable for our doctors to manage," he said.
He urged anyone contemplating travelling to a holiday home this weekend to stay at home.
"The situation is not where it needs to be. If we get this weekend wrong, we'll end up going backwards," he said.
Sinn Féin called on the government to provide clarity by formally confirming today the continuation of restrictions on movement.
The party's health spokesperson Louise O'Reilly said people wanted clarity and to make some plans.
She said everyone expected the restrictions to be continued but it would put people's minds at rest if the announcement was made sooner rather than later and those cocooning would appreciate the information.
She said it behoved the Taoiseach to come out and confirm the measures and to reveal how much longer they might remain in place.
Ms O'Reilly also said that opposition health spokespeople should be better briefed and she said a meeting requested with the HSE would not happen this week but would instead take place next week.
She said that was a week lost and she and Fianna Fáil health spokesperson Stephen Donnelly could not get answers to constituents' queries.
And she said it meant the HSE was not getting feedback from them.
Meanwhile, the European Centre for Disease Control has warned that the probability of the continued spread of Covid-19 is very high, and the risk of exceeding the capacity of our health system remains high.
This is despite clear progress in slowing the spread of the coronavirus thanks to community and physical distancing measures, hand hygiene, cough etiquette and other measures.
Over the past week alone 150 people here have died here from Covid-19 and the number in intensive care is growing by 30 per day.
So far, 224 confirmed cases have been admitted to intensive care, 62% of them are under the age of 65.
There are 145 people still in intensive care and another 22 people, suspected to be infected but still awaiting test results, are also in intensive care on ventilators.
To date, 27 intensive care patients have died. That is on top of another 141 patients who died elsewhere in hospital wards.
Outside of hospitals, including in nursing homes, 67 people have died.
There have now been 235 Covid-19 related deaths in the country, with 6,074 confirmed cases of the virus.
---
Read more:
Irish singer lifts spirits in locked-down Colombia
The 'psychological first aid' helping healthcare workers through crisis
Latest coronavirus stories
---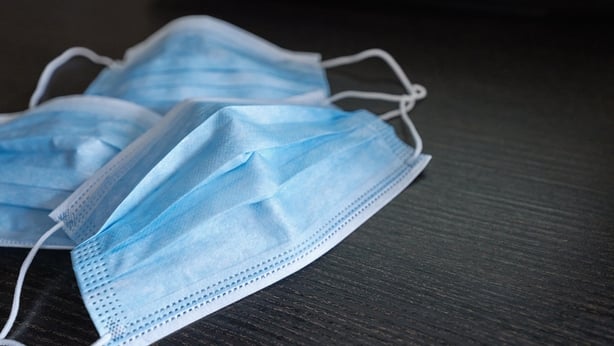 Two-thirds of people with Covid-19 in Ireland acquired the virus in this country, data published by the Health Protection Surveillance centre shows.
Of the 5,981 cases of the virus reported until midnight on Monday, 3,956 (66.1%) originated here.
Just 332 or 5.6% of cases acquired the virus in other countries, however the data shows the country of origin is so far "unknown" in 28% of cases.
The latest data from the HPSC also shows that nursing homes now account for a third of all clusters of the coronavirus. Outbreaks in these settings are increasing daily and there are now 100 clusters in nursing homes.
According to the HPSC, a Covid-19 cluster is two or more cases in a setting within a 72-hour period.
Hospitals now have 48 clusters and the majority of these are in the east. There are 37 clusters in residential institutions and 21 in community hospitals or long-stay units.
There are now 299 clusters linked to 1,288 confirmed cases of the virus.
Meanwhile, in a new report, the ECDC said the use of face masks in the community may serve as a way of reducing the spread of the infection and could be considered when visiting busy, closed spaces, such as supermarkets, shopping centres, or when using public transport.
However, it said the use of medical face masks by healthcare workers must be given priority over the use in the community.
The ECDC states that it is not known how much the use of masks in the community can contribute to a decrease in transmission in addition to the other measures.
It said the use of non-medical face masks made of various textiles could be considered, especially if there is supply issues around medical face masks, which the ECDC says must be prioritised for use as personal protective equipment by healthcare workers.
It said the use of face masks in the community is based on "limited indirect evidence" supporting the use of non-medical face masks as a means of controlling the spread of Covid-19.
It said that it should be considered only as a complementary measure and not as a replacement for established preventive measures, such as physical distancing, cough and sneeze etiquette, hand hygiene and avoiding touching the face, nose, eyes and mouth.
---
To protect yourself from Covid-19 you should:
Keep a space of 2 metres (6.5 feet) between you and other people
Avoid communal sleeping areas
Avoid any crowded places
Not shake hands or make close contact with other people, if possible
There is very little risk if you are just passing someone. But try to keep a distance of at least two metres as much as possible.
This advice is from the Department of Health which has more detailed advice on its website along with the Health Service Executive website.
---
Additional reporting Fergal Bowers, Laura Hogan & Reuters