Almost six weeks have passed since the very first case of Covid-19 was confirmed here in Ireland on 29 February.
Since then, thousands of healthcare workers have been mobilised to fight this virus on the frontline.
Extra beds and ventilators have been made available, community testing sites and assessment hubs have been set up, not to mention the 70,000-plus people who have signed up to be 'on call' for Ireland's health service.
But during this pandemic, as healthcare professionals step up to look after patients, who is looking after them and their mental health in this time of crisis?
Anxiety during a pandemic is a problem for everyone, but it's a bigger issue for healthcare workers because they're at an increased risk of getting the virus.
So says Professor Brendan Kelly, a consultant psychiatrist and professor at Trinity College Dublin, and the author of a book called 'Coping with Coronavirus: How To Stay Calm And Protect Your Mental Health - A Psychological Toolkit'.
At the moment, around a quarter of all confirmed cases of the virus in Ireland are healthcare workers.
So far, we know that around 25% of those people who tested positive picked it up at work.
Prof Kelly says that among the new anxieties healthcare workers face are contracting the virus themselves, and bringing it home to their families.
"Anxiety primarily comes from a conflict in your head. The conflict here is the risk at work and then the risk at home," he says.
This, he adds, has led to some healthcare workers around the world moving away from their families to lessen the risk.
There may also be anxiety around new rostering arrangements or training up for a new role.
Indeed, the CEO of the Health Service Executive, Paul Reid, said at the weekend that training staff to support all of the new critical care beds and ventilators that have been added to the system will be one of the greatest challenges in this crisis.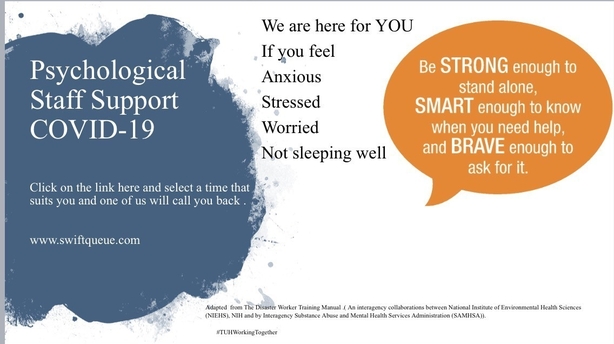 The HSE says healthcare workers can be "routinely exposed to events that workers in the general population would not encounter", including "patient loss of life, trauma and increased exposure to Covid-19".
It says this can potentially expose staff to "complex psychosocial risks", but that it has an employee assistance programme available to all staff groups, including counselling and critical incident stress management.
Tallaght University Hospital (TUH) has gone a step further, providing its staff with "psychological first aid".
"We are here to listen. We want them to call us even just to talk about the day they have had," says Dr Veronica O'Doherty.
Dr O'Doherty is Head of the Department of Psychology at TUH, which has just started a new phone service - available seven days a week - to support staff during the pandemic.
"Many healthcare staff have children of all ages at home, and older parents and relatives they are concerned about. Some will experience loss too of family members from Covid-19 whilst still doing their job every day. We need to support our staff to mind their psychological wellbeing," she says.
The psychology department's 11 members will man the phones, which Dr O'Doherty says is part of "psychological first aid", or PFA.
"It's like a band-aid for mental health in the field," she says, describing how this was developed for use in disasters like hurricanes or wildfires in the USA.
"From all the disaster research, we know that supporting people's own coping skills and resilience during a crisis such as this pandemic is what matters most."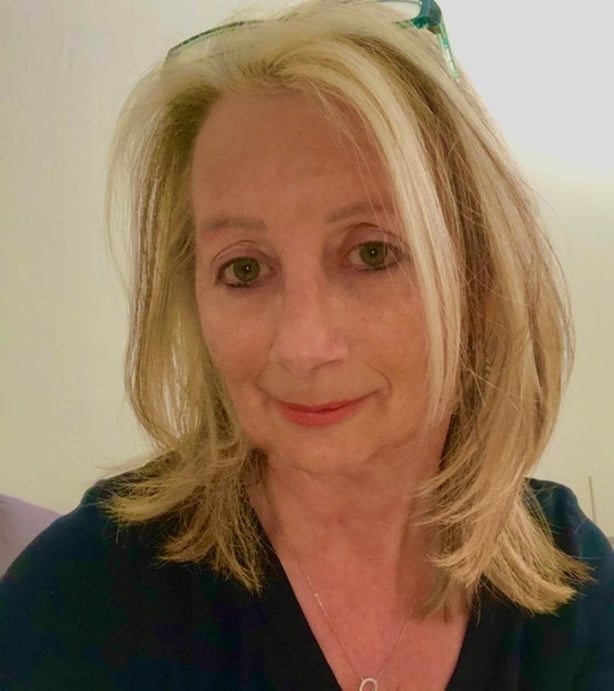 The support system for staff at Tallaght is an emergency psychological response to help our healthcare workers function and support them while they're doing the hard work in front of them.
She says this approach is not a long-term support, but that in a way, this work is a "prevention piece", to ensure that any long-term psychological effects of this pandemic can be managed well.
As well as the phone service, TUH is providing resilience training and mindfulness practices are also being made available for staff to download.
Clinical psychologist Orla Spencer has been hosting these resilience sessions with staff from emergency departments and intensive care units, which look at how to keep well and how to bounce back.
She says the training will help them to recognise what resilience is, recognise acute stress, and watch out for it becoming a chronic problem.
Groups including porters, nurses, doctors and administration staff take part in the virtual meetings over Zoom.
Orla says mixing the groups helps to reinforce the message that we are all in this together.
Working with ICU staff, Orla has provided them with tools to use during their pre and post-shift debrief or "huddle".
"Nurses are now working longer shifts, working with new people, wearing gear that's making them tired and hot and dealing with new situations and different types of decisions," she says.
During this time, they will be encouraged to recognise something they did well that day, say something encouraging to a colleague, or listen to nice music on the way home.
Orla says these things are accessible, not time consuming and put a close to a shift so they can start afresh tomorrow.
Even though the service only started at the weekend, Dr O'Doherty says she's already been amazed by the positive response from staff, who she says seem to appreciate just knowing the service is there if they need it.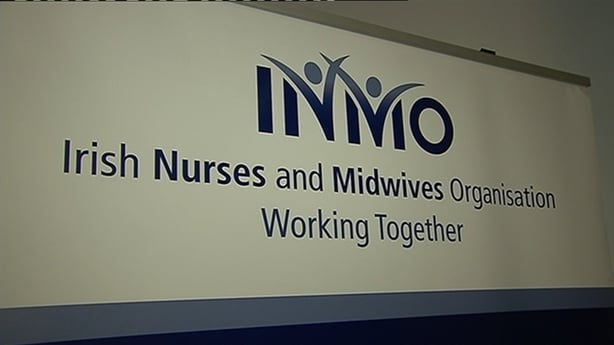 The Irish Nurses and Midwives Organisation (INMO) says that, as well as access to a counselling helpline for its members, it is trying to use social media to boost morale and pride in the profession.
The union also says it is continuing to work to alleviate pressure on nurses and midwives by sourcing childcare during this crisis, securing additional breaks and certainty about the provision of personal protective equipment (PPE).
A recently published article in the Irish Medical Journal said that looking after the psychological wellbeing of health care staff during a pandemic is "imperative".
The article, titled 'Caring for the Psychological Well-Being of Healthcare Professionals in the Covid-19 Pandemic Crisis', looked at research from the 2003 SARS pandemic, which found that half of healthcare workers experienced psychological distress at that time.
The article said two factors from the SARS outbreak are also evident in the current Covid-19 pandemic: the experience of social isolation, and staff who have children experiencing increased psychological distress.
The article said that these factors were "likely to herald a high level of psychological distress among healthcare staff".
It says that the Psychological First Aid approach, like the one in Tallaght University Hospital, has been found to be helpful, but that when this pandemic is over, there is an "ethical duty" to reflect on the impact on staff's wellbeing "so we can better equip ourselves for future disasters".
Despite the new challenges faced by healthcare workers in Ireland and across the globe, Professor Brendan Kelly says that they are "focused and pragmatic" when it comes to delivering patient care and doing what needs to be done.
He says healthcare staff have not shied away from the challenge, and that "people are stepping towards the risk, albeit with PPE on".