The European Commission has fined Google €4.34bn for breaching EU competition rules in relation to its Android mobile devices.
In a landmark case the Commission has accused Google of imposing illegal restrictions on makers of Android devices and mobile network operators in order to cement its dominant global position in internet search engines.
The company has 90 days to end the practice or face payments up to 5% of the average daily worldwide turnover of Alphabet, Google's parent company.
Today more than half the world's internet searches are done on smartphones or tablets.
The European Commission is accusing Google of imposing restrictions on manufacturers of Android mobile phones so that most of that traffic goes to the Google search engine.
This is done by requiring makers of Android devices to pre-install both the Google Search and Chrome browser apps as a condition for licencing Google's app store known as the Play Store.
The Commission also accuses the company of paying some phone makers and mobile networks significant sums of money on the condition that they exclusively pre-install such apps.
Manufacturers are also prevented from building any devices which run on alternative versions of Android that are not approved by Google.
The Commission argues that while Google does publish the source code online every time a new version of Android appears, this access only relates to the basic features of a smartphone operating system, but not the apps and services.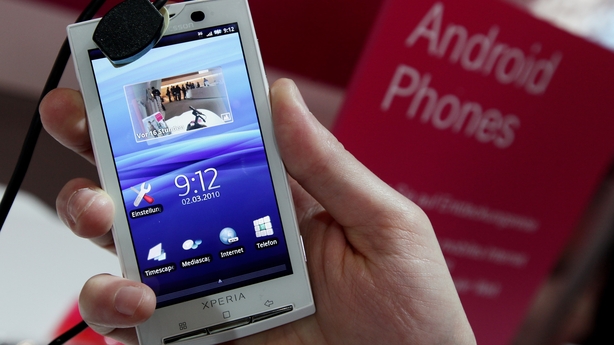 Makers of smartphones who want to install these apps have to enter restrictive contracts with Google, and the same applies to mobile network providers.
According to the Competition Commissioner Magrethe Vestager, some 80% of mobile phone devices worldwide are run on Android. Google's search facility is used by 90% of European consumers.
This means that, according to the Commission, Google is abusing its dominant position.
The penalty is nearly double the previous record of €2.4bn which the US tech company was ordered to pay last year over its online shopping search service. 
The fine represents just over two weeks of revenue for Google parent Alphabet Inc and would scarcely dent its cash reserves of $102.9bn. 
But it could add to a brewing trade war between Brussels and Washington.
Google said it would appeal the fine. 
A timeline of fines imposed by the European Commmission on Google
EU Competition Commissioner Margrethe Vestager also ordered Google to halt anti-competitive practices in contractual deals with smartphone makers and telecoms providers within 90 days or face additional penalties of up to 5% of parent Alphabet's average daily worldwide turnover. 
"Google has used Android as a vehicle to cement the dominance of its search engine. These practices have denied rivals the chance to innovate and compete on the merits," the Commissioner said. 
"They have denied European consumers the benefits of effective competition in the important mobile sphere," she added.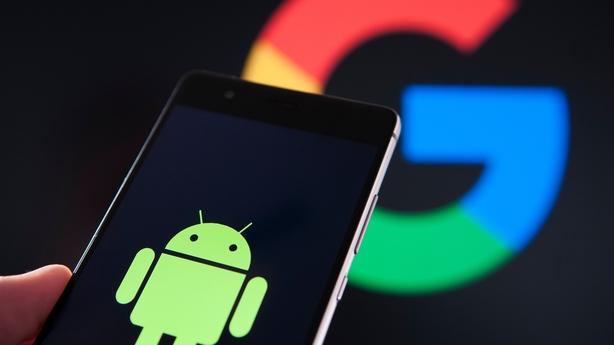 The EU enforcer dismissed Google's argument of competition from Apple, saying the iPhone maker was not a sufficient constraint because of its higher prices and switching costs for users. 
Android, which runs about 80% of the world's smartphones according to market research firm Strategy Analytics, is the most important case out of a trio of antitrust cases against Google. 
Some major Android device makers, including Samsung Electronics, Sony, Lenovo Group and TCL, declined to comment on the EU case. 
Lobbying group FairSearch, whose 2013 complaint triggered the EU investigation, welcomed the ruling. 
A third EU case, which has not yet concluded, involves Google's AdSense product. 
Competition authorities have said Google prevented third parties using its product from displaying search advertisements from Google's competitors. 
Vestager has also ordered a series of measures against other US companies over tax practices in some EU states, notably demanding two years ago that the Government here take back up to €13bn from Apple. 
EU's Vestager says she 'very much likes' the US
Meanwhile, the EU Competition Commissioner said she "very much liked" the US, countering a reported remark by President Donald Trump that she "hated" the country because of her competition actions against US firms.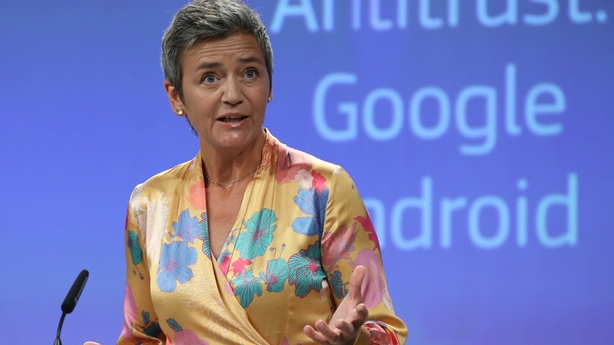 "I very much like the US," Margrethe Vestager told today's news conference to announce a record fine on Google after she was asked about what Trump was quoted as saying at a G7 summit last month. 
The US president had told Vestager's boss, Commission President Jean-Claude Juncker, "your tax lady, she hates the US", according to summit participants. 
That appeared to be a reference to her pursuit of Apple and other US companies for channelling profits through low-tax EU states. 
Vestager said that as a Dane she was predisposed to feel positive toward the US. 
"But the fact is that this has nothing to do with how I feel. Nothing whatsoever. Just as enforcing competition law, we do it in the world, but we do not do it in political context," she added. 
Vestager added she would continue to enforce competition law, no matter the political context.
Additional reporting: Reuters