Taoiseach Leo Varadkar has said he has the "sense" that Britain will not crash out of the European Union without a deal at the end of next month.
Speaking in Egypt at a summit of EU and Arab leaders, Mr Varadkar said: "We'll either have a deal or an extension.
"What's evident to me is that absolutely nobody wants the UK to crash out of the EU without a deal. That is a lose-lose-lose situation for everyone."
Mr Varadkar met British Prime Minister Theresa May on the margins of the summit in the resort of Sharm El-Sheikh.
The meeting follows Mrs May's decision to delay Wednesday's vote on the Withdrawal Agreement until 12 March, just 17 days before Britain is due to leave the European Union.
Speaking before the meeting, Mr Varadkar said it would be a "chance to listen and hear about her plans in the coming weeks, how she expects to get the Withdrawal Agreement ratified, and how we might be able to assist in that".
However, the Taoiseach cautioned that "anything that is offered by the EU can't contradict the letter or spirit of whatever has been agreed" already.
Taoiseach 'senses' #Brexit deal or extension by 29 March https://t.co/Hg4RC7nG88 pic.twitter.com/zVZbaKZJUJ

— RTÉ News (@rtenews) February 25, 2019
Mr Varadkar said he would prefer to see an extension to Article 50 than see the UK leave without a deal.
"A long extension creates a complication in relation to the European elections, but that's a small complication relative to the impact on our economy," he said.
"A lot of colleagues feel if there is an extension it should be an extension with a plan, rather than an extension just to continue negotiations which have gone on for almost two years.
"I feel that the chances are that that won't happen and that we will either have a deal that is ratified or that we will have an extension."
---
Read more:
Brexit: Amend and Make Do
More Brexit coverage
---
Mrs May said she had had "good" meetings with other EU leaders including Donald Tusk, Jean-Claude Juncker, Angela Merkel, Mark Rutte, and Guiseppe Conte.
We need your consent to load this rte-player contentWe use rte-player to manage extra content that can set cookies on your device and collect data about your activity. Please review their details and accept them to load the content.Manage Preferences

A UK team will visit Brussels tomorrow for further negotiations on "the legally-binding assurances that the UK parliament needs on the backstop", she said.
"What I sense in all my conversations with my fellow leaders, both here in Sharm-el-Sheikh and in recent days, is a real determination to find a way through which allows the UK to leave the EU in a smooth and orderly way with a deal."
Asked why she was resisting a delay to Brexit beyond 29 March, Mrs May said: "An extension to Article 50, a delay in this process, doesn't deliver a decision in parliament, it doesn't deliver a deal. All it does is precisely what the word 'delay' says.
"Any extension of Article 50 isn't addressing the issues.
"We have it within our grasp. I've had a real sense from the meetings I've had here and the conversations I've had in recent days that we can achieve that deal.
"It's within our grasp to leave with a deal on 29 March and that's where all of my energies are going to be focused."
Breaking: Donald Tusk says he discussed with Theresa May the legal implications of possible extension to Article 50. "An extension would be a rational decision but Theresa May believes she can avoid this scenario."

— Tony Connelly (@tconnellyRTE) February 25, 2019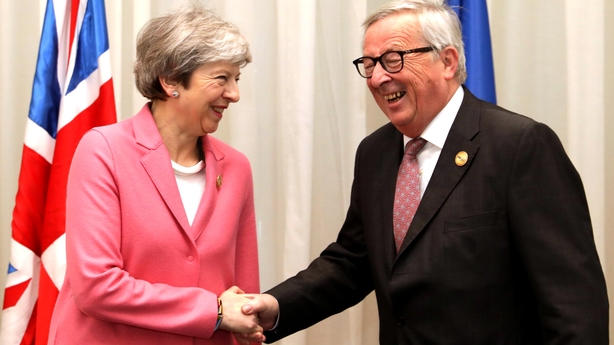 Mr Tusk said they had discussed a possible extension of Article 50, while Mr Juncker said they had made good progress in their discussions.
Mr Tusk said that an extension of the deadline beyond 29 March would be a "rational solution".
He said that while Mrs May believes she can avoid an extension, the closer we get to the Brexit date the more likely an extension becomes.
"Whatever the scenario, the EU27 will show maximum goodwill," Mr Tusk said.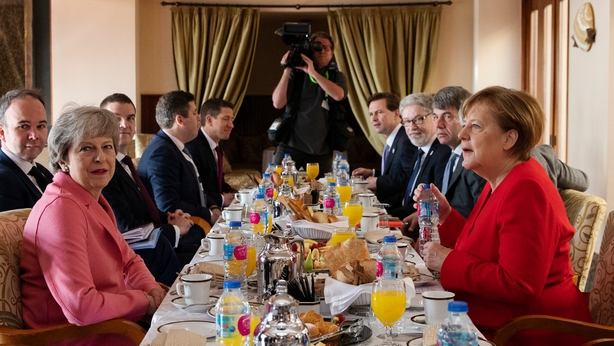 The deferral of Wednesday's planned vote by Mrs May has provoked criticism from opposition parties and business leaders in the UK, and unease among some EU leaders, who fear it could heighten the risk of a no-deal Brexit at the end of March.
The original plan was that the prime minister would seek legally binding changes to the backstop, which is designed to avoid a hard border, and have a revised deal put before parliament on Wednesday.
While talks between senior British and EU officials have got under way on the backstop there is as yet no breakthrough, with Dublin and Brussels rejecting outright the possibility of a unilateral exit clause from the backstop, or an expiry date.
There is growing speculation that a cross-party amendment designed to force Mrs May to seek an extension to Article 50 could be carried in the House of Commons on Wednesday, despite her delay of the main vote on the treaty.
The motion, sponsored by the former Labour minister Yvette Cooper and the senior Conservative MP Oliver Letwin, would require the government to seek an extension if the Withdrawal Agreement was not passed by 13 March, one day after the revised deadline for a House of Commons vote.
Yesterday, three cabinet ministers - Amber Rudd, Greg Clark and David Gauke - issued a direct threat to Mrs May by writing in a newspaper article that it would be better to extend Article 50 than crash out at the end of March without a deal.
There is a suspicion that Mrs May has deliberately deferred the vote until 12 March in order to present a starker choice to eurosceptics in her party.
If the Cooper-Letwin amendment is carried on Wednesday, she could then argue that Brexit could only happen, and happen on time, if eurosceptics voted for the Withdrawal Agreement, given the prospect of a potentially lengthy extension to Article 50.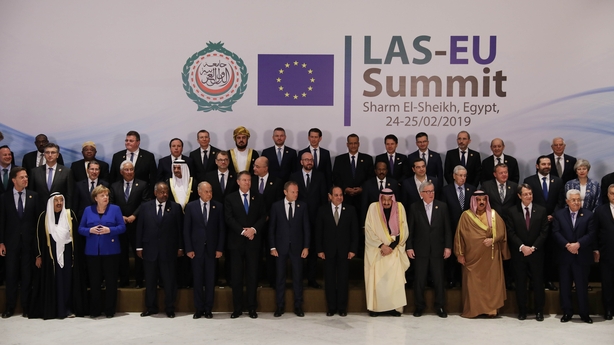 Meanwhile, Mr Varadkar is among a number of EU and Arab leaders who will make interventions during today's plenary session at the Red Sea resort on EU Arab relations.
The two-day summit, which was first suggested last September by President Tusk and the Austrian Chancellor Sebastian Kurz on a visit to Cairo, is being hosted by the Egyptian President Abdel Fattah Al-Sisi.
Leaders are addressing a range of issues, such as the civil wars in Yemen and Syria, the Middle East peace process, climate change, trade and migration.
The EU is keen to start a dialogue on ways to stem large flows of migration from Africa across the Mediterranean.
However, a plan floated last summer to create so-called disembarkation centres in North Africa, at which migrants would first register an asylum request to the EU, has been largely rebuffed by African countries.