A woman from Balbriggan in Dublin has set a new freediving world record in Turkey.
Nina McGowan dived to a depth of 43 metres in two minutes 10 seconds at a pre-competition event ahead of the CMAS World Outdoor Freediving Championship.
Her achievement came in the women's master category.
''When I turned 50 in May, one of the things I wanted to do was to show other women that they can do anything - your bodies are not falling apart, you can keep going," she said.
Free diving is an extreme sport which involves diving under water without any breathing apparatus.
Competitors attempt to reach as low a depth as possible.
Nina, who can hold her breath for around three-and-a-half minutes, specialises in the 'No Fins' category - considered the hardest and most athletic form of freediving.
"We don't wear fins, we don't use masks. Basically, you just go down, only wearing a wet suit and using a nose clip and surface to a clean dive,'' she explained.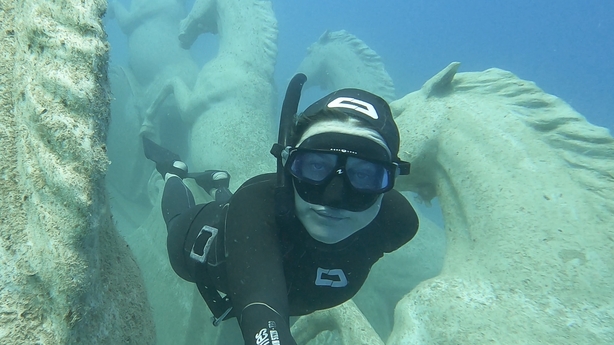 Nina, who only took up freediving in 2019, already holds four national records.
The yoga practitioner, scuba divemaster and visual artist said she got involved in the sport by accident.
''My dad was a scuba diver, so I had always known how to swim – I started swimming before I could walk.
''But in 2019, I went to Egypt for holiday and visited a place I'd heard of called Dahab. It's on the coast of Egypt – just up from Sharm El-Sheikh. People, especially scuba divers go there to test holding their breath and going deep under water. I thought it was fascinating. I went on to register for my first course in freediving and then came home.
''I later booked another trip to Egypt to do the next level course and just started training after that. Yoga and free diving are closely linked. I had practiced breathwork techniques in yoga, but in the water, I discovered that I had a particular aptitude for the extremely difficult task of journeying to the bottom of the sea on one human breath.''
Nina is now setting her sights on another record when she competes in Thursday's competition.
She said: ''There have never been any Irish people going to this competition before, so I'm excited to be here and will give it my best shot.''