A Dublin bicycle shop has been refurbishing unwanted and unused bikes to pass onto Ukrainian refugees in need of transport.
Paul McQuaid, who runs 'River Cycles' located at Usher's Island, said there had been an "incredible" response to an appeal for donations last week.
He said: "We've been getting a lot of people pledging bikes, which is fantastic. The number of people requesting bikes has just gone through the roof. I have some busy days ahead of me."
Mr McQuaid, a former competitive cyclist, said the idea for the initiative came after he heard about a Ukrainian refugee who was struggling to get her children to school.
He explained: "I got a text message from a friend with a screengrab of a lady called Maria who had just gotten her two kids into school, but it was a 45-minute walk from their hotel. She asked if anybody could help them out with bicycles and I reached out to her straight away and gave her three bikes."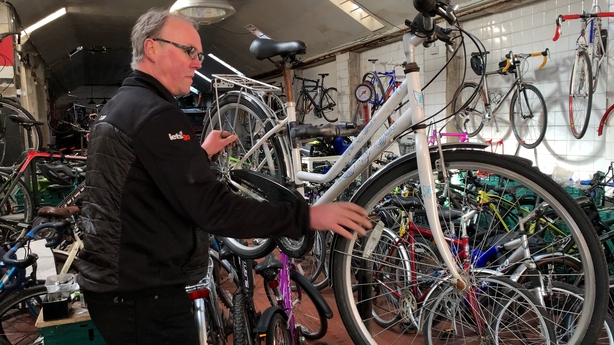 During the pandemic, Mr McQuaid offered free bike repairs to hospital staff and other frontline workers.
He said he wanted to help Ukrainian people with their start to life in Ireland.
"I do a very simple thing - I'm good at fixing bikes. I've been fixing bikes for the last 40 years. I know there are thousands of bikes in people's garages all over this city and all over this country that are not being used. It kills me that they are not being used. For me, trying to help those in need was a no-brainer. I know these bikes can be a big game-changer for them."
Oksana Schelling from Kyiv and her seven-year-old son, Matvey, were among those to receive a bike.
She said: "We feel very happy because we will have more freedom. I don't have a car. I can't drive. And now, we will have more places to go. He (Matvey) asked that we go to the seaside. Before, it was difficult because we needed to take a bus. Now, we can use our bikes."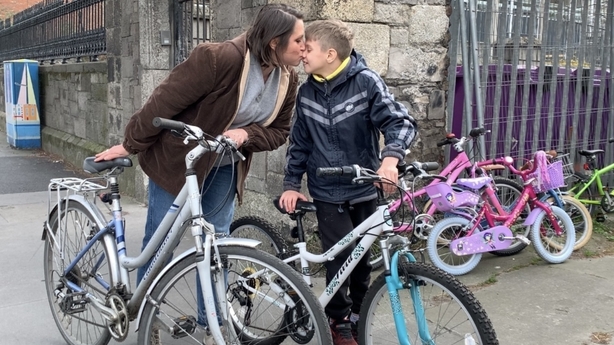 Mr McQuaid said he has passed on more than 25 refurbished bikes to refugees in the past week.
"We're getting on top of the very generous pledges from people. It might grow to a nationwide thing where we have to get bikes to Kanturk, Renvyle, Portlaoise and Belfast. I already got a call from a lady in Belfast who needs two bikes."