A young woman who has just been granted refugee status in Ireland is the subject of a new 24m high mural in Tullamore, Co Offaly.
The mural, which towers over the town's train station, features 28-year-old Amanda Nyoni, who is originally from Zimbabwe and has been heavily involved in human rights advocacy in the town.
It was created by street artist and activist Joe Caslin, as part of the 'In the Open/Faoin Spéir' arts programme developed in response to the Covid-19 crisis.
Ms Nyoni, who has been living in Direct Provision, said: ''It's only been a week since I got refugee status and now this. I'm humbled to have my face up in such a public place. I never thought this could happen. It's just unreal. I have been getting messages from a lot of people from my community telling me how proud they are of me. I have been greatly encouraged by that. It's a big win for all of us."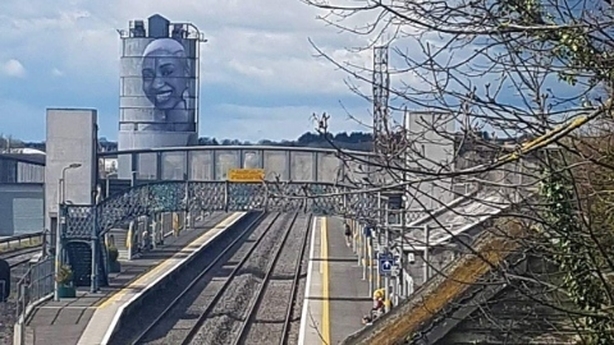 The giant artwork was developed through a collaboration between Offaly Arts Office, Birr Theatre and Arts Centre, Birr Festivals Collective, Iarnród Éireann and the arts group Museum of Everyone.
Curator of Museum of Everyone Brendan Fox said: "This work centres around identity and representation. We really want to represent individuals who may not have had access to the arts locally and connect both established and new communities in Tullamore through creativity and action."