An interactive window display that aims to raise awareness of waste management has been unveiled on one of Dublin's busiest streets.
The display in the window of the former Debenhams building on Henry Street is a collaboration between fashion and sustainability organisation Junk Kouture and environmental group MyWasteIreland.
It showcases fashion designs created using recycled materials and provides information to passers-by on upcycling and plastic pollution.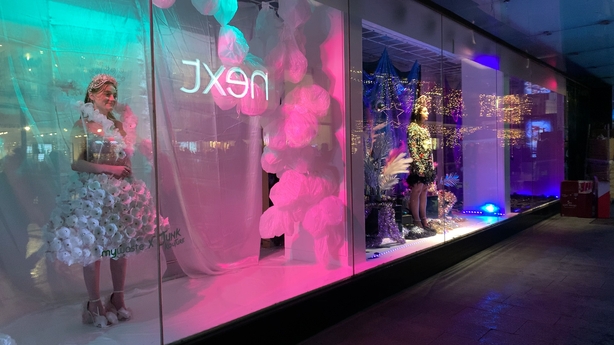 Junk Kouture's Rory Kelly said: ''During the Christmas period, we see an obscene amount of packaging and waste.
"We want our community to think of the environmental impact that such materials have. By partnering withMyWaste, we are able to help spread awareness around both plastic pollution and upcycling."
Founded by Donegal businessman Troy Armour, Junk Kouture describes itself as "the world's largest youth sustainability event".
More than 1,000 schools in Ireland, the UK, USA, France, Italy and the UAE are actively engaged in its programmes.
Using only recycled materials, students are challenged to design, create and model wearable haute couture styled from everyday junk.
Regional Coordinator of MyWaste Hugh Coughlan said the collaboration with Junk Kouture was an opportunity to bring "even more awareness to waste management, reusing and preventing waste".