A first glance at the UK paper reveals some major difficulties for both the EU and Ireland.
The biggest problem is that Boris Johnson is insisting that Northern Ireland remains in the UK customs regime and that will mean a customs border on the island of Ireland.
A first statement from the European Commission was cautious. Following the phone call between President Juncker and the prime minister, the Commission spoke of "problematic points" on how the plan would work legally, as well as a "concern" about the substantive customs rules.
First and foremost, the EU is insisting on a "legally operational solution that meets all the objectives of the backstop".
Since one of those objectives is protecting the all-Ireland economy, then having a customs border carved across the island perhaps fatally undermines that objective.
The UK paper states frankly that there will be a customs border, but that it would be managed through technology, and through the EU changing its own rules.
One immediate problem is that these facilitations are not ready, nor are they legally operable. They would have to be worked out during the transition.
That is a big departure from the backstop, which was to have ensured legal certainty this side of the Withdrawal Agreement.
Furthermore, under the UK plan the fundamental reality would be that millions of cross-border transactions would require customs clearance.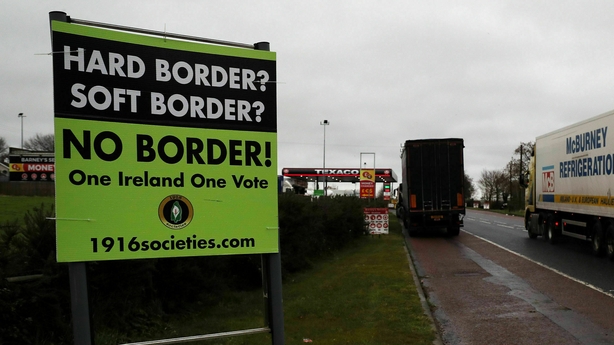 This would be a bureaucratic and costly nightmare for many traders. In a tweet, Manufacturing NI said: "One percent of our manufacturing firms are large businesses. The other 99% are SMEs. They have neither the capital or the capacity to handle these new complexities and associated costs."
The British paper argues that customs declarations should be made as simple as possible, with checks being minimised and made as unobtrusive as possible.
The two customs regimes on either side would engage in "close cooperation" and "make a series of simplifications and improvements".
These would be worked out over the transition period so that there would be "no checks or infrastructure at the border".
Again, this is relying on the hope that all of this would be done in time.
Checks, for example, could be minimised through risk assessment. That is, the customs authorities on both sides of the border would use data to assess which kinds of consignments typically might pose a risk and would need to be checked.
But avoiding checks does not mean avoiding the obligation to do the paperwork and paying the tariff. For many agri-food traders the tariff alone will make their cross-border business unviable.
If physical checks were required they would happen at traders' premises or other "designated locations".
These could be located "anywhere in Ireland or Northern Ireland".
2/ NI alignment on agrifood AND industrial goods seen as a positive step by UK. However, some member states raised concerns that the Assembly was being given an "upfront unilateral veto".

— Tony Connelly (@tconnellyRTE) October 2, 2019
What are "designated locations"?The UK flatly denied RTÉ's report on Monday that there would be "customs clearance sites", but this sounds exactly what "designated locations" are.
Also, the prospect of customs officers having to visit the premises of small traders all along the border would be politically highly toxic for the Irish Government.
If goods are being declared say in Derry and are crossing to Donegal, they would technically be under "customs supervision" until they are declared on the other side.
The explanatory note accompanying the draft legal text does not explain whether that will be by GPS tracking via mobile phone or tracking devices. But it would not be possible for goods to proceed for scores of kilometres before being cleared on the other side, unless there is a transit procedure.
This is envisaged in the paper, but transit requires a financial bond as a guarantee of transparency around where the goods go, and not all traders can afford it (nor would financial institutions be willing to hand out such bonds wholesale in a new scenario).
London is also asking the EU to exempt small traders from duty, and from making exit and entry declarations.
The problem there is a two-tier system where larger firms are discriminated against.
What would stop a company splitting itself up into small subsidiaries so as to avail of SME exemptions?
Officials in Brussels say the EU will be cautious and careful in its response.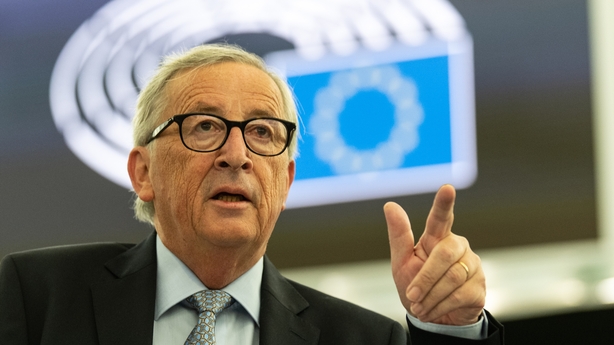 In his statement, Jean-Claude Juncker acknowledged the UK offer of Northern Ireland remaining in the EU's regulatory sphere for industrial goods and agri-food products, with the Assembly and Executive giving their consent every four years.
This represents a shift. A week ago, London was saying only agri-food would be aligned under EU rules north and south: now they are accepting industrial goods as well.
Both Dublin and Brussels have been willing to work on the consent, or oversight, issue. The EU will not want one party in Northern Ireland to be able to veto the application of single market rules every four years.
Optimists suggest, however, the direction of travel could be heading back towards the original Northern Ireland backstop, and that with the right will, the UK could be nudged further on customs.
But customs will be a very hard nut to crack, and Boris Johnson has made it a fundamental article of faith that Northern Ireland will be leaving the EU customs union.
It's clear the UK is demanding a huge amount from the EU on customs, effectively to rewrite its rulebook.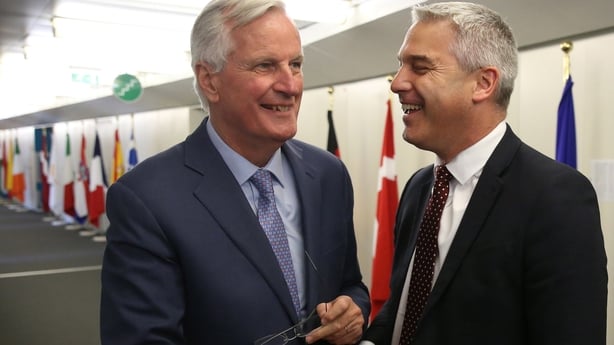 Tonight, the EU's chief negotiator Michel Barnier said the paper represented "progress", but that there were concerns that the plans did not meet the EU's three conditions: no hard border, protecting the all-Ireland economy, and protecting the single market.
The EU's regulatory sphere is deeply intertwined with its customs regime, and under Johnson's plan they would be decoupled.
The other concessions, trusted traders schemes and exemptions could provide a field day for traders who don't like playing by the rules.
But above all, the customs proposals do not meet the condition that the all-Ireland economy be protected.
So far it looks like there will not be an immediate "tunnel" where negotiators go in one end for long days of hermetically sealed talks, then come out the other with a deal.
The statement from Jean-Claude Juncker made it clear that while talks will continue, member states and the European Parliament will be kept informed every step of the way.