The Health Service Executive has said that the second 24-hour strike by nurses has caused significant disruption to services.
Not all cancer surgery appointments are taking place, with only the most urgent procedures being carried out.
The HSE said it would prefer if all cancer services were going ahead and said the discharge of patients to nursing homes is now blocked by the industrial action.
An estimated 27,000 patients or service users are affected, including around 12,000 people who had been expecting respite, rehabilitation and older persons care.
That is up from 25,000 on the first strike day last Wednesday.
The 24-hour stoppage by 37,000 members of the Irish Nurses and Midwives Organisation sees pickets at 240 locations - up from the 82 facilities affected during the first strike.
The number of health units affected has risen because the INMO is granting fewer exemptions. It now includes respite centres for the elderly and people with disabilities.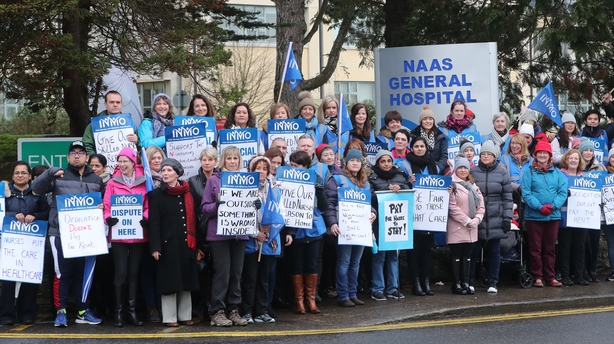 The HSE's national director of community operations told RTÉ's News at One programme this afternoon that there have been no admissions to respite services over the last number of days as a result of the industrial action by nurses.
David Walsh said 13,000 "patient contacts" have been lost in the community nursing sphere today, ranging from access to routine supports for older people and people with disabilities living at home to access to respite services.
Mr Walsh said he had a particular concern about older people at home who are missing out on checks.
He added that there were also concerns about delays in the discharge of patients from acute hospitals to rehabilitation beds in community nursing homes causing a backlog.
All outpatient, inpatient and day surgery appointments today are cancelled and injury units will also be closed.
Nurses picketing at Limerick on 2nd day of strike. Almost 1,300 outpatient appt's cancelled across 6 hospitals in the group. @rtenews pic.twitter.com/IK6YgXNIp2

— Cathy Halloran (@HalloranCathy) February 5, 2019
Emergency Departments are open but with reduced nursing staff cover, so the HSE has asked that people only attend them if absolutely essential.
Thousands more patients will be affected if the next six days of planned industrial action proceed.
The Psychiatric Nurses Association is also staging an overtime ban in mental health facilities over the next three days.
---
Read more:
Salaries are key to ending nurses' dispute - INMO
Nurses' dispute: Not just deadlocked, but escalating
'I'm sick with upset' - A patient's view of nurses' strike
List of picket locations
---
Theatre nurse Anne Noonan on the picket line in Limerick seeking better pay and conditions particularly for younger nurses.@rtenews pic.twitter.com/QzS7fAQP4r

— Cathy Halloran (@HalloranCathy) February 5, 2019
Nurses at University Hospital Limerick have taken to the picket lines with almost 1,300 outpatient appointments cancelled across the six-hospital group including Ennis, Nenagh, the orthopaedic hospital at Croom, as well as the maternity and St John's in Limerick city.
Day-care surgery and endoscopies also due to take place have been called off. 
Almost 700 outpatient appointments were cancelled last week adding to the growing number of patients whose procedures have to be rearranged . 
Meanwhile, around 250 INMO members are picketing University Hospital Kerry in Tralee. 
The strike committee there says retired nurses and members of the public have been joining the picket line to show support. 
Striking nurses say they are determined to see their dispute through until their demands on pay and recruitment are met. 
However, it remains to be seen whether the nurses manage to maintain public support in the face of hospital cancellations and day centre closures that are affecting patients and the public. 
At University Hospital Kerry, around 150 out-patient appointments have been cancelled for today, on top of another 150 cancelled because of last week's strike.
In addition, 20 surgical procedures due to be carried out today and a dozen endoscopy procedures have also been cancelled. 
Pickets have also been placed on a number of community health facilities in Kerry, such as at hospitals in Kenmare and Cahersiveen. 
Yesterday, the Government offered to go back to talks on workplace issues relevant to nurses, but categorically ruled out any discussions on pay.
However, both the INMO and the PNA dismissed the overture as cynical, saying that talks without pay would not resolve the recruitment and retention crisis.
As things stand, there is no indication that either side is prepared to shift from their core positions. As long as that remains the case, patients face continuing and possibly escalating disruption.
Some hospitals have already begun cancelling appointments for Thursday due to the strike.
St Vincent's University Hospital in Dublin issued text notices this morning to patients regarding some cancelled clinics for Thursday.
This evening, the INMO's Director of Industrial Relations, Tony Fitzpatrick said the Government needed to return to the Labour Court unconditionally if they were serious about ending the nurses strike.
Speaking to RTÉ's Six One, he said the union had sought engagement with the Minister for Finance since August, but Minister Paschal Donohoe had not engaged with them.
Mr Fitzpatrick also said the Government was wasting money on agency staff which could be used to address the nurses pay claim and help to end recruitment and retention issues.
Additional reporting Ingrid Miley, Paschal Sheehy