Another day, another picket line... 
Over 37,000 nurses and midwives belonging to the Irish Nurses and Midwives Organisation are on strike for another 24 hours in their dispute over pay and staff shortages.
It is the second day of strike action in their campaign for pay parity with other graduate health professionals such as physiotherapists. 
They insist only such parity - which would equate to a pay rise of around 12% for nurses - will suffice to attract and retain nurses and midwives in the profession, and combat the staff shortages which they say make it impossible to deliver quality care for patients. 
However, the Government has categorically refused to countenance a special pay deal for nurses - arguing that it would trigger knock-on claims and undermine the current Public Service Stability Agreement at a time when Brexit is looming.
The first INMO strike last Wednesday saw 25,000 patients suffer cancellations of appointments for hospital, outpatient and community care treatment. 
However, over the weekend, the INMO leadership, frustrated at the lack of movement from the Government, decided to escalate their industrial action.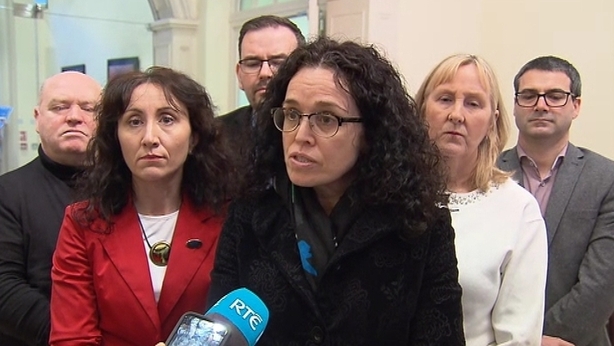 Twice as many patients - around 50,000 - will suffer cancellations, as the number of facilities affected soars from 82 to 240. 
The units newly dragged into the dispute will include respite care and rehabilitation for the elderly and for people with disabilities.
But the INMO's 37,000 members aren't alone in taking industrial action. 
Also involved in the row are the 6,000 members of the Psychiatric Nurses Association who are experiencing similar staff shortages in mental health services. 
They had a daytime overtime ban last Thursday and Friday, with more of the same planned for Wednesday and Thursday. 
However, they have also decided to escalate their action - and will extend their overtime ban to night services on Wednesday and Thursday.
They'll strike in tandem with the INMO on 12, 13 and 14 February.
HSE sources warn that the PNA action could pose difficulties in mental health services - as will the INMO strikes elsewhere - as the cumulative effect builds up over the coming days of planned disruption. 
So why would professional nurses and midwives dedicated to caring for people at their most vulnerable, take such a drastic step as to shut down all but emergency and life-saving care and areas warranting special exemptions?
The answer lies in the fact that nowadays, nurses and midwives do a four-year university degree to qualify - as do other health professionals like physiotherapists, occupational therapists and speech and language therapists.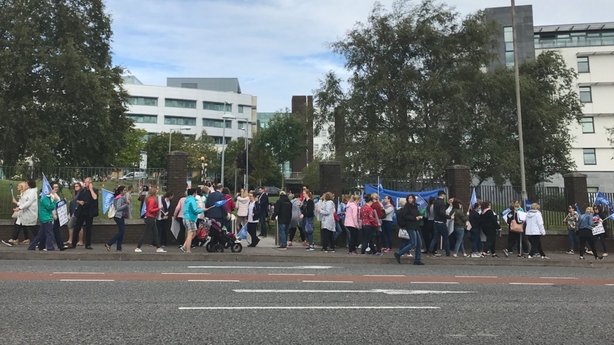 However, nurses are paid around €7,000 less than their fellow graduates, and work a longer core week. 
It is a grievance that has been festering for years - as reflected by the 94% rejection of Public Service Pay Commission proposals to address staff shortages through a €20 million package of targeted allowances and accelerated promotions.
The vote to strike was even higher at 95% - on a high turnout - giving a mandate that is absolutely clear.
The mood on the picket line last Wednesday was a heady mix of anger at the Government and determination to achieve their goals - and the INMO members were buoyed by apparent support from the public around the country.
However, that support could turn as the human cost of the dispute rises, and more and more sick people are notified that long-awaited procedures or appointments are cancelled, and they must languish for longer on interminable waiting lists. 
But the dispute poses massive problems for the Government too. 
First, it is the most serious challenge to Government pay policy in years. 
On Sunday, Taoiseach Leo Varadkar admitted that the nurses' industrial action is a "technical breach" of the Public Service Stability Agreement, which leaves them open to sanctions including an increment freeze, higher pension contributions and deferred pay rises. 
However, the Government appears at the moment to be reluctant to impose such penalties as that could inflame the situation dramatically.
If penalties are not imposed, though, the Government could come under pressure from other unions, and particularly from the Association of Secondary Teachers in Ireland which was hit with penalties when it breached the Lansdowne Road Agreement.
Secondly, the INMO has insisted the dispute can be resolved with a pay rise within the terms of the PSSA without triggering similar claims from other unions - but that is not a view shared in Government. 
Unions including 80,000 strong Fórsa have already flagged that whatever the nurses get, they'll want too. 
And thirdly, the Government feels the chill wind of Brexit blowing - and is reluctant to loosen the pay purse-strings when funding may be needed to support ailing businesses within weeks.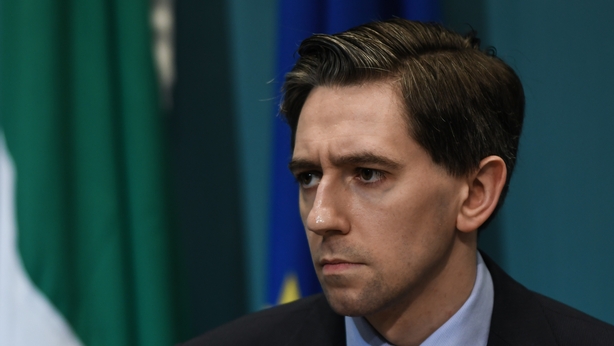 A joint statement from Health Minister Simon Harris and the Minister for Finance Public Expenditure and Reform Paschal Donohoe proposed talks on workplace issues but categorically ruled out talking about pay. 
The INMO General Secretary Phil Ní Sheaghdha blew that out of the water within an hour, describing the "talks without pay" proposal as one of the most cynical moves she has seen in a long time. 
The PNA echoed that, saying any invitation to talks that did not address pay would be of no benefit in addressing the staffing crisis. 
So the two sides remain deadlocked.
But caught in the cross fire are 50,000 sick people per day who face cancellations during each day of strike action - which is now scheduled for today, Thursday, the 12th, 13th, 14th, 19th and 21st February. 
Notwithstanding contingency arrangements during the strikes, it remains to be seen how much disruption for patients either the Government or the nursing unions can countenance - before getting back around the table to find a realistic resolution.