Aer Lingus has proposed significant cuts to the pay, conditions and employer pension contributions of cabin crew and ground handling staff, as the airline struggles to recover from the Covid-19 pandemic.
Documents presented to cabin crew union Fórsa and ground handling union SIPTU suggest the company will impose a pay freeze until 2026 - with no cost increasing claims permitted.
The documents show that the airline also plans to cut the company contribution to staff pensions from 10% to 7% for future recruits.
However, proposed pay cuts affecting some longer-serving current employees would not take effect until staff return to 100% of standard pay and hours - as most are only on 60% at present.
Paid sick leave entitlements would be halved, and aligned "with social welfare rules" - with uncertified sick leave reduced to two days per year.
According to a document titled 'Proposed Structural Agenda', the starting pay for future cabin crew recruits would fall by over 10% or €2,700 to just over €23,200.
The reforms would replace the current five-point pay scale to reach the maximum of €31,400 with a seven point scale for new entrants.
Cabin crew hired before 2012 on a so-called "legacy" 15-point pay scale - who are on the top three points of that scale - will have their pay cut and frozen at point 12.
Those below point 12 will continue to build up increments until they reach that level.
Aer Lingus is also contemplating reducing the level of commission for cabin crew from the current 12%.
The "Structural Agenda" containing proposals for ground handling would see future recruits on a lower new entrant rate based on the estimated Living Wage of around €12.30.
Longer-serving current ground handling personnel recruited before 2009 on the top three points of their legacy scales will see pay cuts similar to cabin crew.
Further cost savings are envisaged through changes to allowances, the abolition of automatic promotions after six months, and greater flexibility between different teams operating between the baggage hall and the ramp.
It is understood unions have also been briefed about proposals for more outsourcing of "non-core" services - including provisional stores, the vehicle fuelling function and load planning.
Aer Lingus still losing over €1m a day
In a letter to SIPTU, Aer Lingus Executive Director of HR and Dublin Airport Operations Sean Murphy outlined the serious financial situation.
Mr Murphy said the airline accumulated an operating loss of €361m last year, and is sustaining losses of €103m in the first quarter of this year as it continues to lose over €1m a day.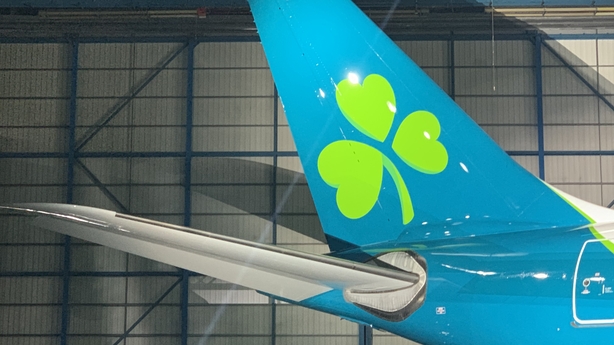 He reiterated that the airline will emerge smaller from the pandemic, adding: "we must now ensure that we rebuild a more efficient and productive business in every area in order to generate the cash required to rebuild its financial health following the crisis."
"As you are aware, the situation remains extremely fluid and we cannot discount further immediate decisions needing to be taken. Therefore we ask that in advance of our next meeting on 1 June, we encourage you and your colleagues to reflect on the seriousness of the situation and stress the importance of our next meeting," he wrote.
Cost cutting measures already implemented by Aer Lingus include closing its cabin crew base in Shannon, (where ground operations staff are on continuing temporary layoff) as well as reduced pay and working hours.
SIPTU Aviation Division Organiser Neil McGowan said that talks on the proposed cuts were at a premature stage and that it would be inappropriate to comment.
Aer Lingus issued a statement saying: "The cumulative impact of the crisis over the last 15 months means immediate actions and structural changes is required at the airline.
"The airline lost €103m in the first three months of 2021. This is on top of a loss of €361m in 2020. We are continuing to consult with unions representing employees on the change requirements relevant to them."
Meanwhile, Fórsa trade union, which represents approximately 2,000 cabin crew employed at Aer Lingus, sais it is currently engaged in consultations with union members, following the tabling of cost restructuring proposals by the airline earlier this week.
The union said it is also engaging with the airline on those proposals.
Fórsa said its priorities in these discussions is to continue to protect cabin crew jobs at the airline, and to ensure sustainable employment terms as the aviation industry commences recovery from the unprecedented challenges of the Covid-19 pandemic.
Fórsa has called on the Government to provide leadership, clarity and certainty for the aviation sector in order to guard against widespread job losses in the industry.