The Government must make sure that citizens do not face further delays and cancellations in hospitals due to planned strike actions by nurses, the General Secretary of the INMO has said.
Hospital and community care services across the country were severely disrupted by the first 24-hour nurses strike in 20 years today, although the HSE said there are no significant issues and trolley numbers are down as expected.
While contingency arrangements have been in place for emergencies, around 25,000 patients have had their medical appointments cancelled.
The Irish Nurses and Midwives Organisation has scheduled a further five 24-hour stoppages for next month.
Speaking on RTÉ's Six One News, Phil Ní Sheaghdha of the INMO said while the HSE has attended the Labour Court and the Workplace Relations Commission in an effort to end the dispute over pay and conditions, they have not engaged with nurses.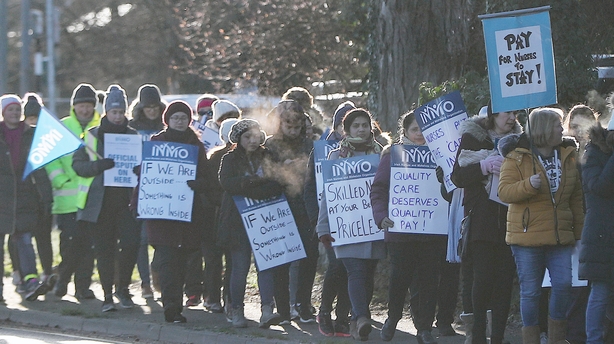 She said that there has been no invitation to talks between the parties tomorrow, but that if it was forthcoming the INMO would attend.
Ms Ní Sheaghdha also said nurses on the picket lines around the country were overwhelmed by the support from both members of the public and other public servants.
She said the situation in Irish hospitals is becoming unsafe, and the Government's claim that there is no problem with recruitment and retention is not credible anymore.
The HSE is to discuss contingency plans for the second planned day of industrial action with the INMO at a meeting tomorrow.
The second day of strike action is scheduled for next Tuesday. The HSE will be seeking the same contingency arrangements as were applied today.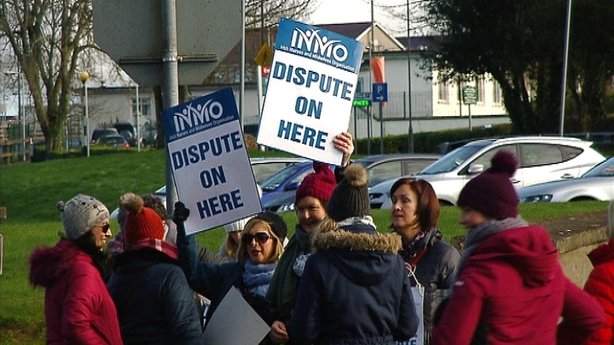 The Government continues to insist that the nurses' pay claim is unaffordable.
The HSE National Director of Acute Hospitals said the longer the strike action goes on the more people will be impacted.
Liam Woods said emergency departments are still running and attendances are down, but agreed with consultants' concerns about safety, adding he is concerned about the impact on tomorrow after a slow down today.
He believes many people are holding off going to hospital today and that there will be a surge of activity tomorrow and they are working with the INMO to address all safety concerns.

At 8am over 30,000 nurses at hospitals around the country took to the picket line in their dispute over pay and staff shortages.
We need your consent to load this rte-player contentWe use rte-player to manage extra content that can set cookies on your device and collect data about your activity. Please review their details and accept them to load the content.Manage Preferences
---
Watch: Nurses say they have no choice but to strike
Read: Varadkar rules out borrowing to fund pay rises for nurses
---
#INMO gen sec Phil no Sheaghdha at Blanchardstown picket #strike pic.twitter.com/yjOLXPJjGj

— Ingrid Miley (@ingridmileyRTE) January 30, 2019
The HSE has said there will be challenges in staffing acute acute psychiatric units and other residential mental health facilities tomorrow, due to the action by psychiatric nurses.
An overrime ban is being implemented by the 6,000-strong Psychiatric Nurses Association in its industrial action over pay.
The HSE said it will not know the actual impact on services until the start of shifts in the morning.
It said it was continuing to engage constructively with the PNA at national and local level.
"There will be challenges in staffing however at this point in time, management in each of the community health care areas are continuing to make the maximum staffing arrangements with the least level of disruption possible. Until we actually see the commencement of the shifts, it is difficult for us to accurately set out any possible disruption", the HSE said.
Minister for Health Simon Harris reiterated that conceding the nurses €300m claim would breach the current public service pay agreement, trigger an avalanche of expensive knock-on claims and would be reckless given the economic risks looming from Brexit.
Meanwhile, the Health Service Executive is asking people whose appointments have been cancelled not to contact their hospital. They will receive rearranged appointments in due course
The Government remains adamant that the claim by nurses and midwives is unaffordable and would undermine the public finances amid economic risks from Brexit.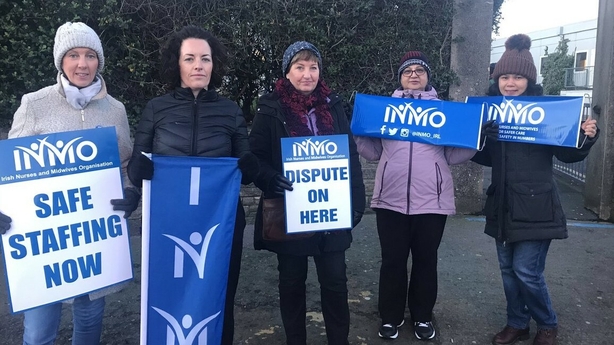 The HSE has said that strike committees are engaging locally.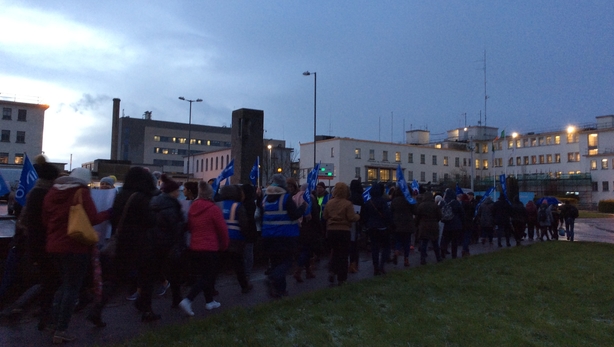 Communications officer with the Irish Association of Emergency Medicine Dr Fergal Hickey said he expects hospitals to be very busy tomorrow dealing with the backlog from today.
Speaking on RTÉ's Today with Sean O'Rourke, he said that while contingency plans are in place today, hospitals will be under increasing pressure next week when the planned stoppages are only separated by a day.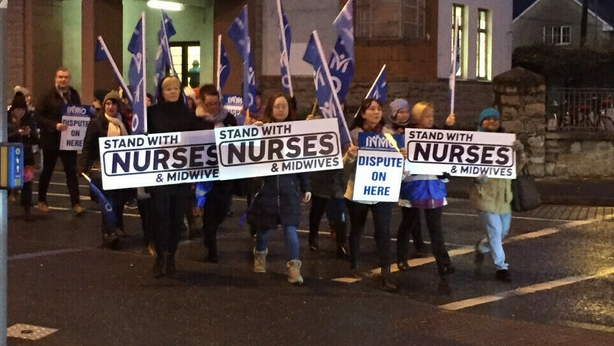 An advocacy group for patients with leukaemia has warned that lives could be put at risk.
Chronic Lymphocytic Leukeamia Ireland described the strike action as a "dark day for patients, nurses and all health care providers".
It a tweet it called called for a swift resolution to the impasse so that those that care about caring can do what they do best.
However, there is no sign of any breakthrough in the dispute.
The INMO still insists that staffing challenges can only be addressed with an across the board pay rise, bringing them in line with other graduate health professionals.
Hundreds of nurses out on strike in Galway - pic.twitter.com/59N5oTpQzH

— Pat McGrath (@patmcgrath) January 30, 2019
Nurses walk out of Connolly Hospital for #NursesStrike ?@morningireland? pic.twitter.com/EyCbVVPhdt

— Juliette Gash (@JulietteGash) January 30, 2019
All outpatient appointments and most planned operations are cancelled today as a result of the nurses' strike | https://t.co/d2FQawmhOe pic.twitter.com/1NHqXaMBjF

— RTÉ News (@rtenews) January 30, 2019
Effects of strike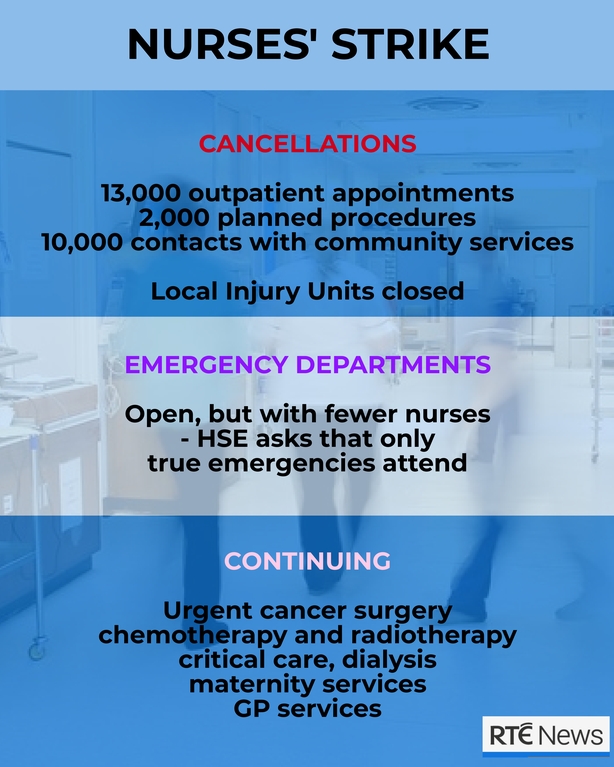 All outpatient appointments and most planned operations are cancelled today as a result of the nurses' strike.
Emergency departments will operate, but with fewer nurses, and the HSE has asked that only true emergencies attend.
The strike will directly affect more than 25,000 patients and people who avail of community services.
Around 13,000 outpatient appointments and 2,000 planned procedures have been cancelled, plus more than 10,000 people who would have had contacts in community services have seen those cancelled.
Patients will be contacted directly about rescheduling appointments.
Local Injury Units are closed.
Urgent cancer surgery, chemotherapy and radiotherapy will continue, as will critical care, dialysis and maternity services.
Nurses working in family doctor practices and private hospitals are not affected.
A very snowy start for nurses at Cavan General hospital. Pic from cameraman Mark Ronaghan. @rtenews pic.twitter.com/4wqHMQwJBD

— Sinéad Hussey (@SineadHus) January 30, 2019
Additional reporting Fergal Bowers, Edel McAllister