Taoiseach Leo Varadkar has acknowledged that direct contact should have been made with nursing unions last night regarding further talks at the Workplace Relations Commission to resolve their dispute, rather than through a press release.
He was responding to criticism in the Dáil from Fianna Fáil leader Micheál Martin, who described it as an "appalling and a pathetic way" to approach the dispute.
Last night, the Government issued a statement saying it was willing to engage in fresh talks on issues other than pay to try to resolve the nurse'' strike.
Nurses dismissed the approach as cynical, with General Secretary of the Irish Nurses and Midwives Organisation Phil Ni Sheaghdha saying the Government had not communicated directly with the unions.
We need your consent to load this rte-player contentWe use rte-player to manage extra content that can set cookies on your device and collect data about your activity. Please review their details and accept them to load the content.Manage Preferences
Earlier today, Ms Ní Sheaghdha said what is really going to resolve the nurses' dispute was looking at the salaries of nurses and midwives.
At least 50,000 patients have had medical appointments for today cancelled due to the nurses' strike which resumed at 8am.
"Picketers here [at St James's Hospital in Dublin] and the picketers that I've met already this morning and on Wednesday are very clear, this will require a review of their pay scales", Ms Ní Sheaghdha said.
"The reason they're leaving is because they're getting better pay abroad. We're in a competitive market, we're building a new children's hospital and we need a minimum of 300 children's nurses and the class that just graduated have told us they're leaving, they're going to London already.
"So if the Government insists the only remedy cannot involve pay, then we have a huge problem."
Ms Ní Sheaghdha said the union already agreed with the Government framework on nurse staffing.
She said it was agreed and launched by Minister for Health Simon Harris last May and she said yesterday's press release was just a recycled offer that the Government had no intention of implementing.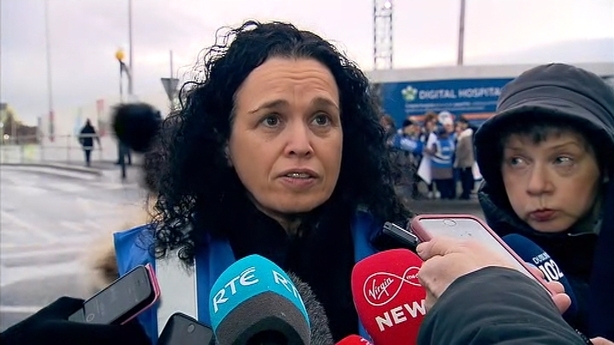 "You can't implement a framework to measure how many nurses you need without then investing in the raw material of the nurse," she said.
In reaction to whether patients felt scared about the availability of services during the strike, Ms Ní Sheaghdha said: "I think the HSE has worked very well with us in putting in place contingency plans.
"Services are being provided today. The emergency departments are open and our medical colleagues are working well with us so services are being provided.
"They are restricted. GPs are unaffected by the dispute as are the telephone triage services outside of hospitals. So for patients who are sick, the service is open."
She said the public has been very supportive of the nurses and they understand the problem and that nurses are striking on the public's behalf for better services and less overcrowding.
Ms Ní Sheaghdha said they are not getting significant pay rises, despite what the Department of Public Expenditure and Reform maintains under the Public Services Stability Agreement.
---
Read more:
Nurses' dispute: Not just deadlocked, but escalating
List of picket locations
---
"As they [the Government] term them, the pay awards are actually a restoration of cuts and at the end of the agreement in 2020 nurses will actually not be on the same pay rate, they'll be on a lesser pay rate than they were in 2008.
"Ignoring the problem won't fix it, ignoring the problem won't make it go away and nurses and midwives are very adamant about this and I think it's fair to say, inviting them to talk about everything but pay will actually mean that they feel more insulted than they have been."
Thousands more patients will be affected if the next six days of planned industrial action proceed.
In the Dáil this afternoon, Fianna Fáíl leader Micheal Martin accused the Taoiseach of handling contact with striking nurses' unions in an "appalling" and "pathetic" way. 
During Leaders' Questions, Mr Varadkar acknowledged that direct contact should have been made with the unions last night regarding further talks to resolve the dispute.
Mr Martin told the Taoiseach: "It's appalling that a Taoiseach would come here and say that we engaged in optics last night essentially ... clearly it was just to be seen to do something, for the optics.
"I think that's appalling and a pathetic way to approach such a grave dispute."
Mr Varadkar acknowledged that direct contact should have been made with unions.
"I appreciate the nurses' union felt the offer to engage in further talks at the WRC was discourteous as they heard it through a press release rather than through a letter or direct contact. We will make sure this doesn't recur," Mr Varadkar said.
Mr Varadkar added that tens of thousands of respite and day care patients found out that their services were being cancelled through the media.
He also apologised to patients for the disruption caused by the dispute and acknowledged that nurses had provided cover.
He said he believed the dispute could be solved and the Government was open to further engagement.
However, he repeated that a resolution had to be found within the current pay deal.
Mr Martin called on the Taoiseach to call in someone of the calibre of Kieran Mulvey, who is former director-general of the Workplace Relations Commission, in attempt to find a resolution to the dispute.
The Minister for Finance Paschal Donohoe has said he understands the public support for Nurses because of their care and professionalism.
However, Mr Donohoe has once again ruled out wage increases because "the moment a move is made in one part of the civil and public service, every other part would expect the same".
Minister Donohoe who was before the Oireachtas Finance Committee said he was trying to protect the overall wage agreement.