Super simple, mild and delicious perfect for family weekends.
Ingredients
1 tbsp vegetable oil
1 tsp butter
4 potatoes
2 carrots
1 onion
500mls fish stock (chicken will do)
2 tbsp dried dil
4 small hake fillets (500g)
2 salmon fillets
I medium piece (400g) smoked fish (haddock, cod, coley)
A seafood mix works just as well.
250mls cream
100ml milk
4 tbsp finely diced chives
Equipment
Chopping board
Vegetable peeler
Sharp knife
Measuring jug
Saucepan and lid
Wooden spoon
Method
How to Do It
Prep Time
Peel and dice the potatoes into about 3cm cubes.
Peel and dice the carrot into about 1 cm pieces
Boil the kettle and make up the stock (if using a cube).
Skin and dice the fish ( ask a fishmonger to skin and dice fish for you). Leave the fish in large chunks as it breaks up a lot in cooking.
Let's Get Cooking
Heat up the oil and butter in a saucepan. Pop in the onion, carrot, potato and dill. Stir continuously for about 5 mins.
Pour over the stock, bring to a simmer, pop on the lid and cook for 15mins.
Remove the lid, add in the fish, cream and milk. Allow to simmer (NOT BOIL) SIMMER for 5 /8 mins until the fish is cooked.
Add in the chopped chives, saving a little for the top as a garnish for the grown-ups.
Serve in bowls with delicious brown bread scones or soda bread.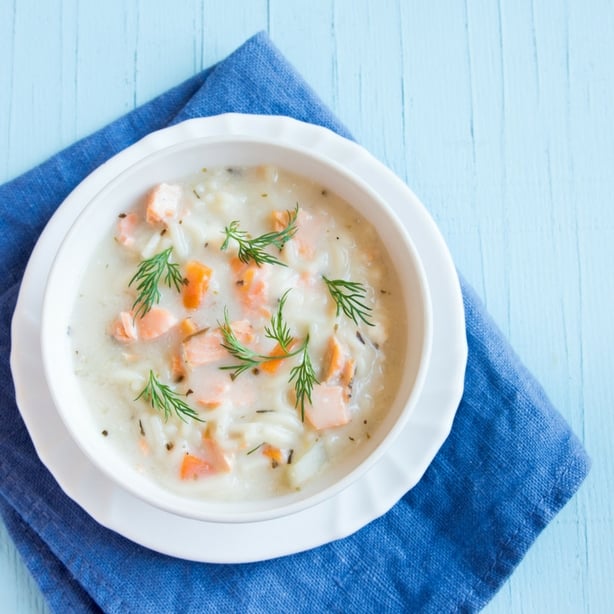 Seafood Chowder is often thought of as complicated and only something for a special occasion.  Not at all. Here in my home, it is a perfect weekend lunchtime recipe that is really filling and delicious. 
I come from the sunny south east coast close to the beautiful fishing village of Dungarvan where fresh seafood is something we grew up on. 
This chowder has a rich, creamy but very mild base perfect for kids and I have chosen fish which again is very mild and accessible.  There is no shellfish in this recipe just in case of allergies.
This chowder can be made in under 30mins and is delicious served with wholemeal bread. A perfect family meal that works great for weaning too.  My little Emilia is 9 months now and loves this.
The best thing about this recipe is it simple and it works.
P.S It freezes great too as long as all your fish is fresh to begin with.
With fun & deliciousness,
Aisling