A creamy, sweet, delicious summer mess.
Ingredients
What You'll Need
Meringues
3 large egg whites ( room temperature)
200g caster sugar
few drops red food colour (optional)
Or good quality shop bought mini meringues
Filling
250mls cream
250mls Irish Vanilla Greek yogurt
I vanilla pod / 1 tsp vanilla extract ( the good stuff )
500g berries ( a combo of strawberries and raspberries work great)
Squeeze lemon juice

Equipment
If Making Meringues
baking tray
greaseproof paper
oven gloves
weighing scales
electric whisk
mixing bowl
piping bag
fork
Method
How to Do It
Makin' Meringues
 Preheat the oven to 120°C/gas mark 1/2
 In a bowl, whisk the egg whites to soft peaks. Gradually add the sugar, mixing continuously until combined
Spread the meringue mix onto a baking tray lined with parchment paper and place into the oven for 2 hours.
Switch off the oven and leave the meringue inside until it has cooled completely
 
Smush Time
Using a fork, smush up the berries to create some juice. Leave large chunks, little pieces and juice all combined.
Squeeze over some lemon juice and allow to macerate while the meringues cook ( or 20 mins ) This is the secret - the citric acid from the lemons intensifies the sweetness of the strawberries. Delish!
 Whisk the cream and fold in the yoghurt and the vanilla.
 In a large bowl, combine the meringues, creamy mixture and berries altogether. 
 Spoon into glasses/bowls 
 Chill in fridge for 30mins ( if you can wait - if not just dive straight in ) 
 Garnish with one or two mini meringues on top.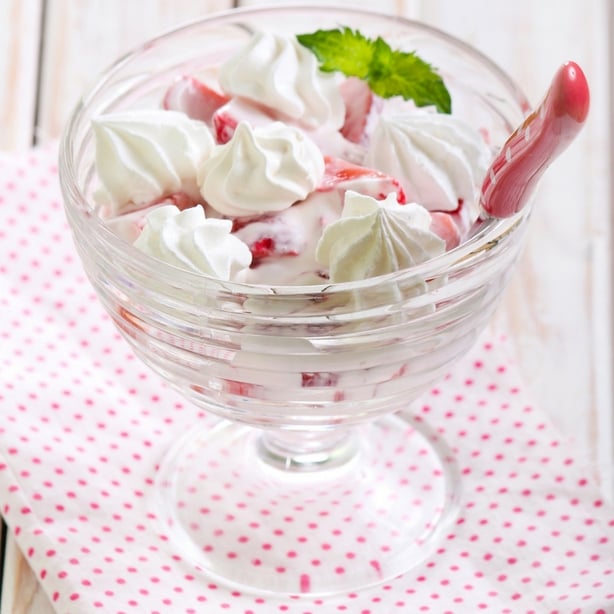 Berry Smush better known as Eton Mess to most is a favourite among all the grandchildren in the Larkin family. Their Gran is responsible for making huge bowls of the deliciousness every time we have a garden party during the summer.
It is a fail-safe dessert with little prep and as my Isabella says " Mom I do love Gran's Berry Smush".
This is my kinda dessert because on these rare and beautiful sunny days who needs to be in a kitchen being perfect. Defo not me!
This is a slightly healthier version as it is made with delicious Irish Greek yoghurt and cream instead of just all cream and I totally cheated and bought the little mini meringues.
They are super easy to make and kids love piping them and sure it doesn't matter a hoot what they look like 'cos they are being turned into smush anyway !!
 
Enjoy the sunshine this weekend,
With fun & deliciousness,
 Aisling