Friday Night Pizza is a real thing in our home. It is quick and easy and feels kinda like a treat dinner after a long week.
Ingredients
What You'll Need
pizza dough
pasatta or tomato puree
brown sugar
onion and garlic powder ( optional )
dried oregano
parma ham
grated mozzarella
fresh mozzarella
fresh summer peas
egg
Method
How to Do It
This is more of an instructional manual for the perfect homemade pizza rather than a recipe but it works best believe me! 
I either make the dough or buy a really good quality pizza dough.
I roll it really thin –  really thin!! If I can't find the rolling pin I use a wine bottle or olive oil bottle.
Drizzle with a little bit of olive oil and bake at 180oC for 5 mins. This gets a little crust on the base and stops it from getting soggy.
I don't make tomato sauce – far too much hassle. Don't use a tin of tomatoes, but you can use either passata or just straight tomato puree. You must sprinkle with a pinch of brown sugar and some dried oregano for that real Italian feel. Spread out with the back of a dessert spoon.
For an extra layer of flavour sprinkle with onion and garlic powder ( one of the secrets of the takeout pizza places)
Never overload the toppings  – pick anything you want. A big favourite of our at the moment is parma ham or thinly sliced ham and an egg. Just crack the egging the middle on top of the cheese and bake. Also on this one, I added some amazingly sweet fresh summer peas. Divine!
Now for the cheese  –  the secret to amazing pizza is a combo of grated and fresh, creamy beautiful mozzarella. 
Bake in a hot oven 200oC for 12-15mins depending on how "done" you like it!
Serve with some salad or even fresh tomatoes and basil in olive oil and salt.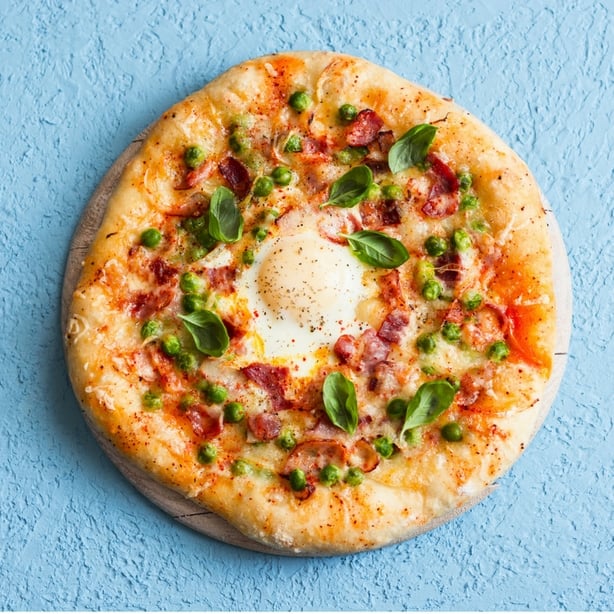 Isabella went around for a while telling everyone "I love pizza, we have pizza for dinner all the time, pizza is my favourite".
We do not, nor have we ever ordered a pizza in and we do not eat pizza from a box. We make pizza!
Sometimes Isabella's little friends will be over for a play date and I cut them all little circles and they custom build their own but we always, always make it. How?
OK,  I am going to explain our Friday night pizza rules below. So simple but really will change how you think about homemade pizza.
Why not give it a go this weekend and share some of your favourite topping ideas and creations with us over on social media.
With fun and deliciousness,
Aisling x