There are lots of banana bread recipes, but this one is a slightly healthier version: a little less sugar, more nuts. But suitable if you can't eat wheat.
Ingredients
Makes: 12 thickish slices
Banana Bread
60g coconut oil or butter
4 over-ripe bananas (about 540g)
2 eggs
100g coconut palm sugar (available in most health stores)
100g coconut flour
100g ground almonds
generous pinch of salt
½ tsp baking soda
½ tsp baking powder
1 tsp cinnamon (more if you like it)
scrape fresh nutmeg
½ tsp ground cardamom
100g chopped walnuts
Maeve's chocolate, cashew and chia bites
1 baking tray
1 sheet of greaseproof paper
1 spatula
200g dark chocolate (preferably 85%), melted
200g cashew nuts
2 tbsp chia seeds
1 tbsp bee pollen
Method
Banana Bread
Soften the butter (or melt the coconut oil) and mix (or blend) it together with the eggs and the bananas before adding in the coconut sugar and mixing thoroughly.
Next, in a large bowl, mix together all the dry ingredients except the walnuts.
Then add the wet ingredients to the dry ones and mix well before folding in the nuts.
To cook it, grease and line a loaf tin and empty in the mixture. It will be pretty cement-like, but don't worry.
Bake at 170C for 50 minutes until a skewer will come out of it clean. Leave to cool before removing from the tin.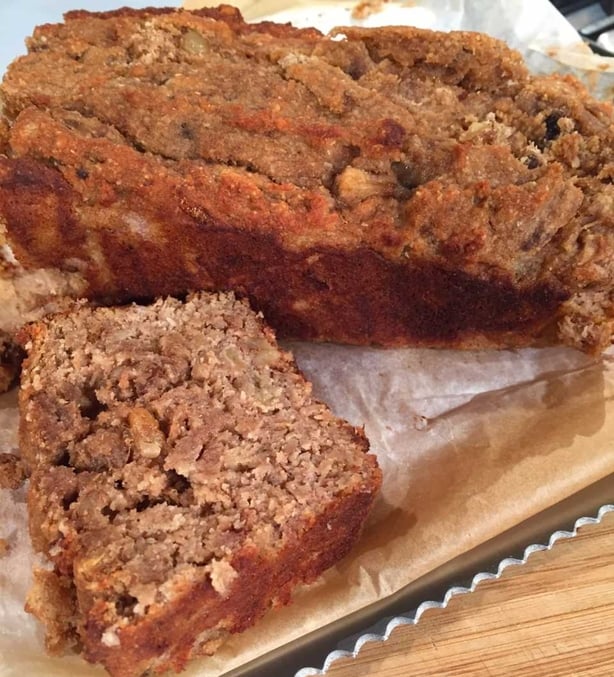 Maeve's chocolate, cashew and chia bites
Stir the cashew nuts into melted chocolate and using a fork, take out small clumps and put them on the baking sheet.
Before they cool down, sprinkle with toppings.
Chill for an hour in the fridge.
Enjoy!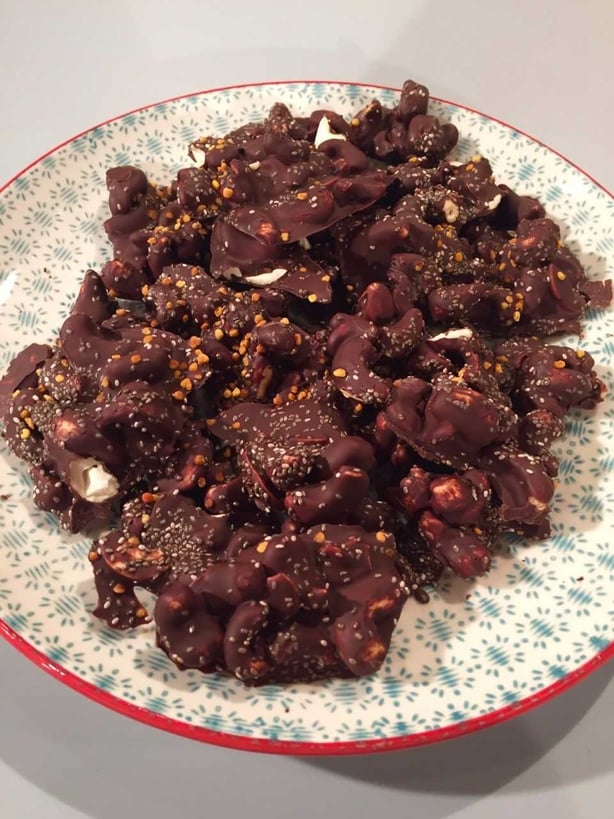 Chia seeds are full of nutrients, fibre and contain protein and omega 3's! It has been suggested that bee pollen is anti-inflammatory and boosts the immune function. It's a mixture of bee saliva, nectar and pollen. But some scientists dispute it has any real benefits. We like the flavour!
Dark chocolate is full of fibre, copper, magnesium and other nutrients! But the higher the % the less sugar, so aim for 85%
Cashew nuts are packed with the vitamins and nutrients essential to good health. The next time you can, grab a handful of cashews and enjoy the benefits of this amazing nut!