Ingredients
Serves 6
8 cloves garlic, peeled
4 onions, peeled and roughly chopped
3 tbsp ras el hanout spice mix
salt & pepper
1 shoulder of lamb or lamb on the bone, 2kg
4 red onion, cut into half-inch slices
1-2 glasses leftover, old white wine
Cabbage & Pomegranate Salad
Serves 6
1 red cabbage, sliced or grated
Salt
2 pomegranates, seeds removed
Olive oil
Big bunch chopped mint
Good glug olive oil
1 red onion, finely diced
Juice 1 lemon
Black pepper
Rich cucumber & yoghurt salad
2 cucumber, finely diced
Salt
250 g tub thick Greek yogurt
2 cloves crushed garlic
Small bunch mint
Splash white wine vinegar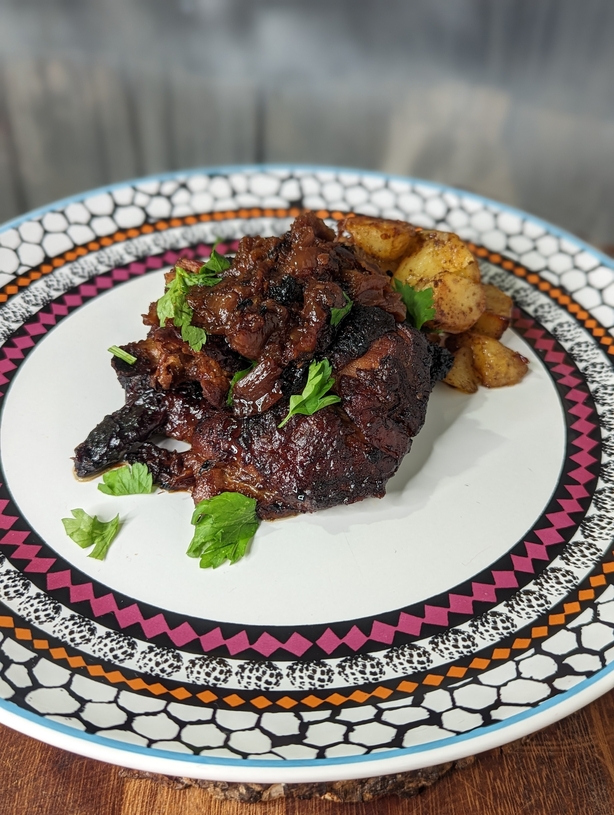 Method
Domini Kemp's lamb shawarma
In a food processor, blitz the garlic, chopped onion and spices together to form a sludgey paste, then season well. Cover the bottom of your roasting tin with the sliced red onion and place the lamb on top.
Season it well. Then smear the whole joint with the sloppy onion spice mix, then fill the dish with water to halfway up. Roast for 60 minutes at 200C to get some colour going, before basting it, cover it with tin foil and return it to the oven for another 3-5 hours at 170C, until the meat is falling off the bone.
Keep topping it up with water if it is drying out. Rest for half an hour before eating.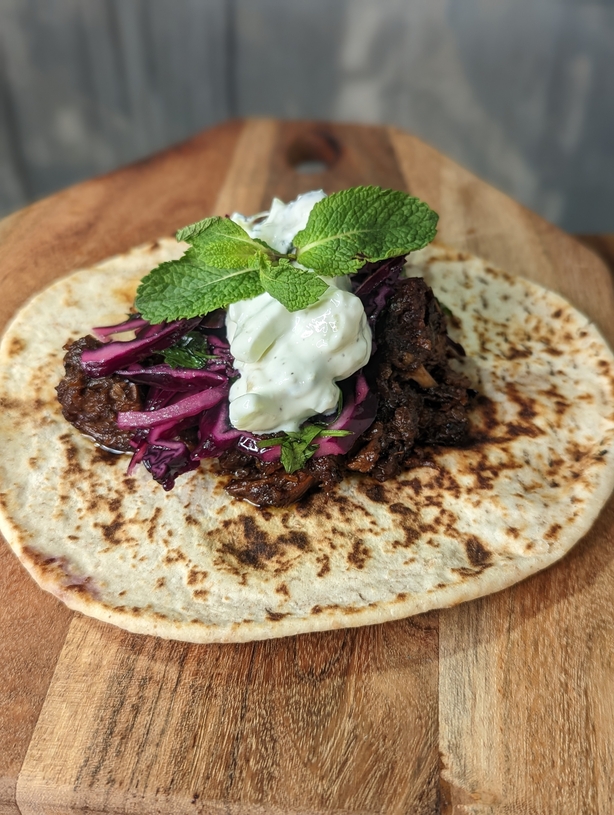 Cabbage & Pomegranate Salad
Slice or grate the cabbage in a food processor. Season well with salt and leave to wilt for at least 10 minutes.
When that is done, dress the salad with olive oil and lemon juice to your taste (some like it sharper than others) before tossing it with the pomegranate seeds, diced onion, and fresh mint. Serve with the lamb.
Rich cucumber & yoghurt salad
Salt the cucumbers and let them drain, then mix with all the other ingredients; serve with flatbreads and reheat the lamb under a grill. You can add more spices and a little honey to make it sticky. Grill until hot and serve on a platter.