These vegetable muffins are the perfect, tasty, on-the-go food. Perfect for this time of year when its hard to get all the family eating properly with all the running around.
Ingredients
1 courgette grated
1 carrot grated
Small handful of spinach finely chopped
4 tbsp sweet corn
1 small onion finely chopped
120g grated cheddar cheese
230g self-raising flour
180ml milk
3 tbsp olive oil
1 egg, beaten
Method
Siobhan Berry shares her recipe for Vegetable Muffins. This is a great one for the big and small kids too. Whether your little one is at the finger food stage or you are looking to get a few veggies in, just pop them in their lunchbox and they'll do the trick. Remember to keep some for your own lunchbox too!

Preheat your oven to 200 degrees.
In a large bowl, mix together the flour and cheese.
In a small bowl combine the oil, egg and milk.
Add the vegetables to the bowl with the flour and cheese, stir in the wet ingredients and mix thoroughly until combined.
Divide evenly into your muffin cases and bake for 25-30 minutes, until golden brown and fully cooked through. 
Allow to cool before serving.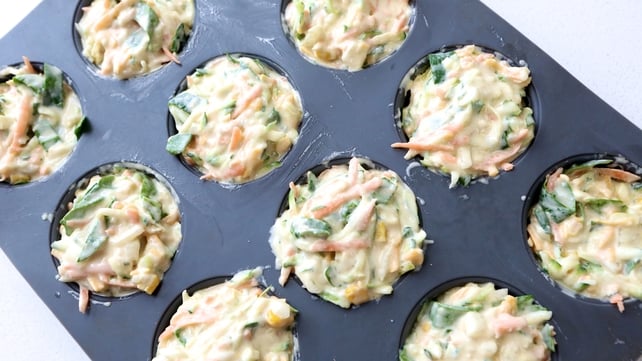 Storage: 
4mth - 6mths Not suitable 
6mths as a finger food - 8oz portion pot
Lunch box - 12oz portion pot
Recipe courtesty of Siobhan Berry of www.mummycooks.ie