Donal Skehan is back on Irish TV for the summer & he chatted to Janice Butler about producing his first series and living in Los Angeles. Plus since then, he broke his and Sofie's baby news!
The 31-year-old chef has a lot to celebrate as he's been telling his Instagram followers: "Life is about to change forever! We're expecting a little baby arriving this Autumn!
"Completely over the moon and feeling very blessed- Mommy and bump doing brilliantly, Dad & Max don't know what's about to hit! Big love, Donal, Sofie, Max & Bump x"
We need your consent to load this Instagram contentWe use Instagram to manage extra content that can set cookies on your device and collect data about your activity. Please review their details and accept them to load the content.Manage Preferences
RTÉ Guide interview:
Donal Skehan is certainly embracing his new American lifestyle – looking tanned and healthy (as you can see from the pics), he's well-versed on the hot spots of Los Angeles when I ask him for his top tips for visiting the famous city. He's even got the accent down, saying "awesome" more times in our conversation that you'd normally hear from an Irish man.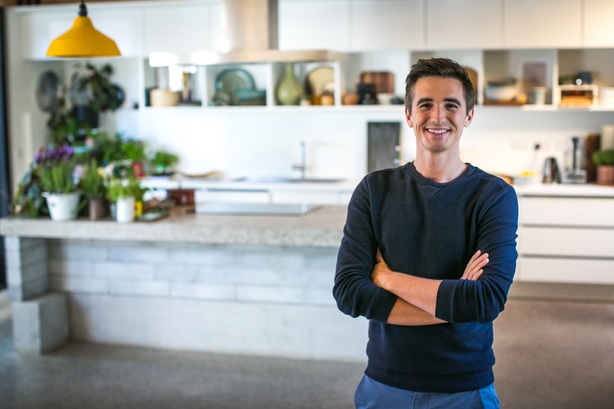 Since making the permanent move Stateside in January with his wife and work partner Sofie (and dog Max
of course!), he's made a big impact on the food scene over there, hopping from Chicago to New York and everywhere in between to promote his cookbook.

He still manages to make the journey back to this side of the pond once a month for his stint on Saturday Kitchen. He does admit that the long-haul flight is starting to take its toll but the high-profile job is worth the journey.
"I'm literally there for two days, it's mad. It's good but I don't know how much longer I can maintain it, especially as it's getting busier here. It's the jet lag that kills you."
Has he any great tips to combat jet lag?
"If I'm really busy it's harder to implement them but there's this brilliant app called Jetlag Rooster which adapts your time each night leading up to your journey so you need to start using it about three days before you go away." 
The week that's in it (Memorial Day in the US), he's taking a well-earned break to take a trip to Las Vegas to see Celine Dion in concert.
"I had to listen to some of her songs last week in the office, I didn't know any of them," laughs Donal.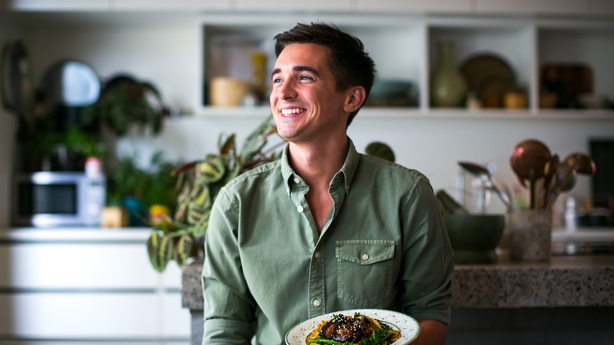 Back on Irish screens, Donal's new cookery series, Donal's Meals in Minutes, kicked-off last week and aims to teach viewers everything they need to know about modern meals by learning lots of tips, hints and cooking hacks. After spending a year on the move in different kitchens around the world, Donal admits he realised the need for fast meals with little equipment for the time-poor modern home cook.
"We've been living in Air BnB's for the last year so it's only now that we've moved into our house that we fully appreciate having more than a pot and a frying pan to cook with.
"With this show, I really wanted to bring it back to making cooking really easy for busy people, so it just involves five ingredients or one pot."
"You've an idea of what people want from a cookery show but then you talk to people, and realistically, nobody wants to make a white sauce from scratch. The aim is to make things as easy as possible for the busy home cook." 
The other big difference with this series is it's the first time Donal and Sofie have produced it, having set up their own production company last year. Considering they take all their own photos for his books and website, it comes as no surprise that Donal would eventually want total control over his TV work also.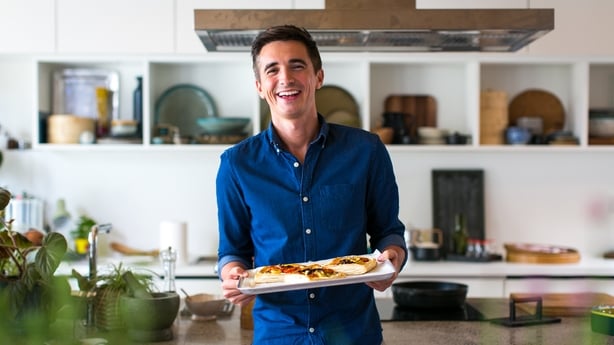 "When we set up the production company, the first thing we did was a YouTube documentary and now we've taken over the food series ourselves. It's great to have control over the creative side of things."
"It's a whole new ball game, even down to where the show goes after it's been aired." 
The advantage of producing his own show is getting to decide where it's filmed and where else would he pick as a location, but home.
"I was back home with the Mammy, back in my old room. I spent three weeks at home filming it – we had a blast." 
Watch Donal's Meals in Minutes on RTÉ One every Tuesday at 8:30pm.
Get tonight's recipes here: Sole Meuniere, Kimchi Fried Rice, Spaghetti Aglio E Olio, Soy & Ginger Chicken Thighs and Harissa Baked Fish.