This week on Donal's Meals in Minutes, Donal Skehan dishes up a delicious serving of Kimchi Fried Rice. Tune into RTÉ One at 8:30pm every Tuesday.
Ingredients
Serves: 2
Cooking Time: 10 mins
1 small onion, chopped
75g kimchi, roughly chopped
150g leftover cooked rice, cold
1 large free-range eggs, lightly whisked
1 tbsp sesame seeds, toasted
From the storecupboard:
1 tbsp sunflower oil
1 tbsp dark soy sauce
1 tsp sesame oil
Nori, to garnish (optional)
Method
Heat a large pan over a high heat and add the oil. Add the onions to the pan and saute until the go slightly golden, about 3 minutes.
Add in the kimchi and a glug of the liquid it comes in and stir fry for 1-2 minutes or until it's hot all the way through.
Add the rice to the pan and gently break up while also tossing through the contents of the pan. Season with dark soy sauce and sesame oil and stir through until completely incorporated.
Reduce the heat and in another pan fry the eggs in a little more oil until the whites are no longer translucent and the yolk is still slightly runny.
Serve the kimchi rice in a deep bowl topped with a fried egg, toasted sesame seeds and some strips of nori seaweed.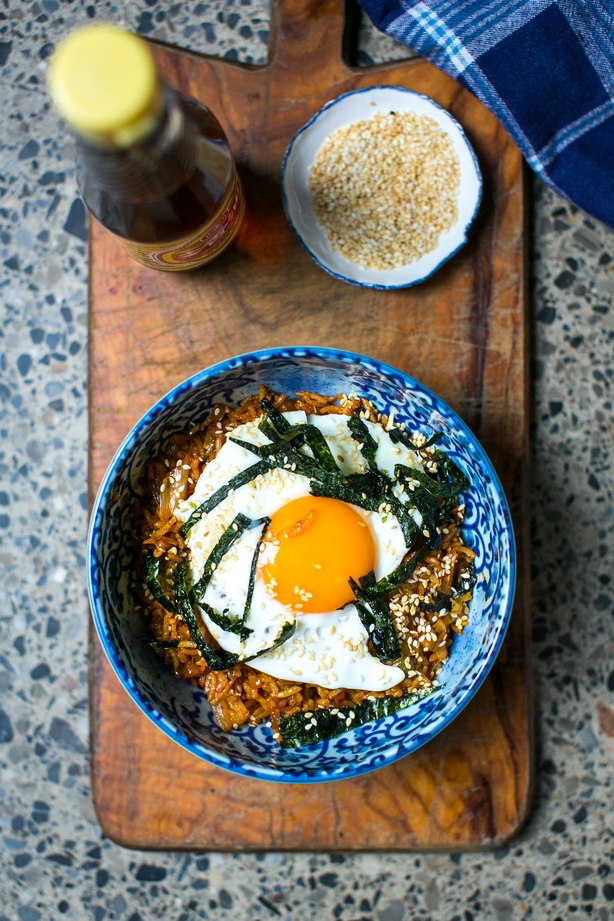 Nutri-facts
Per serving; 317kcal (calories), 19g Fat, 4g Sat, 25g carbohydrate, 6g Fibre,10 g Protein 
-  Great source of Vitamin B12. 
-  Vitamin B12 protects nerve cells and encourages their normal growth.
-  Great source of iodine. 
-  Iodine is important for a healthy thyroid and its hormones. 
Nutri-tips
-  Adding more fermented foods  (fermented cabbage and vegetables called prebiotics ) into our day is a great way to feed the good gut bacteria, which in turn helps keep the immune system operating well.
-  You could reheat the rice first and then add Kimchi at the end, to avoid destroying the healthy bacteria in the kimchi.
SPOTLIGHT FOODS IN THIS RECIPE  
Kimchi
is a traditional fermented Korean dish that has cabbage and chili in it. Both sauerkraut and kimchi are good in sandwiches, side salads and on toast with eggs and avocado. It should be noted that most fermented foods should not be heated, with the exception of miso and tempeh.
The heat kills the good bacteria. While beneficial bacterial strains found in fermented foods may not settle into the gut permanently, they may affect microbiota by influencing the gene expression of the bacteria already there. Naturally fermented foods, such as yogurt and kefir with live, active cultures, sauerkraut, tempeh and raw vinegar, are high in beneficial Lactobacillus bacteria. 
Cabbage
is a member of the "cruciferous" family of vegetables, which also includes broccoli, Brussels sprouts, cauliflower, kale, radishes and turnips.  It is a nutrient-dense, low-calorie food, containing vitamins, minerals and phytochemicals. A serving of 80g has 21 kcal. Cabbage is an excellent source of vitamin C and folate. It is a good source of fibre.
Donal's Meals in Minutes is sponsored by Spar