This week on Donal's Meals in Minutes, Donal Skehan dishes up a delicious serving of Spaghetti Aglio E Olio. Tune into RTÉ One at 8:30pm every Tuesday.
Ingredients
Serves: 2
Cooking Time: 15 minutes
200g best quality dried spaghetti
3 tbsp extra virgin olive oil
3 garlic cloves, sliced thinly
½ tsp dried red chilli flakes
A small handful flat-leaf parsley, finely chopped
25g Parmesan cheese, finely grated, plus extra for garnish
Sea salt
Method
Place a large pot of water over a high heat and bring to the boil. Add a generous seasoning of salt.
Cook the spaghetti for 9-12 minutes or until al dente. Drain the pasta, reserving a cup or so of the liquid and place back in the pot.
Place a large frying pan over a medium high heat and add the olive oil. Add the garlic while the oil is still coming to temperature and cook until slightly golden for 4-5 minutes. Add in the red chilli flakes a fry for a further 1 minute.
Add the oil with garlic and chilli flakes, reserved cooking water, Parmesan cheese and chopped parsley to the cooked pasta and toss until the pasta is evenly coated.
Serve straight away with more grated Parmesan cheese.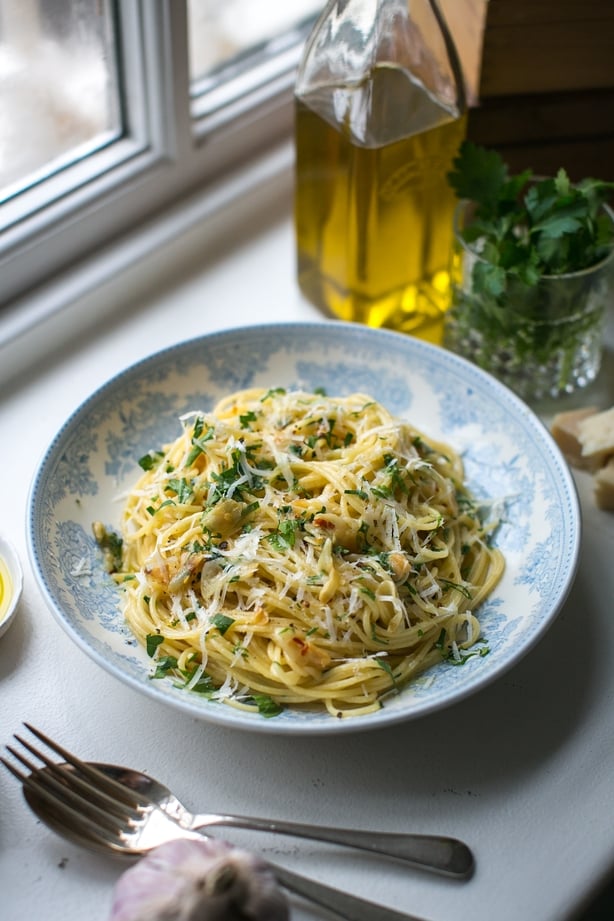 Nutri-facts
Per serving; 572kcal (calories), 25g Fat, 4g Sat, 48g carbohydrate, 3g Fibre, 12g Protein 
-  The protein in this recipe comes mainly from the cheese which also contributes Vitamin B12 (a vitamin only found in animal food). Cheese is a great source of both nutrients for vegetarians (but not vegans). 
-  Vitamin B12 protects nerve cells and encourages their normal growth.
Nutri-tips
-  Throw in some cherry tomatoes, or leftover veg or some fresh spinach leaves at the end of cooking time to add more filling fibre and nutrients.
SPOTLIGHT FOODS IN THIS RECIPE  
Garlic 
Many of the therapeutic effects of garlic are thought to be due to its volatile factors which are composed of the sulphur-containing compounds, high concentrations of trace minerals, glucosinolates and enzymes.
Two garlic cloves have approx. 10 calories and bucket loads of flavour. Garlic, unlike salt, has no negative effects on your blood pressure so try to use more in cooking along with herbs and spices and pepper.
Chopping or crushing the garlic stimulates the release of allicin, a compound to which many of garlic's health benefits are attributed. It's best to leave about fifteen minutes between crushing and cooking to maximise the health benefits of allicin.
Olive oil
In general, the deeper green the colour of the oil, the higher the polyphenol content. Refined olive oils are lacking polyphenol content, for this reason, extra virgin olive oils are recommended. Olive oil is a monounsaturated fat which is good for heart health.
Studies have also shown that olive oil contains a significant amount of antioxidants including chlorophyll, carotenoids and polyphenolic compounds – all of which help fight damaging free radicals in the body. The best food sources of vitamin K are green, leafy vegetables and the greener the vegetable, the higher the chlorophyll and vitamin content. Vegetable oils, including olive oil, are the second-best source of Vitamin K, due to the chlorophyll content of the olives.
Vitamin K is needed for normal blood clotting. Remember a little goes a long way. 1-2 tablespoons of extra virgin olive oil daily can produce significant health benefits, but each tablespoon provides about 100 calories, so weight-watchers need to be more sparing with the oil. Rapeseed oil is produced here in Ireland and is a cheaper alternative to olive oil.
Donal's Meals in Minutes is sponsored by Spar