This week on Donal's Meals in Minutes, Donal Skehan dishes up a delicious serving of Harrisa Baked Fish. Tune into RTÉ One at 8:30pm every Tuesday.
Ingredients
Serves: 4
Cooking Time: 50 minutes
4 small seabass fillets, skin scored
6 tbsp harissa paste
400g baby potatoes, sliced in half
150g cherry tomatoes, sliced in half
6 spring onions, trimmed
A small handful of mint leaves, finely chopped

From the pantry:
Olive oil
1 tsp white wine vinegar
Sea salt & ground black pepper
Method
Preheat the oven to 200˚C.
Place the potatoes in large bowl with the tomatoes and spring onions. Drizzle all over with olive oil, dot with approx. 1-2 tbsp harissa paste and season generously with sea salt and black pepper.
Toss until everything is coated & pile into a large roasting tin.
Place in the oven to bake for 35 minutes.
Prepare the mint salsa by mixing the mint with 3 tbsp of olive oil and 1 tsp white wine vinegar.  Season to taste and set aside.
Place the fish fillets on a plate and spread all over with harissa paste until completely coated.
Remove the roasting tin from the oven and place the fish fillets on top flesh side down.
Return the tray to the oven and continue to cook for 10 minutes or until the fish is cooked all the way through.
Serve the tin directly to the table and drizzle each fillet with mint salsa.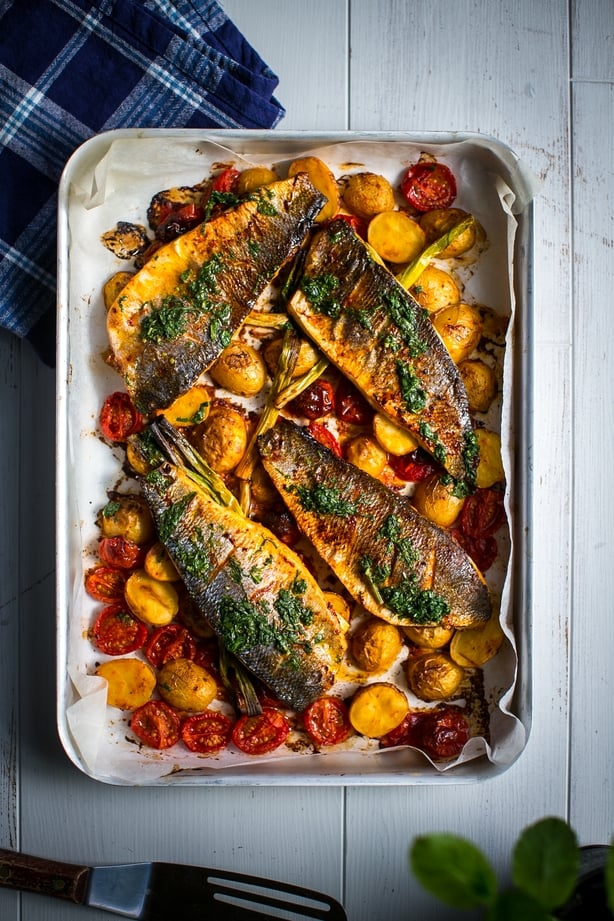 Nutri-facts
Per serving; 364kcal (calories), 18g Fat, 2g Sat, 19g carbohydrate, 4g Fibre, 30g Protein 
-  Although high in fat, this recipe is low in the less healthy fats  (saturates) and high in the healthier fats (unsaturated).
-  Of all the white fish available, sea bass is one of the highest in omega 3. Usually, the oily fish like salmon are known for this nutrient but sea bass contributes to our intake of these healthy fats too.
-  Omega 3 fats are important for brain, heart and joint health.
-  Sea bass and other fish are also good sources of minerals such as iron and selenium too. 
-  Selenium regulates thyroid hormone activity.
Nutri-tips
This could be a nice gluten free recipe for the family – just be sure your brand of Harissa paste ( Arabic mix of Baklouti pepper, serrano pepper and other hot chilli peppers)– is gluten free.
SPOTLIGHT FOOD IN THIS RECIPE  
Seabass
Of the solid matter in the brain, 60% is fat. One of the best brain-boosting foods you can choose is fish, especially oily fish such as salmon, mackerel, trout and sardines. These are rich in the essential omega 3 fatty acids. We cannot make these in the body so we must get them through diet.  
Aim for 2 portions of fish every week, with at least one being oily. 
Potato
Potatoes are an excellent source of healthy carbohydrate and are actually a better source of vitamin C and fibre than brown rice or pasta. One medium baked potato has 25mg of vitamin C (41% of the RDA).
Potatoes are good sources of fibre – one medium baked potato has 6.5g of fibre or 27% of the GDA.
Dietary fibre is part of the plant material that cannot be digested and absorbed in the bloodstream.  It has numerous health benefits, including helping to feed the good gut bacteria, and increasing satiety which may help with weight management.
A medium baked potato has more potassium than a banana, which is important for healthy blood pressure.
Another advantage! Potatoes are unprocessed and naturally free from gluten, and so are perfect for coeliacs and people avoiding wheat-based pasta and cous cous.
Donal's Meals in Minutes is sponsored by Spar