This week on Donal's Meals in Minutes, Donal Skehan dishes up a delicious serving of Sole Meuniere. Tune into RTÉ One at 8:30pm every Tuesday.
Ingredients
Serves: 1
Cooking Time: 5 minutes
1 sole fillet, skin on
3 tbsp plain flour
50g butter
Juice of 1/2 lemon
A small bunch of asparagus, shaved into thin slices
125g ready to eat puy lentils
From the pantry:
Sea salt and ground black pepper
2 tbsp olive oil
Method
Remove any prominent bones from the fish fillets using tweezers. Season the flour with salt and pepper on a large plate and press the fillet into the mix to coat on either side. Shake off any excess and set aside on a clean plate.
Heat the oil in a frying pan, which is big enough to accommodate the fish fillet over a high heat.
Add the fish fillet, skin-side down and asparagus and cook for 2 minutes and then turn over the fish add half the butter and a squeeze of lemon and cook for a further minute until golden and butter melts.
Using a fish slice, remove the fillets from the pan and set aside on a warmed plate.
Place the pan back over a high heat and melt the butter until it is foaming, then add the lemon juice and continue to cook until the butter turns a nutty golden-brown.
Pour the butter, lemon mix over the fish.  Warm the lentil in the pan with the remaining pan sauce and serve straight away.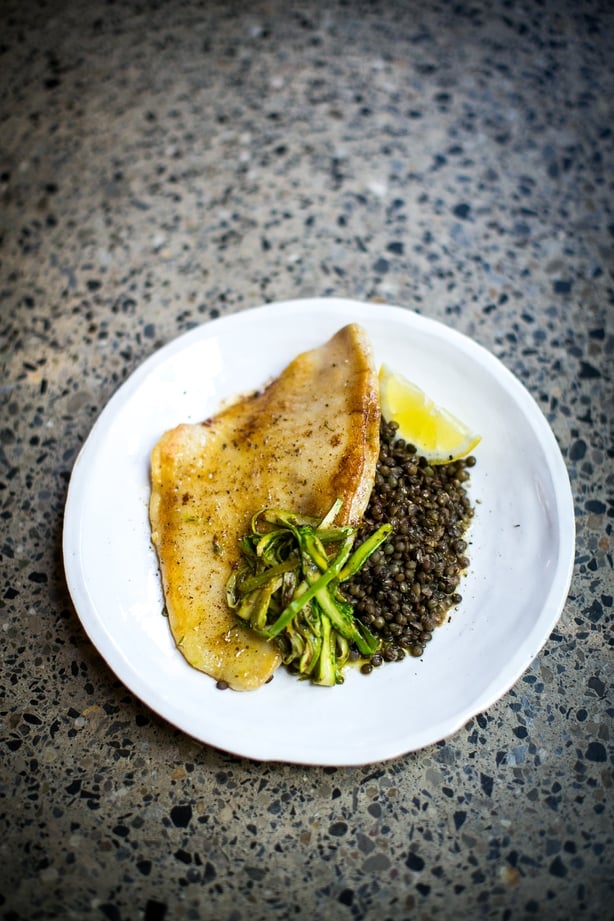 Nutri-facts
-  Per serving; 588kcal (calories),  37g Fat, 15g Sat,  30g carbohydrate, 8g Fibre,36 g Protein
-  High in fibre (mainly from lentils) and rich in protein (seafood and plant protein lentils).
-  Fibre is nature's broom and keeps the gut healthy and working well.
-  Great source of Folate (mainly from asparagus and lentils).
-  Folate is a B vitamin vital for new cell formation.
Nutri-tips
-  Sole is a great source of protein and it's naturally low in fat
-  You can keep it that way and reduce the butter and oil in this recipe if you wish. 
-  Maybe use some white wine instead of butter? Or simply cut it back. What's important is the balance of fats over your week so if you like this buttery sauce, cut out those biscuits after dinner!

SPOTLIGHT FOODS IN THIS RECIPE  
Lentils 
Compared to other types of dried beans, lentils are relatively quick and easy to prepare and you don't need to soak them overnight. They readily absorb a variety of wonderful flavours from other foods and seasonings, are high in fibre and are available throughout the year. Lentils are a rich source of the B vitamin folate. Additionally, they are a source of iron, protein, vitamin B1, pantothenic acid, zinc, potassium and vitamin B6.
Donal's Meals in Minutes is sponsored by Spar