This week on Donal's Meals in Minutes, Donal Skehan dishes up a delicious serving of Soy & Ginger Chicken Thighs. Tune into RTÉ One at 8:30pm every Tuesday.
Ingredients
Serves: 2
Cooking Time: 35 minutes
400g chicken thighs, boneless (about 4-5), skin on
4 tbsp dark soy sauce
1 large thumb sized piece of ginger, finely minced
200g egg noodles
200g brocollini
1-2 tbsp sesame seeds, toasted
From the pantry:
1-2 tbsp sunflower oil
Salt
Method
In a mixing bowl whisk together the soy sauce and ginger until well combined.
Add the chicken thighs and toss until completely coated.
Cover and allow to marinate in the fridge for 15-30 minutes, as long as you can wait.
Place a large frying pan over a medium-high heat and add enough oil to coat the pan.
Fry the chicken skin side down for 8-10 minutes before turning and frying for a further 5 minutes or until cooked all the way through. Remove the pan from the heat.
While the chicken is cooking bring a pot of water to the boil and season with salt.  Add the egg noodles to the water and stir to separate before place the brocollini on top. Cook until both are tender.
Drain and refresh under cold water before tossing through in the frying pan with the cooked chicken.
Serve to the table in the pan sprinkled with toasted sesame seeds.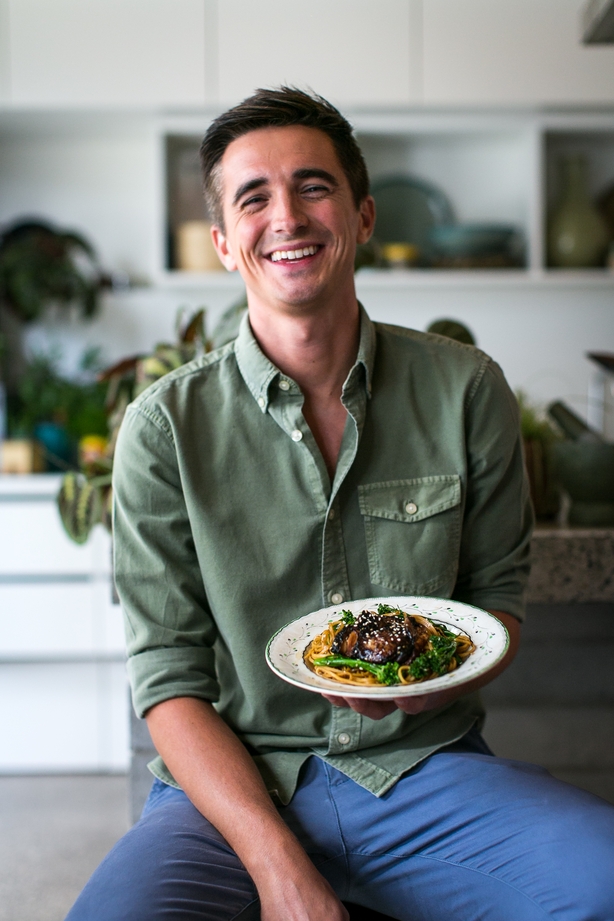 Nutri-facts
Per serving; 224kcal (calories), 12g Fat, 3g Sat, 16g carbohydrate, 2g Fibre, 14g Protein 
-  Great source of Niacin (mainly from Chicken thighs).
-  Niacin is essential for healthy blood cells and brain cells.
-  Great source of Vitamin E  (mainly from sesame seeds).
-  Vitamin E acts as an antioxidant, neutralizing free radicals that can damage our body's cells.
Nutri-tips
-  The dark meat in chicken thigh is not to everyone's taste but it is a better source of iron than breast of white meat. 
-  Short-cuts don't have to compromise nutrition. This short list of easy-to-get ingredients make a tasty and better supper than most take-aways
SPOTLIGHT FOODS IN THIS RECIPE  
Broccolini 
shares many of the health benefits attributed to other cruciferous vegetables like kale and cabbage. A fully functioning immune system is one of the most vital aspects of a healthy body, helping to prevent and combat disease.
Broccolini (a hybrid of Broccoli with smaller florets and longer thin stalks) out of all vegetables, stands out as one of the most concentrated source of the antioxidant vitamin C, and carotenoids lutein, zeaxanthin, and beta-carotene. That gives it great antioxidant and anti-inflammatory effects.
Sesame seeds
have a nutty flavour and are made in a number of products, such as sesame oil, which is highly resistant to rancidity, and tahini, a sesame seed paste. Or they can be scattered over salads and stir-fries either. A tablespoon of sesame oil has 100 calories, 11g of fat, only 1.6g of it saturated.
The rest of the fat content is a balance between mono and poly-unsaturated fats. So this is a healthy fat profile.The sesame seeds themselves are a relatively good source of magnesium – this contributes to the reduction of tiredness and fatigue, contributes to electrolyte balance and normal functioning of the nervous system.
Donal's Meals in Minutes is sponsored by Spar