These polenta chips are delicious and are great as a finger food for a baby from 6 months plus. Make it more fun by getting the kids into the kitchen and helping you shape them before they go into the oven!
Ingredients
2 cups of polenta 
5 cups of low salt vegetable stock (we diluted one Kalio cube in 5 cups of water for ours)
1/4 cup of parmesan cheese 
Olive oil
Method
Bring the vegetable stock to a rolling boil
Lower the heat and whisk in the polenta all at once.
Continuously whisk over a medium heat until it starts to thicken.
Add the parmesan and mix until fully combined.
By this time the mixture should have thickened.
Line a baking tray with some cling film and pour the mixture onto it to set.
Once the polenta has begun to set move the mixture onto your counter top and allow to cool.
When the polenta has fully cooled cut it into "chips", drizzle a baking tray with some olive oil and bake in the oven for 15-20 minutes until golden and crispy, turning half way through.
Serve and enjoy alongside our Hidden Veggie Burgers for a delicious family friendly dinner!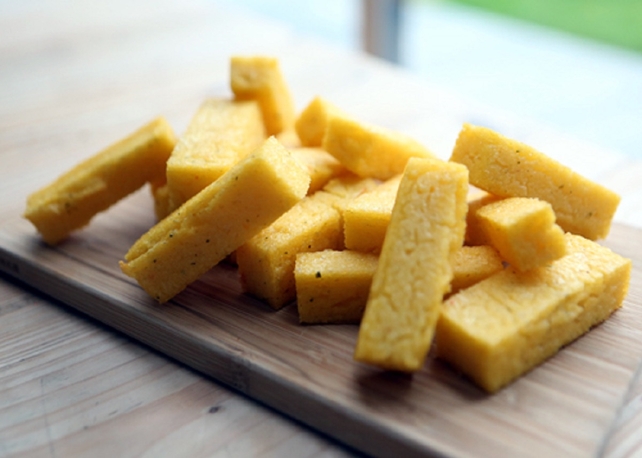 Texture
6 months - Suitable as a finger food (making sure not to make the chips to crispy in the oven)
Recipe courtesty of Siobhan Berry of www.mummycooks.ie