Kilkea Castle in Castledermot, County Kildare was founded in the twelfth century by Sir Walter de Riddlesford.
Through his granddaughter's marriage to Maurice Fitzgerald, 3rd baron of Offaly, the Castle passed into the possession of the FitzGeralds of Kildare. Kilkea Castle is particularly associated with Gerald FitzGerald, the 11th Earl of Kildare, also known as the 'Wizard Earl' due to his interest in alchemy. The neighbours around Kilkea Castle believed he possessed magic powers.
While practising his black art one evening the earl of turned into a bird a cat pounced and he vanished. Now he must ride on a silver-shod horse for 700 years.
Kilkea Castle is now a hotel, but they won't put guests into the Wizard Earl's black magic room...
An RTÉ News report by Deirdre Purcell broadcast on 31 October 1980.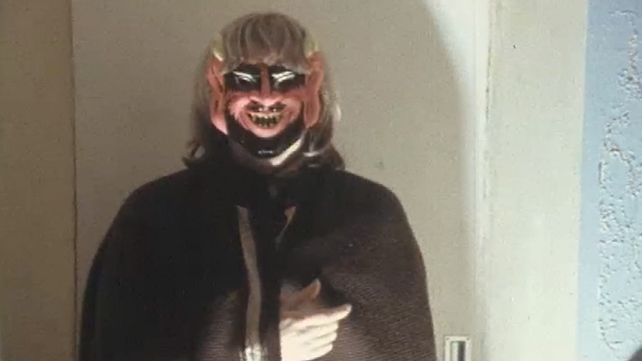 RTÉ reporter Deirdre Purcell
| | |
| --- | --- |
| Title: | The Wizard Earl Of Kildare |
| Clip Duration: | 00:01:20 |
| Material Type: | Video |
| Clip Title: | Kilkea Castle's Wizard Earl |
| Series Title: | News |
| Information: | An RTÉ News report by Deirdre Purcell broadcast on 31 October 1980. |
| Local Keywords: | Halloween, Celebrations, 1980, Kildare, Kilkea Castle |
| Coverage: | Ireland |
| Topic: | National Holidays, Festivals, Anniversaries, Annual Events |
| Contributor(s): | Deirdre Purcell (Reporter) |
| Publisher: | RTÉ |
| First Broadcast Channel: | RTÉ One |
| Broadcast Date: | 31/10/1980 |
| Production Year: | 1980 |
| Country of Production: | Ireland |
| Original Identifier: | BA/1403 |
| IPR Restrictions: | Rights Reserved - Free Access |
| Rights, Terms and Conditions: | Copyright RTÉ. This material may not be replicated in any form or manner without the prior express permission of RTÉ. Any form of reproduction in print, television, video, multimedia, web site or other electronic media or any form of dissemination for commercial or non-commercial use must be licensed by the RTÉ Archives. If you wish to licence video or audio clips, still images or text, or would like further guidance please contact us. RTÉ Archives are committed to respecting the copyright of others and have attempted to source and credit the copyright owners of all material used here. RTÉ would like to hear from any copyright owners who are not properly identified here so that the necessary corrections can be made. If you feel your copyright has not been respected please contact us. |
| Item Type: | part/extract |
| Colour: | Colour |
| Sound: | Mono |
| Aspect Ratio: | 4:3 |
| Language: | English (eng) |
| Original Language: | English (eng) |