A change for Belfast public transport with the introduction of 80 new Daimler Fleetline buses.
Last year, Jaguar Cars Ltd acquired the Daimler Motor Company. One of the first large orders was for 88 Daimler Fleetline bus chassis for Belfast Corporation. A main stipulation of the order was that the bodies of the buses be manufactured in Belfast. The job went to M H Cars Limited.
The first of the new fleet has now been handed over to Belfast Corporation by Mr R Humphreys, Managing Director of M H Cars Limited.
At a ceremony at City Hall, Chairman of the Belfast Corporation Transport Committee Councillor J Ross cuts the ribbon on the first of the new fleet of buses. The launch marks an important day for Belfast's public transport system and the motor trade in the city.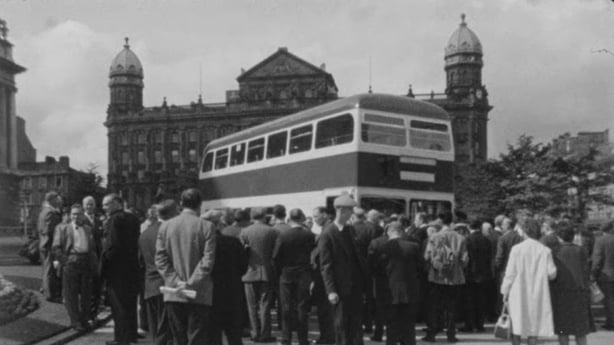 Among those in attendance at the ceremony are Lord Mayor Alderman Martin Wallace and other dignitaries. Members of the public came along to see the new buses.
An RTÉ News report broadcast on 29 August 1962. The footage shown here is mute.