Having just become Wimbledon champion for the first time Maureen Connolly takes the Irish Open tennis title.
Maureen Connolly 'Little Mo' and tennis coach Eleanor Tennant 'Teach Tennant' talk about recent success and being in Ireland.
Following her wins at Wimbledon and in the Irish Open in Dublin, the 17 year old American Maureen Connolly from San Diego, California says,
I feel very very happy about doing it.
Maureen Connolly won her first Wimbledon title beating Louise Brough in the final. She won the Irish Open with a win over Jean Walker-Smith in the decider.
Maureen Connolly had been looking forward to visiting Ireland for a long time and says that winning the Irish Open was almost as good as winning Wimbledon.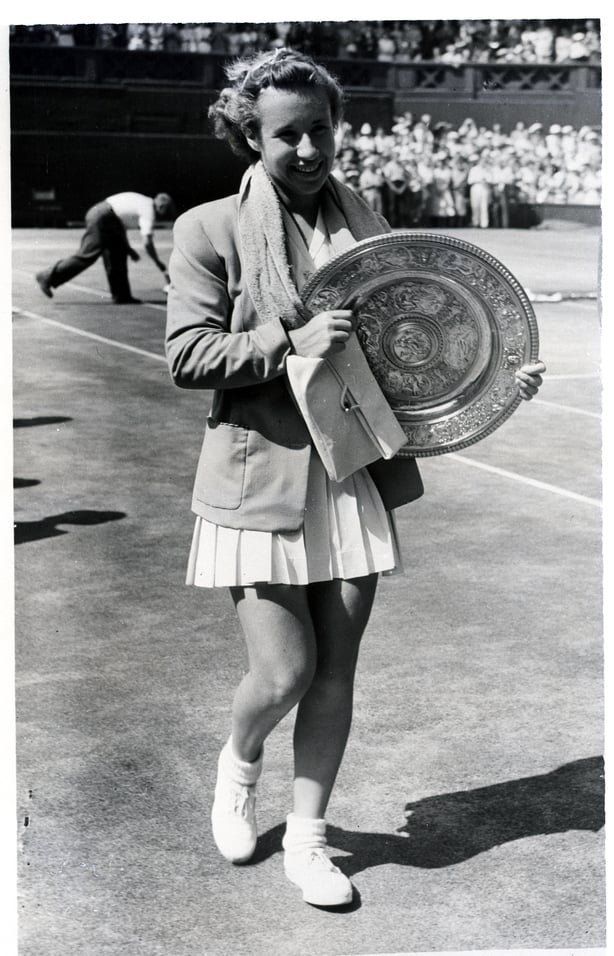 Coach Eleanor "Teach" Tennant is equally enthusiastic about being in Dublin having previously visited 13 years ago.
It was a pleasure to see Maureen play shamrock championship tennis today.
Maureen Connolly returns to the United States to play the entire eastern circuit but hopes to return to Ireland next year.
This episode of 'Sports Stadium' was broadcast on 12 July 1952. The reporter is Philip Greene.
Maureen Connolly died in 1969 following a cancer diagnosis at the age of 34.
From the RTÉ Archives Acetate Disc Collection which has been digitised with the support of the Broadcasting Authority of Ireland (BAI) Archiving Scheme.