New bill proposes to provide children adopted in Ireland with more information about their adoption.
The new bill will apply retrospectively to over forty thousand people adopted in Ireland and to new adoptions. Adopted people will have the right to their original birth certificate when they reach the age of 18. Those individuals adopted after the legislation takes effect will have access to their adoption files. The bill requires the consent of the natural parent before contact is made.
There are over 44,000 adopted people in Ireland.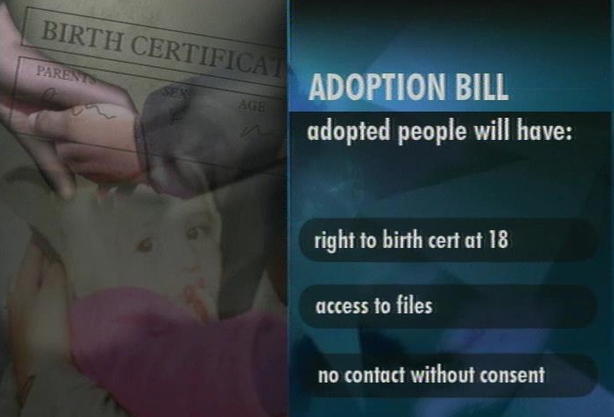 Adoption Bill (2001)
Paul Bolger of the Adopted People's Association welcomes the bill with one or two small reservations.
The bill goes further than similar legislation in other countries. The natural parents will have the right to the names and addresses of adoptive parents when the child reaches the age of 18. Again, there can be no contact made without consent.
The Natural Parents Network of Ireland also welcomes the proposed bill but would like natural parents to have access to adoption files in order to correct any possible inaccuracies.
The Association of Adoptive Parents also welcomes giving adopted children more information but would prefer natural parents to have to wait until the child reaches the age of 25 before any contact can be initiated.
Helen Scott of the Adoptive Parents Association has a 20 year old adopted daughter who wants to wait until she is more mature until she decides if and when to make contact with her natural parents.
The bill will also establish a new adoption authority with the responsibility for foreign as well as domestic adoptions.
An RTÉ News report broadcast on 23 May 2001. The reporter is Bethan Kilfoil.